No matter how much we may like Brenda Lee, Janis Martin and Jackie De Shannon, the greatest female Rockabilly/Rock'n'Roll singer is Wanda Jackson. Period. She's also a superlative Country and Gospel artist. She began recording for Decca in 1954 but the big break occured when she signed with Capitol in 1956. Backed up over the years by such luminaries as Joe Maphis, Speedy West, Skeets Mc Donald, Buck Owens, Big Al Downing and later Roy Clark, she could do no wrong.
And she was equally electrifying on stage. The good news is, the party's still goin' on !
Time to join in & have a ball.

---
You can now enjoy the complete run of pics taken during one of the earliest Wanda Jackson recording sessions held at the famous Capitol Tower, located at 1750 North Vine Street in Hollywood ; these photos were taken either on June 8, 1956 (the 'I Gotta Know' session) or on September 20, 1956 ('Baby Loves Him' - I would favor that second date). Wanda seems totally
at ease in the studio. One can clearly catch sight of both Joe Maphis and Buck Owens on guitars ; also visible is drummer Pee Wee Adams.
These precious photos were initially - and only - published in the January 1957 issue of US music mag, 'Country & Western Jamboree'.

There was a small article and a biography which teach us that the mighty sweet Wanda Jackson was born on October 20, 1937, in Maud, Oklahoma. By the time she was 15, she had a radio spot on KLPR in Oklahoma City. There, disc jockey Jay Davis encouraged her and 'spent hours with her to help remove the 'green' from her early performances'. A contract with Decca Records ensued and, at 16, she recorded her first songs with 'You Can't Have My Love', complete with a recitation from Billy Gray, achieving some success. Hank Thompson, whom she'd met while doing radio work, invited her to tour with him. She later became a fixture on the Ozark Jubilee in Springfield, Missouri. Her contract with Decca expired in late 1955 ; a total of fifteen songs had been recorded, which would be spread over seven 45's plus an LP which appeared as late as 1962 and didn't even contain 'You Can't Have My Love'. Those Decca tracks - predominantly hillbilly ballads - were not bad at all, some being written or co-written by Wanda herself. Most notable were her version of The Frontiersmen's 'Lovin' Country Style', I'd Rather Have a Broken Heart' (which saw the light on the LP) and 'Wasted'.
All fifteen songs were properly reissued by Bear Family in 1983 ('Early Wanda Jackson' - BFX 15109).
Ken Nelson quickly signed her to Capitol in 1956. A few words about the label and its futuristic studios are needed here. The Capitol label was founded in 1942 by Glenn Wallichs and quickly became a leader in the field of recorded entertainment thanks to pop hit records by Peggy Lee, Nat King Cole, Kay Starr, Les Baxter and Dean Martin among others. They also cut Jazz and Blues (Freddie Slack, T-Bone Walker, Stan Kenton) and built up a fabulous C'n'W department, first through the efforts of producer Lee Gillette and A&R man and bass player, Cliffie Stone, who brought Tennessee Ernie Ford, Speedy West & Jimmy Bryant, Merle Travis, Tex Williams, Jimmy Wakely, Eddie Kirk, Gene O'Quinn and so many others to the label. Ken Nelson would take over from Gillette as head of Capitol's C'n'W division in 1952 and gradually help establish a recognizable 'Capitol Sound', especially after the building of the famous Capitol Tower which replaced the old studios on Melrose Avenue and became fully operational in April 1956. A special leaflet was printed at that time, accompanied by a special souvenir record, both sides featuring a narration by George Fenneman interspersed with excerpts of some of the label's biggest hits up to then. The 13-story circular building (round because such a plan offered a number of practical advantages, we are told) was designed by a world-famous architect, Welton Becket. Regarding the recording studios : 'Ultra-modern recording and engineering facilities occupy the Tower's rectangular base. The three studios are the first to be designed exclusively for phonograph recording. Each studio 'floats' on a layer of asphalt-impregnated cork, to insulate it from external vibration. Zig-zag wall panels and movable reflecting surfaces - birchwood on one side and Fiberglass on the other - provide complete and variable acoustical control'. Although designed with large orchestras in mind, Studio A would soon become a choice place for classy - and classic - Country and Rock & Roll.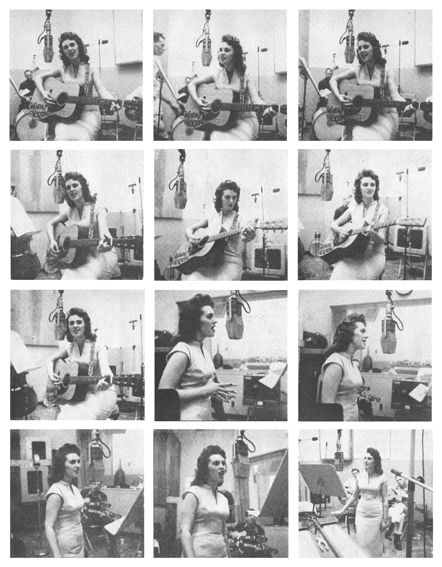 The two studio sessions mentioned earlier were the only ones that Wanda cut for Capitol during that year and they clearly illustrate her transition from hillbilly singer to rockabilly artist. The Decca years had produced quality country sides, so producer Ken Nelson took few risks at the June session ; three country songs were canned : 'Step By Step' (first issued in France in 1975 on the first volume of the brilliant 'Rock And Roll At The Capitol Tower' series), 'Half As Good A Girl' (b-side to her first Capitol single) and 'Cryin' Thru' The Night'. However, Thelma Blackmon's 'I Gotta Know' was chosen as the top deck of her first purple label record (#3485) ; the construction of the song itself shifted constantly from a hillbilly melody to a fast-paced rockabilly passage, bit like Arlie Duff's then recently released 'Alligator Come Across' on Decca. Wanda delivered the goods effortlessly. Ably supported by a stellar cast of country sidemen who had already tried their hand at the new rockin' music - notably Joe Maphis whose sound & style cannot be missed -, the result was more than satisfactory.

The September session was even better. This time, there was no doubt that Wanda had chosen to follow the rockabilly route. Only one country song was cut, the super fine 'Silver Threads & Golden Needles' which later became a minor standard (check out The Everly Bros' version on their WB album from1963, 'Sing Great Country Hits') ; the other three recordings were top-rate slices of rockabilly : 'Baby Loves Him' (Jackson's own composition), the Gene Vincent-flavored 'Honey Bop' and 'Hot Dog! That Made Him Mad'. Don't know if the late Joe Maphis had his carpet slippers on that day but he did produce some of his best soli - especially the growling sound in 'Baby Loves Him'. Joe did not back up Wanda Jackson again on record but he definitely left his mark on these early rockabilly recordings. He would however play with her on numerous radio & TV shows such as 'Town Hall Party'. The lead guitar spot was subsequently filled by Buck Owens and then Vernon Sandusky until Roy Clark came along with his lightnin' fingers.

'Baby Loves Him' was coupled with 'Cryin' Thru The Night' for her second Capitol single of 1956 (#3637) while 'Honey Bop' appeared much later as the flip of 'Just Queen For A Day' (#3941).
Wanda was voted 'Best New Female Singer' of 1956 in a Country'n'Western Jamboree nationwide poll. As for her voice, it had begun to show much promise - which would eventually bloom at those April 1958 sessions at the Capitol Tower when she cut a brace of rockers including the classic 'Let's Have A Party'. But this will be studied in length on another page devoted to the one & only Wanda Jackson !