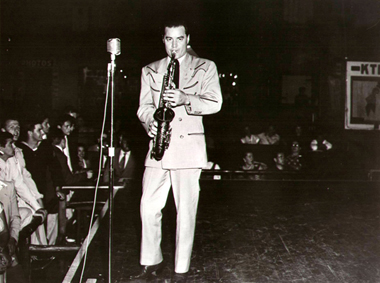 One of Spade Cooley's most loyal musicians was Harold Hugh Ehrmann. He was with him all through the RCA years and probably beyond. I would like to thank Mrs. Diana Morris, who supplied the two pics here as well as the following piece of info :

'My grandfather was affectionately known as 'Gus' (he nicknamed himself after his uncle Gustav). Born in 1911, he started playing the sax when he was very young. He grew up in Wisconsin, an only child. His mother died when he was quite young. He met my grandmother in the '30s and had their only child, Mary Lynne, in 1938. Not only did grandpa play with Spade, but also with the Freddy Martin Orchestra and the Russ Morgan Orchestra, Jack Morgan being the leader. Aside form the sax, he also played flute, piccolo and clarinet. I had many opportunities to hear him play and, as an adult, I was honored to sing with him at Myron's Ballroom in Hollywood in the early '80s. He died in March 2002 at the age of 90, a few weeks before his 91st birthday'.
---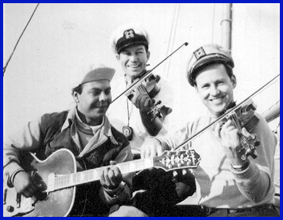 Mrs. Linda Piro is Billy Wright's daughter and kindly supplied this superb biography of her father, also pictured at right (1) on fiddle with Spade and Benny Garcia on guitar, and (2) on trombone in the back :

'William W. Wright, or Billy Wright, as he was known joined Spade's band in approx. 1949 as a fiddle player and trombonist. Daddy was a fantastic fiddle player/violinist who learned to play trombone so he would be more versatile and work more.

One of Spade's specialties was the "3 fiddles" playing in three-part harmony, at the mike. "Swinging The Devil's Dream" was a fiddle trio tune that was also a Spade Cooley theme song after "Shame on You." Daddy was always the middle of the three. Daddy had a fantastic smile, in fact, he became known as Smilin' Billy Wright. Lon Doty was the third fiddler and also played sax.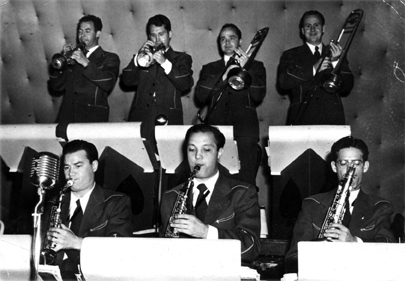 Daddy would take my brother and me to work with him, on Saturday mornings, to the Santa Monica Ballroom. The band would rehearse all day, break for dinner around 5 p.m., be ready to play the TV show at around 8 p.m. which was an hour show (live !) and then, the couches would be pulled back from in front of the stage in that old big ballroom, to make room for the dancers - mostly servicemen and lots of beautiful girls.

The band would play for dancing until 1:30 a.m. Talk about a grueling gig! My brother and I would get bored to tears so we would play on the beach all day, getting back in time for dinner. Then we would go backstage or upstairs to Spade's office and wait around until the show. Many of the guest artists would hang out up there before the show and we got to meet them including Roy Rogers and Dale Evans. I thought I was in "hog heaven." After the show, we would run all over the ballroom freely, and sometimes fall asleep on one of the couches against the wall.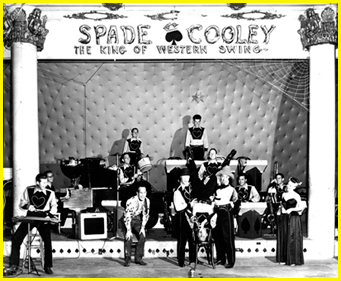 It was a magical time to be allowed to hang with the players and be part of all that. Daddy eventually left Spade and went with Lawrence Welk. He was with Welk for quite a few years when he became very ill with diabetes and had to leave the band. He continued to play with many fine musicians in L.A. and did many recording dates. Daddy was a consumate musician who was born and raised in Oklahoma. He attended Oklahoma University and became concert master of the symphony. He could fiddle with the best of them and originally went out to California to join the Bob Wills Band. He also played with Hank Penny, Tex Williams, and many, many others. And he did the Gene Autry TV show for years.

My mother, Joella Wright, also was a great musician who played piano with Hank Penny, Tex Williams and many others. She was still playing right before she fell ill and passed on in May of 2002 at the age of 85. My brother and I also became professional performers. My brother is a drummer and arranger in Oklahoma City, and I became a bass player and singer and eventually put the bass down and fronted my own groups. I was fortunate to be the opening act for several name artists who came through OKC including Kenny Rogers, George Gobel, Foster Brooks and more. I am still singing at private parties and club dates and I am in my late 60's now.
Daddy would be so proud!'
---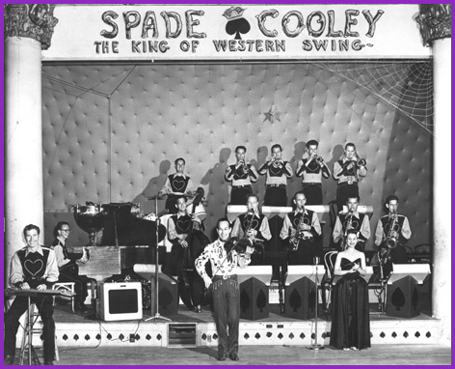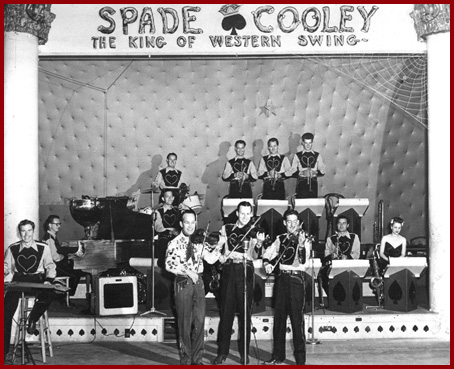 Above : The Spade Cooley Band with Ginny Jackson, Billy Wright and Carrot 'Top' Anderson on steel guitar
Below : Another beautiful shot of The Spade Cooley Orchestra with Ginny Jackson & Noel Boggs on the left.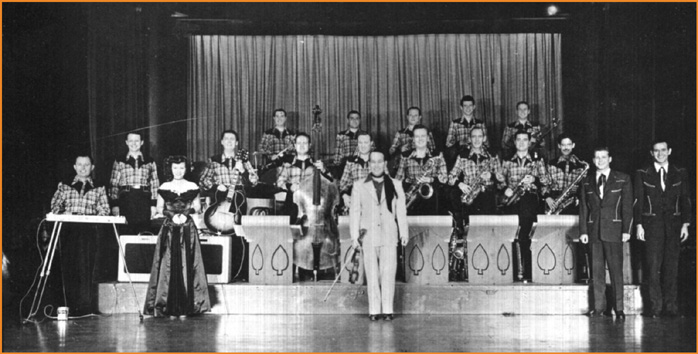 ---
My most grateful thanks go to George Smith (England), Patrick Brayer (Upland, California) for
the original Spade Cooley letterhead pictured below, Mrs. Diana Morris and, especially,
Mrs. Linda Piro who supplied
the vast majority of
the pics you'll enjoy in
my Spade Cooley pages.