Sammy Masters was born Samual Todd Lawmasters in Sasakawa, Oklahoma, on July 18, 1930. 'It was a stormy night', he says, 'and since we lived in the remote oil fields, my Dad had to drive into the nearest town to fetch a doctor. By the time they arrived, I was already born !' He became interested in music when he would go to the Saturday afternoon movies, watching Gene Autry, Roy Rogers and all the other singing cowboys of that time. He also listened to Nashville's Grand Ole Opry on a battery radio his family owned. Of course, one of Sammy's biggest influences was probably Bob Wills and His Texas Playboys - Sammy would listen to their afternoon shows when they performed on radio station KVOO in Tulsa, Oklahoma.

At age 12, he sang live on radio KTUL in Tulsa with Art Davis and His Rhythm Riders, then with one of Bob Wills' brothers, Johnnie Lee Wills, on KVOO : quite a feat already ! Johnnie Lee Wills is well known for his excellent RCA Victor sides cut in 1952-1953 ('Oo Ooh Daddy', 'The Thingamajig' and his version of 'Blackberry Boogie' make for essential listening - you'll love Tommy Elliott's powerful steel playing on these sides) and for his later Sims output but Art Davis is more obscure (one of his recordings was 'T-Town Sue' for Jim Beck's Dude label, also released on Bullet). Sammy's family moved to California where he finished High School. That's when he made appearances with Spade Cooley's Band - Spade was signed to RCA Victor at that time. 'I sang with Spade in the late '40s/early '50s for a short time. I then went with Ole Rasmussen and His Nebraska Cornhuskers for about a year and a half.' The latter were another very sophisticated western swing band, much in the Spade Cooley vein, who cut a bunch of notable tunes for Capitol ('Let's Go Fishin', 'Country Wedding Day' and their take on 'C-Jam Blues' come to mind) with a young prodigy named Billy Tonnesen on steel. It is unclear if Sammy ever recorded with them in the studio, though. But Sammy did cut his first solo recordings for the Cormac label based in Santa Ana - the same label which released Johnny Horton's first 78's in 1951, before folding. Two 78's were released, both as rare as hen's teeth ! One side of the second, 'Lost Little Nickel', a fine hillbilly swinger with guitar and accordion soli, re-appeared on a 1998 EccoFonic EP (see 'Discography' below) which gave both 1953 and 1954 as years of release ; I believe that it was 1950 or very early '51, because the catalog number of Sammy's record (#1171) predates those by Horton. Masters apparently owns one of the only known copies of the disc.
After High School, Sammy served in the US Army where he did many shows for the troops in Korea. After his Army gig, Sammy came back to California and the serious things began : 'I started out writing and making demos for 4-Star Publishing Co. around 1954 and signed with them shortly after that.'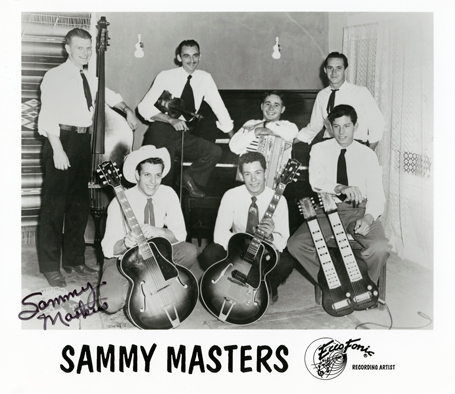 A demo from 1955, titled 'Gone, Man, Gone', made its debut on the aforementioned EccoFonic EP : recorded at the B&B Studios in Hollywood, it's a boogie-styled number with good guitar, piano and steel guitar. It seems that, before moving to the main 4-Star label, Sammy first took advantage of owner Bill Mc Call's custom service series - which was the blueprint for Starday's own custom pressings.
4-Star's 'OP' series has been extremely well documented by the Hillbilly Researcher gang in England ; the listing they published in late 1996 is beautifully comprehensive and mentions a release on Calico (# OP-227) by Sammy - coupling 'Yong Tong Foo Chow' with 'The Big Black Sombrero' - dating back to late 1955. I can't comment on it since I've never heard that disc, but the top deck is intriguing !

1956 was the year when it all came together. Bill Mc Call was the head of 4-Star Records in Pasadena, California, and a jack-of-all-trades by all accounts, but he did record an impressive amount of talent on his revered label - mostly in the Hillbilly, Western Swing and Rockabilly fields. 'Bill Mc Call asked me if I wanted to do some rockabilly and of course, I jumped at the chance' recalls Sammy. From that session, probably held in late 1956, came two grandiose singles (released in rapid succession) that have definitely stood the test of time : four sides which are full of rockabilly's main ingredients and which are yet totally unique, largely thanks to Sammy's interjectional vocal delivery and the presence of Jimmy Bryant whose intricate, fluid, jazzy guitar breaks are as startling as they are uncommon in this style of music. Sammy Masters wrote both 'Pink Cadillac' and 'Whop-T-Bop', co-wrote 'Some Like It Hot' with Tex Atchison and co-penned the funny 'Flat Feet' with Lynn Howard. I'll let Sammy himself give more details about this historic session : 'The studio was located upstairs in the 4-Star building ; the equipment I recorded on was a single track Magnacorder. The recording engineer was Ellery Hern who devised a tape delay echo which he used to a good slap effect on George Tracy's upright bass and a cardboard box drummer Jimmy Randell played brushes on. Jimmy Bryant played lead guitar and Jimmie Widener played rhythm guitar. Jimmy Bryant came up with the arrangements.' On the record label, that group was billed as Sammy's 'Rockin' Rhythm'. Those guys had quite a pedigree ! As we all know, Jimmy Bryant had just been dropped by Capitol Records at that time ; as to Jimmie Widener, he had recorded for a host of labels before that : King, Deluxe, Downbeat, Ace-Hi and also Imperial - where, on March 18,1953, he led a session with accompaniment provided by Billy Liebert & His Orchestra which included Jimmy Bryant on lead and perhaps Speedy West on steel (two singles were issued, Imperial 8187 & 8199, both with Widener's bluesy vocal well in evidence).
'Pink Cadillac' was coupled with 'Some Like It Hot' (4-Star 1695) and soon began to pick up radio airplay. In early 1957, almost identical versions of both songs were rush released on Modern Records (#1003) and credited to a certain Johnny Todd. In fact, the only difference between the originals and these versions was the addition of real drums (neatly overdubbed, one must admit). Sammy does not recall how the Modern deal came about but thinks that Mc Call hatched it up some way : 'I believe they used my tracks when they put the drums on it. It isn't clear how Modern got my tracks. Bill Mc Call was very clever ; I remember when he tried to give my friend Carl Belew a new Cadillac and a Nudie Rhinestone Cowboy suit if Carl would give him half writer's royalties on 'Lonely street', 'Stop The World And Let Me Off' and 'Am I That Easy To Forget', all of which became super hit songs.'
Another zany rocker was cut during the above session and issued as an alternative flip side to his second outing, 'Whop-T-Bop' (4-Star 1697) : it was called '2-Rock-A-Four'. Sammy believes he wrote it while driving in his car and that it came out of nowhere ; however, I can't help smelling a pun with some famous French cheese !! It should be noted that this song is credited to four composers : Masters, a certain F. Smith and, interestingly enough, Jack Bradshaw and Harry Glenn, the latter being the boss of another important record company, Mar-Vel' Records out of Hammond, Indiana, for which Bradshaw once recorded. That variation of Sammy's second single is very scarce nowadays.
Promoting the records meant spending quite a bit of time on tour : 'Touring in those days was difficult. We encountered agents who would book us and would take the band's pay and leave town. This only happened to me once but I heard many such stories from others'.

There would be a few more sides recorded at 4-Star which appeared on a couple of EPs in their 'Artists Promotional Series' while two of them, 'The Drifter' and 'Tall Grows The Sycamore', made it to a Decca single. Songs like 'The Drifter' and 'Angel' have that fascinating 'teenage rock' guitar sound which definitely established rock and roll as a musical style of its own. The musicians on these sides included Jimmy Randall on drums, Jerry Miller on steel and the very talented Ralph Rowe on lead guitar. In July 2003, Helen Rowe who is Ralph's daughter, wrote : 'My dad had been mistaken for [singer] Red Rowe more than once. Mom tells a story that when my dad was playing for Sammy Masters, someone from the musicians union pulled him off the bandstand because this Red Rowe didn't have his due paid to date. My dad had his union card with him and showed that he did have his paid and he was not this Red Rowe. [] My father did some live radio with Cliffie [Stone] and live TV, a show called Cal's Corral, and also some studio backup, but decided to quit that all because he didn't like the rat race that went on behind the scenes. Good ole Glen Campbell took my dad's place on Cal's Corral'.
In the Winter 1957 issue of 'C'n'W Jamboree', they preferred 'Tall Grows The Sycamores' and noted that 'Masters himself sounds like a cross between Chuck Miller and Bing Crosby, which is good.' There was a strong connection between 4-Star and Decca, the latter leasing material from the former ; aside from Sammy, artists like Carl belew, The Maddox Brothers, T. Texas Tyler and of course Patsy Cline were part of that deal. By the end of 1957, his contract with Bill Mc Call's label was up. Sammy kept on writing songs and cutting demos - such as 'Twin Pipes & Pin Stripes', a pounding 'hot rod' rocker with excellent guitar which again saw the light of day on the EccoFonic EP. Next, Sammy went on to work for the Major and Lode labels, both owned by his good friend, singer/songwriter/music publisher Terry Fell (of 'Truck Drivin' Man' fame). In 1959, Sammy had his biggest hit with 'Rockin' Red Wing' (Lode 108) - another song in the 'Kaw-Liga' format but pleasant nonetheless, with nice sax blowing by Bob Williams. Check out the slightly more rockin' alternate version used by EccoFonic on that same - indispensable - EP. Sammy had previously made appearances on Cliffie Stone's popular 'Hometown Jamboree' TV show and on 'Town Hall Party' but now it was a step higher (in terms of audiences, shall we say) : Dick Clark's 'American Bandstand'. I admit to liking the slow flip to Lode 108, 'Lonely Weekend', as much as the top side ; it was arranged by saxman, Bob Williams, and most certainly recorded at Gold Star studios in Hollywood with the late, great Harold 'Mr. Fiddle' Hensley at his sweetest.

Alas, Sammy was unable to repeat the success of 'Rockin' Red Wing' which really took off when it was picked up by Warner Bros. Interestingly, the intial composer credits went to Chapel Haynes but on the WB release, the composers are 'Haynes-Chattaway-Mills'. It was covered by Ernie Freeman on Imperial. Subsequent Lode singles went nowhere. One of them (Lode # 114) featured a version of Terry Fell's composition, 'Never', which had previously been recorded - but, inexplicably, not issued until 1962 - by Eddie Cochran probably during the sessions for his 'Singin' To My Baby' LP (a super fine performance with plenty of echo and some effective finger snappin'). Sammy's version retained the initial country flavor of the song but, with a group of violins replacing the guitars, was nowhere as good and exciting as Eddie's. And its flip, 'Pierre The Poodle & The Puppy Dogs', is better left forgotten altogether - yes, a real dog ! Regarding the Lode label, it seems that it was, at first, distributed by Case Records in Gardena, California ; then, the singles bore the famous '9109 Sunset Boulevard, Hollywood' address which was the location of both Crest Records and American Music, Inc. And it was obviously the same Lode label on which guitarist Fred Carter released the excellent rockin' double-sider, 'Freeloaders' b/w 'I'm In Love (With The Girl Next Door)' (#2001, with Fred Carter himself playing the hot guitar breaks), but at that time, the company was situated at Downey, California.

In the early '60s, Sammy set up his own label, Gallahad Records. Sammy : 'Jimmy Bryant did play on a few of those sessions as did Glen Campbell, James Burton and Tommy Allsup.' Apparently, guitarist/arranger Tommy Tedesco was also involved. One of the earliest releases on the label (#101) in 1961 was a '45 by a movie stunt man, Tony Epper, coupling two Spade Cooley compositions, 'Shame On You' and 'Cold Gray Bars'. The version of 'Shame On You', arranged by Jimmy Bryant and produced by Ed Borgelin, is absolutely brilliant - with inspired fiddles and steel guitar. 'Cold Gray Bars' was also recorded by Ned Miller (Capitol #4607, with orchestra conducted by Billy Liebert). Epper's single was custom pressed by RCA Victor whose Hollywood studios Sammy would often use. However, Sammy went to Bob Summers' studio in El Monte to cut his own Gospel album around 1964. The label's name subsequently became Galahad (for some reason, one 'L' was dropped). Sammy had at least seven releases on Galahad.

Bob was Les Paul's brother-in-law ; he was married to Mary Ford and Mary and her sisters sang background on the album. Other Galahad sides by Masters were leased to Kapp through Snuff Garrett (of Liberty Records) ; an LP was even put out. He adds : 'Dot Records was another lease deal through Snuff. He wanted to sign me with Liberty but owner Al Bennett could not come to terms. I'm glad I didn't go with Liberty ... Johnny Burnette told me that Al did not pay honest royalties to him.'
All that Galahad material is pretty hard to come by ; we'll have to rely on Sammy's estate to reissue it on CD sometime in the future - along with the unissued stuff he has on the shelves, such as a live TV show he did with The Frontiersmen in the mid-'60s.
Speaking of TV shows, a promo flyer informs us that Sammy started his own weekly live show on local Los Angeles station, KCOP ; it was a 15-minute show with the late, great Johnny Horton. It ran for a little over a year. Sammy later connected with giant automobile dealer, Cal Worthington, and began producing several music TV shows through 1978 : mostly Country Music shows but there were also Top 40 shows and even Talent shows. During this long period, Sammy had the pleasure to work with a host of big names - like Patsy Cline, Marty Robbins, Herb Alpert, Johnny Cash, Buck Owens, Wanda Jackson, Brenda Lee, Merle Haggard and Jerry Lee Lewis.
In addition, Sammy Masters has written several songs which were recorded by Bobby Darin, Wayne Newton, Glen Campbell and Patsy Cline. The latter recorded Sammy's 'Turn The Cards Slowly' on June 1, 1955, which became one side of her second Coral single ; she also sang Sammy's 'Who Can I Count On' on the back of her million-selling 'Crazy' in 1961, giving him his biggest hit as a writer. That same song was also recorded by Jewel (Akens) and Eddie (Daniels) with Eddie Cochran on guitar, but it was issued years after his death. I asked Sammy if he remembered Eddie : 'I worked with Eddie and Hank Cochran when they were still together. We worked some live stage shows together around Southern California.'
In 1997, Sammy cut a CD for Dyonysos Records (with Ray Campi and EccoFonic's boss, Deke Dickerson, helping out) ; his voice sounded as young as ever (check out his great version of Sid King's 'Sag, Drag & Fall' for that purpose). The following year, he was booked to appear in England at Hemsby's 21st Rock'n'Roll Weekend on the same bill as Merrill Moore, Joe 'Ducktail' Clay and Otis Williams, the black doo-wopper who used to front the Charms decades ago. John Stafford wrote a raving review in 'Now Dig This' (issue #188) : 'Topped off with a white stetson and toting Buck Owens' famous red, white & blue acoustic guitar, he certainly looked the business and delivered the goods to match'. Sammy Masters is a happy and healthy man, playing golf and doing shows with top picker and close friend, Gary Lambert, as well as steeler Billy Tonnesen, each time he can. Dale Norris, who played guitar with The Champs on 'Tequila', is also working gigs with Sammy and doing all the lead sheets for new songs that he writes. 'Want to know something ?', Sammy wrote in July 1999, 'I just found out that my recording engineer on all my 4-Star cuts is still alive and kicking in Irvine, California. He is 85 years old and still playing golf twice per week !'
Sammy Masters passed away on March 8, 2013.
Indeed, it would be criminal to relegate him to Rock Music's footnote archives. His long career deserves to be fully documented on well-mastered vinyl or CD : we especially long to hear the dozens of demos he still has on reel-to-reel tapes ! Of course, the Johnny Todd sides have been reissued many times - on Ace in England and on P-Vine in Japan. No doubt that newcomers to Sammy's music will all agree that his 4-Star classics sure don't pale beside any other revered rockabilly platters.


© PAUL VIDAL * Privas, France * June 2001 - July 2019
---
THE SAMMY MASTERS DISCOGRAPHY
Many thanks to Sammy Masters, Kent Heineman, Patrick Martinez,
John Pear, Jeff Porterfield & Big Al Turner for their generous help.
----> 45's, EPs, LPs & CDs <----
CALICO
OP-227
OP-392 Yong Tong Foo Chow (The Chinese Davy Crockett)
OP-393 The Big Black Sombrero
---
CORMAC
CRS 1158
M-244 10 Little Stockings
M-245 I've Got A Date For Christmas
-> As by 'Sammy Masters Orchestra'.
1171
Lost Little Nickel
???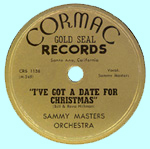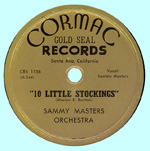 ---
DECCA
9-30402
102854 Tall Grows The Sycamore

(S. Masters)


102855 The Drifter

(S. Masters)
---
DOT

MB-15145 Charlotte (In The Pink Corvette)
MB-15144 Golden Slippers
16865
MB-20933 Dream Chaser

(S. Masters-T. Atchison)




MB-20844

All Alone In San Antone

(Ballard-Kusik)

-> Produced by Tommy Allsup. Released 4-66.
---
DYONISOS
CD 123355
'Everybody Digs Sammy Masters'
---
ECCO-FONIC
EF-1012
Twin Pipes & Pin Stripes -> unreleased 1957 demo
Lost Little Nickel ->

Cormac 1171


Gone Man Gone ->

unreleased 1955 demo


Rockin' Red Wing ->

alternate take - announced as 'Take 1' - 1959
---
4-STAR
1695
6869 Pink Cadillac

(Sammy Masters)


6870 Some Like It Hot (Tex Atchison-Sammy Masters)
6872 Whop-T-Bop

(Sammy Masters)


6874 Flat Feet

(Lynn Howard-Sammy Masters)
1697
6872 Whop-T-Bop

(Sammy Masters)


6873 2-Rock-A-4

(F. Smith-J. Bradshaw-H. Glenn-S Masters)
1707
6912-C Angel

(Sammy Masters)


6915-C My Heart Is A Hobo

(Sammy Masters)
1727

7021-C Jodie
6964-C If I Could See The World
SAMMY MASTERS-EPF-17
Angel/My Heart Is A Hobo/Tall Grows The Sycamore/The Drifter
EP-26
Pink Cadillac/Stop The World (And Let Me Off)/A Wonderful Time Up There/Tall Grows The Sycamore


GALAHAD
506
? Stick Around Joe
? Stars Without A Heaven
526
? On Tour In Heaven
? Lord Is My Shepherd
533
G-533-A A Big Man Cried
G-533-B I Fought The Law (And The Law Won)
537
G-537-A All Alone In San Antone
G-537-B Roses Remind Me Of Ruby

538
? Little Ben
? The Letter From South Vietnam
540
? Say Yes Or No
?

601
601 TTE Through The Eyes Of A Child

-> Produced by Bob Summers


601 HR Hey Ruby (S. Masters) -> Produced by Al Bruno
GOSPEL ALBUM
May The Lord Bless You & Keep You/Farther Along/Step By Step/Precious Memories/ If I Could See The World/It Is No Secret/ Old Rugged Cross/Gospel Boogie/Softly & Tenderly/The Place Where I Worship/Just A Closer Walk With Thee/What A Friend We Have In Jesus

---
Other Galahad titles - for which release info is needed - are :
Blue Christmas * Let's Take A Walk * Sammy The Little Square Snowball * The Carnival Is Over
---
KAPP
613
K 8390 I Fought The Law
K 8393 A Big Man Cried
638
K 8732 Barcelona Baby
K 8750 Louisiana Jane
---
LODE
108
K9OW-4909 Rockin' Red Wing

(Chapel Haynes)


K9OW-4910 Lonely Weekend (Sammy Masters)

109
LM-4911 Charlotte (In The Pink Corvette)
LM-4912 Golden Slippers
114
M8OW-1626 Pierre The Poodle & The Puppy Dogs

(Terry Fell)


M8OW-1627 Never

(Terry Fell)
---
MAJOR
---
MODERN
As by JOHNNY TODD
1003
Pink Cadillac -> overdubbed 4-Star version
Some Like It Hot-> overdubbed 4-Star version
---
WARNER BROS.
5102
MX 125135 Rockin' Red Wing (Haynes-Chattaway-Mills)
MX 125134 Lonely Weekend (Sammy Masters)
-> released in the UK with WB-10 as catalog number.