It took me more time to find the rare EP pictured at left than to find the artist himself ! I met legendary piano player & singer Merrill Moore at his house in San Diego, California, in August 1987 - but had to wait until 1993 to finally find a copy of his one and only Capitol EP (EAP 1-608) in Cincinnati, Ohio.
Released in 1955, it combined tracks from 1953 ('The House Of Blue Lights', 'Red Light' & 'Nola') and 1955 ('Cow Cow Boogie').
This killer disc is a must for any
serious collector of
'Boogie Woogie, Country Style', as are all other Merrill Moore outings
of
the same
era
. Thankfully, they
were all
compiled onto a
double CD put out in 1990 by Bear Family Records (BCD 15505) and Cary Ginell, who wrote the liner notes, brilliantly documented his career but it won't hurt to take another look at it.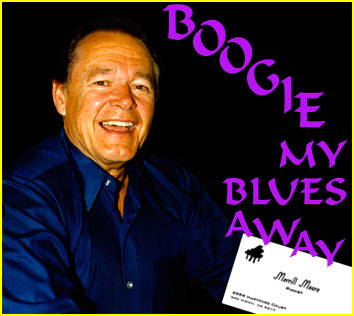 ---
Bright blue shirt, tight blue jeans and leather boots, when I met Merrill E. Moore at his house in 1987, he was in high spirits (as he always seemed to be), answered my questions in a very friendly manner and played me some great stuff at the grand piano, even including a classical piece. At the time, I was a DJ for Radio France Vaucluse and the management had kindly lent me a quality cassette recorder for my interviews. Paul Carrack, the keyboard player in the excellent UK group, Squeeze, had visited him a few weeks before me and he couldn't believe that he was still so famous overseas. Of course, I told him how much we all felt that his music had strongly contributed to Rock'n'Roll but he certainly didn't consider himself a rocker. You can imagine my amazement when he added that he had never been quite satisfied with his Capitol recordings, because they still sound as terrific as ever and represent the true link between the hillbilly boogie piano playing of Moon Mullican and the driving rock'n'roll sound of Jerry Lee Lewis. In fact, Merrill Moore wanted to get a 'Bob Wills kind of sound' that he thought Capitol's producer, Ken Nelson, could never achieve in the studio.
His first session for the label was in May 1952. His band, The Saddle Rhythm Boys, was a cooking little combo who used to ignite the clubs every night in San Diego where they were based and signed to a contract by a certain Jimmy Kennedy who would eventually hamper the progress of Merrill's career by preventing him from joining other touring package shows.
'Big Bug Boogie' and 'Corrine, Corrina' were the first sides to be issued (F 2226). Another, 'Saddle Boogie', would see the light of day only 25 years later on the 'Capitol Rockabilly Originals' compilation (CAPS 1009, UK issue). The next single (F 2386) coupled two songs which emanated from his second session in January 1953, 'Red Light' and 'Bartender's Blues', the latter originally recorded by the great Johnny Bond on Columbia. Sales were more than promising, especially on his July '53 recording of Freddie Slack's 'The House Of Blue Lights', backed with another stomper in the form of 'Bell Bottom Boogie' for Capitol F 2574.
When asked about his influences, Merrill readily cited most of the great boogie woogie stylists like Albert Ammons, Meade Lux Lewis and Pete Johnson, but he always considered Freddie Slack to be the best of'em.
'The House Of Blue Lights' was successfully revived by Commander Cody in 1975 who probably knew Merrill's version as much as Slack's original from 1946.
Boogie Woogie is a very exciting style, best described by Brian Case & Stan Britt in their Illustrated Encyclopedia Of Jazz as 'easily recognized by the repetitive ostinato figure played by the left hand, eight beats to the bar, complemented by powerful rhythmic right-hand work'. But its limitations can be quickly reached and it takes great skills of improvisation to circumvent that difficulty. Merrill Moore had that special talent, always trying different ideas and using his devastating right hand to great effect. He could really swing of course, but always with a strong beat ; there was a pounding quality to his playing which foreshadowed the soon-to-be rock'n'roll piano style.
Only a handful of sessions followed until 1956 but more great singles were issued like the one pairing 'Fly Right Boogie' (co-written by Merrill) and his absolutely wonderful version of 'Nola' (Capitol F 2796), constantly referred to as 'Nola Boogie' in the CD booklet.
Speaking of 'Nola', that famous Felix Arndt composition from 1915 which found new fame with Les Paul's version in 1950, the Bear Family CD presented two different versions of it, cut at two distinct sessions. The re-cut is indeed a bit punchier than the one released as a single, and is listed as part of the aforementioned Capitol EP. As far as I'm concerned, owning the first pressings of both outings, I can say that both versions of 'Nola' are strictly identical. Maybe it changed with a later pressing of the EP but I doubt it ; I would tend to think that this second version saw its first release on the CD instead.
Next releases with his original band included Hank Thompson's 'Doggie House Boogie' (F 2924), Rock-Rockola' (F 3034) b/w 'Cow Cow Boogie' (initially, the first real Capitol hit by Freddie Slack & Ella Mae Morse in 1942) and a rousing cover of George Stogner's classic Deluxe song, 'Hard Top Race' (F 3226). Also noteworthy is 'Ten, Ten A.M.' (F 2924), written by both Merrill and Lee Ross, where Moore's exceptional playing shows some of his other influences such as Fats Waller. According to Cary Ginell, most of the songs were handpicked by producer Ken Nelson who wanted only boogie woogies whereas Merrill would have loved to try other stylings. That's certainly why 'I Think I Love You Too', a ballad co-written by Merrill and one of his bass players, Bernie Rogers, was never issued until the Bear Family CD. Curiously, the driving 'Boogie My Blues Away', cut at a March 1955 session, also missed the boat only to reappear as the other Merrill Moore delight on that magical 'Capitol Rockabilly Originals' anthology from 1977.
All the above recordings featured two unrelated Carpenters (Jack for the first four sessions in 1952 and 1953, Dave for the next two in '54 and '55) who did a truly commendable work on the steel guitar as they were generally the only other soloists in the band, except for a rare guitar break from Jimmie Widener who completed the group in the studio.
However, for his last five singles, which would be recorded over three sessions at the famous and then brand new Capitol Tower, Merrill was teamed with the magnificent Cliffie Stone Orchestra, the Capitol house band for country artists and the equivalent of any Nashville A-team : Speedy West, Jimmy Bryant, Roy Lanham, Red Wooten and Roy Harte. 'They were the best !' exclamed Merrill when I mentioned some of the names.
His next two records are my absolute top favorites. West's and Bryant's soli in both 'Down The Road Apiece'
(F 3311) and Julia Lee's 'Gotta Gimme Whatcha Got' (F 3563, and not 3536 as shown in the CD disocgraphy) really kick hard and all that interaction between piano, guitar and steel is almost unreal. This is rock and roll, there's no arguing. His penultimate Capitol '45 (F 3721) was another triumph, coupling Johnny Bond's 'Barrel House Bessie' with a jaunty take on 'Tuck Me To Sleep In My Old 'Tucky Home'. They were recorded at a February 1957 session along with two other songs which would constitute his final Capitol release (F 3788) : 'Nursery Rhyme Blues', and 'Buttermilk Baby' which featured a very interesting drums & slap bass sound.
We could write at length about Merrill's merits as a pianist but we must also admit that he could really sing, although his nasal intonations may sometimes sound a bit 'too upfront'. And that's where Cary's notes are revelatory. I always thought that Moore's voice was recorded at a different volume level than the rest of the instrumentation, piano included, and of course, it became much more exaggerated on the CD. Merrill confided that Ken Nelson had him sing separately and then overdubbed his voice over the backing tracks. Can you believe it ? Kudos to Merrill Moore for making all these fabulous tracks sound so spontaneous, today as yesterday.
From 1957 to 1959, Merrill re-entered the studios only as an accompanist. He backed up Skeets McDonald, Faron Young and also Wanda Jackson but we now know that it was Big Al Downing, and not Merrill, who played on 'Let's Have A Party', although he maintained that he did when I asked him.
However, unbeknown to just about everybody until the Bear Family set, his last Capitol sessions as a leader took place in September and October 1958 under the guidance of producer, Buck Stapleton. This time, Merrill was allowed to rework a number of standards like '(Back Home In) Indiana', 'South', 'Sweet Georgia Brown' and 'Lazy River' in a small jazz combo context featuring alternately Cameron Hill and Howard Roberts on lead guitar (who both tend to sound suspiciously and delightfully like Jimmy Bryant). Merrill displays the whole breadth of his talent in these recordings, showing the influence of the great early stride pianists while adding boogie and rock accents like in his super-swinging version of the old Count Basie classic from 1938, 'Jumpin' At The Woodside', or in the self-penned original, 'Moore Blues'. All twelve tracks are uniformly brilliant and would have made an awesome long-player but nothing appeared on vinyl. Those record companies are strange beasts indeed.
During the sixties, Merrill continued to play the clubs and, occasionally, other venues. Meanwhile, his Capitol singles were reissued on LP in England to great acclaim : 'Bellyful Of Blue Thunder' (Ember EMB 3392, 1967) and 'Rough House 88' (EMB 3394, 1969). Not surprisingly, it took a British producer, John E. Abbey, to bring him back into the studio and cut an album for the B&C label (CAS 1001). The 'Tree Top Tall' cover obviously showed Merrill Moore at the top of a tree but the contents of the album confirmed that he was still in top form, ably backed up by Jimmy Bryant (lead guitar & violin), Bill Graham (bass), Bill Sampson (rhythm guitar), Johnny Davis (steel), Bob Henkle (sax) and Mike Johnson (drums & vocals). Among the twelve cuts, 'House Of Blue Lights 69', 'Wabash Cannonball', 'Kansas City' and 'Let The Good Times Roll' were particularly fine. A single was issued in England, 'Sweet Mama Tree Top Tall' c/w 'Little Green Apples' (BC 100). According to what's written on the back cover, the sessions took place on March 3 & 4,1969, at Harmony Recorders Studio in Los Angeles. Interestingly, in the CD booklet, Cary Ginell wrote that, in January 1969, 14 tracks featuring Merrill Moore and a jazz quartet had been recorded by John Abbey at Hollywood's Radio Recorders but were never released. Isn't there confusion here, otherwise whatever happened to those tapes ?
One thing is certain, Merrill never recorded again in the studio after 1969. He came four times to England, the last being in 1998, with at least one appearance at the renowned Country'n'Western Festival in Wembley but mainly stayed in San Diego and kept on playing clubs, hotels and even cruise ships. And hosting people from around the world who came to tell him how much they loved his music.
His death on June 14, 2000, at age 76, after a long battle against cancer, was sad news indeed. As a tribute to this hugely talented musician, let me share with you part of the impromptu medley he let me record in 1987 in his living room. He sure didn't need any sidemen to let it rock : his drive and sense of rhythm are astounding. Yes, Cats, before Jerry Lee Lewis, there was Merrill Moore ! Just click the turntable below left to hear him boogieing in top quality MP3 format.

© PAUL VIDAL * Privas, France * June 2001 - July 2019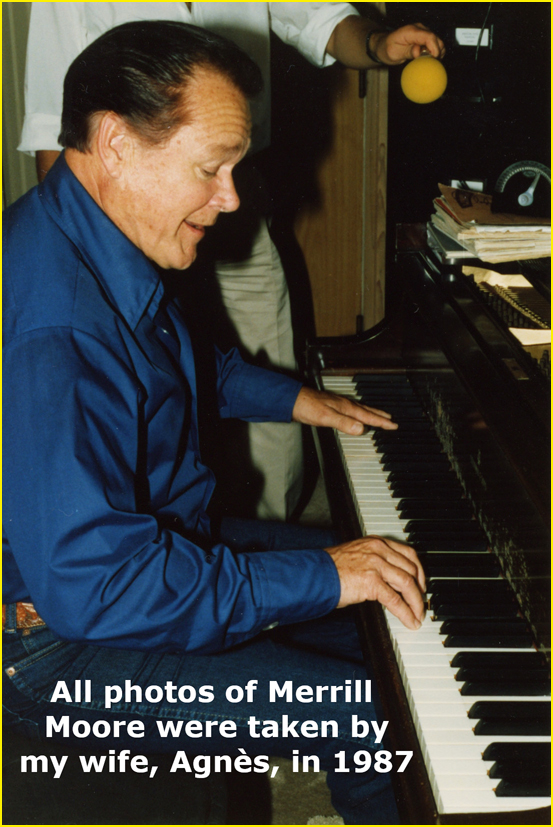 THE MERRILL MOORE DISCOGRAPHY

Like on
most pages, all record scans are taken from the Big V Jamboree collection.
----> 45's, EPs, LPs & CDs <----
CAPITOL
F 2226
10068 Corrine, Corrina

10086 Big Bug Boogie

F 2386
11067 Red Light
11065 Bartender's Blues
F 2574
10067 The House Of Blue Lights
11669 Bell Bottom Boogie
F 2691
11668 Snatchin' And Grabbin'
11670 Sweet Jennie Lee !
F 2796
12434 Nola
12196 Fly Right Boogie
F 2924
12436 Doggie House Boogie
12437 Ten, Ten A. M.
F 3034
13402 Rock-Rockola
13399 Cow Cow Boogie
F 3140
12198 One Way Door
13401 Yes, Indeed
F 3226
11066 Hard Top Race
12435 Five Foot Two, Eyes Of Blue (Has Anybody Seen My Girl ?)
F 3311
14623 Down The Road Apiece
14621 Cooing To The Wrong Pigeon
F 3397
15137 King Porter Stomp
15136 Rock Island Line
F 3563
14622 Gotta Gimme Whatcha Got
14624 She's Gone
F 3721
16595 Barrel House Bessie
16596 Tuck Me To Sleep In My Old 'Tucky Home
F 3788
16593 Buttermilk Baby
16594 Nursery Rhyme Blues
EAP 1-608
The House Of Blue Lights - Nola - Cow Cow Boogie - Red Light
CL 15940
13400 Boogie My Blues Away
-> UK issue to promote the 'Capitol Rockabilly Originals' LP (CAPS 1009) from 1977. However, my copy, which is a 'demo record', features 'My Baby Done Left Me' by The Farmer Boys instead of 'Boogie My Blues Away' !
Flip side is by the Charlie Bop Trio ('Mr Big Feet'). See photo at bottom left.
---
B&C
'TREE TOP TALL'
CRS 1001
House Of Blue Lights '69 - Wabash Blues - Kansas City - Born To Lose - Texas In My Soul - Bring Me Sunshine
Sweet Mama Tree Top Tall - Release Me - Let The Good Times Roll - She Wont Let Me Forget Her
Wabash Cannonball - Little Green Apples
CB-100
CB 100 A Sweet Mama Tree Top Tall
CB 100 B Little Green Apples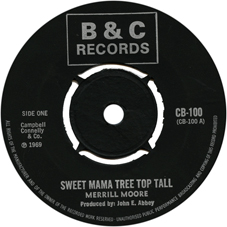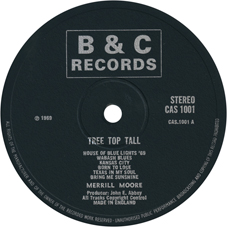 ---
BEAR FAMILY
'BOOGIE MY BLUES AWAY'
BCD 15505

All the Capitol singles, plus 'Saddle Boogie', 'Boogie My Blues Away', 'I Think I Love You Too' and the complete 1958 sessions where the following titles were recorded
:
Music, Music, Music (two takes) - Sun Valley Walk - Back Home In Indiana - South - Sentimental Journey - Shanty In An Old Shanty Town - Sweet Georgia Brown - Moore Blues (two takes) - Nobody's Sweetheart - Jumpin' At The Woodside - Somebody Stole My Gal (two takes) - Lazy River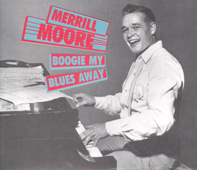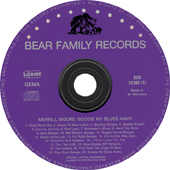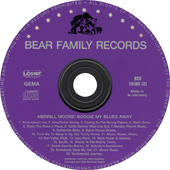 ---
EMBER
'BELLYFUL OF BLUE-THUNDER'
EMB 3392
House Of Blue Lights - Rock-Rockola - Fly Right Boogie - Corrine, Corrina - Hard Top Race - Bartender's Blues
Tuck Me To Sleep In My Old 'Tucky Home - Red Light - Bell Bottom Boogie - Big Bug Boogie - Barrel House
Bessie - Rock Island Line - Nursery Rhyme Blues - Doggie House Boogie
'ROUGH-HOUSE 88'
EMB 3394

Buttermilk Baby - Ten Ten A. M. - Cow Cow Boogie - Sweet Jenny Lee (sic) - Five Foot Two, Eyes Of Blue
One Way Door - Down The Road Apiece - Gotta Gimme Whatcha Got - Nola Boogie (sic) - King Porter Stomp
Yes, Indeed - She's Gone - Snatchin' And Grabbin' - Cooing To The Wrong Pigeon