JOHNNY CARROLL was, we all agree, one of the very best Rockabilly Artists - right up there with Mac Curtis, Carl Perkins, Andy Starr, Don Wade, Eddie Bond, Joe Clay, Charlie Feathers and the major influence on them all, early Elvis. His Decca sides are among the wildest ever cut.
In these lame techno-rap-garbage days, they sure deserve another spin - or two !


When I look back, I recall that I first heard of Johnny Carroll almost a decade after having played my first records by Gene Vincent. In the '70s, Johnny was rediscovered largely thanks to the British 'Rare Rockabilly' series of albums and after Ronny Weiser signed him to his Rollin' Rock label, he enjoyed a fabulous comeback. The July 1980 issue of Goldmine Magazine carried the best piece ever written on Johnny - from the pen of noted collector & musician, John Blair. One of Carroll's best-known compositions, 'Black Leather Rebel', cut in Texas in 1974, was a vibrant homage to Gene Vincent - an influence already palpable in previous recordings such as 'The Swing' (WB F 5042, 1959) on which former Blue Caps, Grady Owen (bass) and Howard Reed (lead guitar), played.

However, much to my surprise, I discovered that Johnny Carroll had begun recording before his Virginian hero ! Gene cut his first Capitol session in Nashville on May 4, 1956, at Owen Bradley's Studio, exactly one week after Johnny's two Decca sessions at the same location ! Did the two men meet down there ? I don't know but I don't think so. As a result, Johnny showed as much originality in the studio as Gene would a few days afterwards - quite a feat since Johnny had to rely on studio musicians he didn't even know. But producer Paul Cohen (not a huge R'n'R fan, though, you know ! He was about to call Buddy Holly a 'no-talent' !) called the right guys. Harold Bradley was on rhythm guitar, Bob Moore on double bass and Farris Coursey on drums - plus Grady Martin on lead guitar, who, having almost nobody to copy at the time, literally invented a plethora of licks that still resonate 50+ years later. The band was to be called 'The Hot Rocks' on the record labels ! Sadly, Grady passed away on December 3, 2001.

On April 25, 1956, Johnny laid down 'Crazy, Crazy Lovin', 'Tryin' To Get To You' and 'Rock'n'Roll Ruby' ; the next day, he recorded the ultra-frantic 'Hot Rock', 'Corrine, Corrina' (the best version, according to Yours Truly) and 'Wild, Wild Women'. Johnny's vocal was way over-the-top but that was precisely what was needed for that stuff. He didn't like the kind of pseudo Sun-style echo that Cohen achieved during the sessions ; in retrospect, it wasn't bad at all ! Grady Martin largely contributed to shake up Bradley's Barn (as the studio was then known) with his astonishing breaks played - that's interesting - on a double neck Bigsby guitar, most probably derived from the famous Paul Bigsby-Merle Travis solid body axe designed by both men in '47/'48. He would soon work his magic on countless classics by Johnny horton, Buddy holly, The Rock'n'Roll Trio, Don Woody... At the same time, on the West Coast, Joe Maphis was using his double neck Mosrite on Rockabilly recordings by Skeets Mc Donald, The Collins Kids and Wanda Jackson.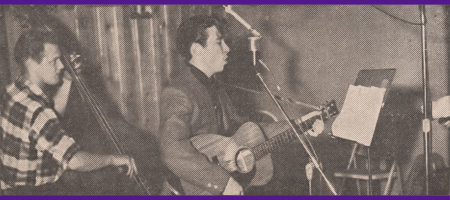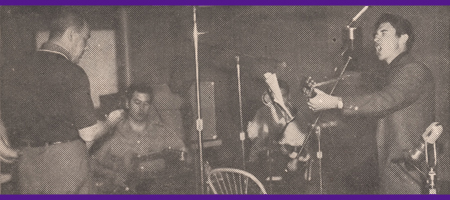 I'm sure that many of you will delight at the sight of the photos on the left and above- the five of which appeared ONLY in the November 1956 issue of 'Folk & Country Songs' (US mag), and now on my site. The accompanying article, titled 'Johnny Carroll - Rockin' Country Boy' was short but surprisingly positive. These five shots constitute the only visual counterpart to Johnny Carroll's Decca recordings. One can feel the tension and the urgency of the music created that day (we simply don't know exactly which session it was). Those brave early rockabilly cats must have had a real tough time in the studio with producers who didn't care for the new music. Grady Martin and Paul Cohen can be seen : the former seated, the latter trying to keep time while Johnny's cutting loose ! If you look closely (and I know you will), you'll notice the two mikes that Paul Cohen put together in front of Johnny Carroll, probably in order to create that echo effect. Then, there's a young Bob Moore playing his bass with cigarette in hand ! You'll also find that Johnny's likeness to Gene Vincent is absolutely striking. And we can safely state now that Johnny used his own rhythm guitar on some tracks.

One of the original captions read : 'mussed hair and pained expression indicate a 'give all' session by Johnny'. Another read : 'He gives meaning to all his tunes'. The writer of the article was adamant that 'the executives up at Decca Records were really buzzin' about their new discovery' ; indeed, they released the six gems in rapid succession but alas, Carroll's three '45s sank almost without a trace in 1956. Yet, they must have made enough noise for Johnny to be chosen for the 'Rock, Baby, Rock It' movie the next year ; this and the rest of his career will be discussed in another page. Next, all you have to do is dip into your collection and pull out those Johnny Carroll Decca singles (or the ultra rare French EP released on CID 100.569 which compiled four cuts out of the six) : they represent rockabilly at its best.