He was born Otis W. Maphis on May 12, 1921, in Suffolk (Virginia) but was raised in Cumberland (Maryland). He began playing fiddle at an early age but also took up the piano - only to concentrate shortly on stringed instruments. It's funny because of the similarity with another top guitarist [Jimmy Bryant] who was also a good piano player - and almost nobody knew it ! Joe quickly became proficient on tenor banjo, 5-string banjo, mandolin, bass fiddle and guitar. 'I guess my pop began it all', he told John Tynan in the November 1956 issue of 'C'n'W Jamboree', 'He was always strummin' around the house, and I learned my first chords from him.' His first professional group was named 'The Rail Splitters'. Gradually, Joe built up a large following through his radio shows in Wheeling (West Virginia), Richmond (Virginia), Cincinnati ('The Boone County Jamboree' on WLW in 1941) and up to Chicago ('The National Barn Dance' on WLS), playing the music that always inspired him, fiddle tunes and Bluegrass.

During World War II, Joe went all over the South Pacific entertaining the American Armed Forces with the Swing Billy Review. He recalled that the band once played on a US base in Okinawa with probably 'dozens of Japanese snipers watching us play' but they came off alive ! After his discharge, he went on to be one of the most popular entertainers back on the Old Dominion Barn Dance in Richmond (Virginia) where he stayed from 1946 to 1950. In issue #4 of 'Barn Dance Magazine' (December 1947), there was a feature on the radio show ; among the many artists appearing on the show - which was broadcast over WRVA - were : Bill & Arline Wiltshire, Benny & Curly, Little Robert, Slim Idaho & his triple-necked steel guitar and of course, Joe Maphis who used to double as 'Cousin' Joe Maphis when he sang and emceed, and as 'Crazy' Joe Maphis when he did a comedy routine. His longtime friend, the late Merle Travis, picks up the story on the back of Joe's rare Mac Gregor LP, released circa 1960 : 'When I was in my late teens, I was with a group called 'The Drifting Pioneers', on a radio station in Cincinnati. One night, driving home from a personal appearance, we happened to tune in 'The Old Dominion Barn Dance' from Richmond, Virginia. A few songs were sung, and the honey voiced mistress of ceremonies, Sunshine Sue, announced that we'd hear a guitar solo by Ol' Crazy Joe. I'll never forget how 'Arkansas Traveler' came through that car radio. Here was the flawless, lightning-like execution of a master. After I'd got rid of my goose bumps and come back to earth, I remarked, 'Gosh, I'd sure like to meet that old man !' A special piece on The Dominion Barn Dance appears on a separate page on this site.
While there, Joe met Rose Lee, who eventually became his wife. Rose Lee Schetrompf was born on December 29, 1922 in Baltimore, Maryland and raised on a farm not far from Hagerstown, Virginia. Her Country music career started at age 16 when she sang and played guitar on her own radio show. She was then known as 'Rose Of The Mountains'. She later teamed up with Mary Klick and the girls called themselves 'The Saddle Sweethearts'. As Don Pierce (head of Starday Records) put it : 'Her clear, sweet voice has that 'ever lovin' twang of Country sincerity and she picks a mean rhythm guitar.' Not too sure about her guitar skills but yes, her voice had that special resonance that is so vital to real country music.

In 1951, Joe and Rose Lee received a phone call from Foreman Phillips who invited them to join his KABC-TV show. On advice from Merle Travis, they accepted and the duo headed for California. The next move was to Cliffie Stone's radio and TV family show on Pasadena Station KXLA and the video Hometown Jamboree for a short time. From there they joined Bill Wagnon's Town Hall Party where they became a fixture along with such luminaries as Eddie Dean, Wesley Tuttle, Tex Ritter, Johnny Bond, Skeets McDonald, Wynn Stewart, The Collins Kids and, of course, Merle Travis. John Tynan again : 'On the Town Hall Party stage, Joe has ample opportunity as leader of the band to demonstrate his skill on his Mosrite double-neck guitar. The eye-catching instrument was constructed by Semie Moseley and presented to Joe during a show. This little gift is value at $1150 - quite a price tag for a guitar. Joe's sidekick on the program, knee-high Larry Collins of the Collins Kids, is also the proud owner of a double-neck. And when Little Larry and Long Tall Joe make music together, anything that expensive has gotta be good!' True, the Joe Maphis story would never have been the same without that famous instrument. It's a remarkable tale. After watching Joe on TV, a young boy by the name of Semie Moseley dreamed about making a guitar especially for him. With the help of a preacher friend of his, he was able to meet Joe and agreed to build a double-neck guitar with the top neck an octave higher. And boy, did that twin-neck beast look fantastic ! It seems that the very first model had a Bigsby/Fender head but the second had the famous 'M' chop at the top of the peghead (which definitely stood for Maphis), stairstep tuners, asymmetrical design and beautiful sunburnt coating. The pickups were the revered white Carvin AP-6 which made for a rich, yet clear sound that was just unbelievable. Joe's incredible technique allowed him to jump easily from one neck to the other, creating dazzling effects which changed Country music forever. Milbourne L. Whitt, a guitar picker of note and Joe Maphis expert, and Terry McArthur, a renowned stringed instrument maker now based close to Nashville, both agree that the sound produced by the original Mosrite was unique and arguably better than that of all subsequent Semie Moseley guitars - and he built quite a few until the late 60's. A palpable difference would be the change in pickups, from the white Carvins to Moseley's own black humbuckers.
Obviously, it wasn't too long before Joe was in great demand on recording sessions. It is reported that his first recorded work was with Salty Holmes when he cut 'Mama Blues' for Decca in 1947. This track was later either reissued or re-recorded for the 4-Star label (#1752, distributed by King Records) along with 'Harmonica Boogie Shuffle', the latter a Holmes-Maphis composition. He went on to back up a long list of Country singers and an even longer list of Rockabilly Cats. His flashy licks and authoritative attacks of the tunes were tailor-made for this kind of music. And moreover, he created some of Rockabilly's most incisive and most admired licks which he would use endlessly on such recordings as 'If You Can't Rock Me' by Ricky Nelson, 'Love In Be-Bop Time' by Nick Venet, 'Warm Love' by The Burnette Brothers or 'Be My Love Tonight' by The Jodimars. In fact, his considerable skills made him one of the busiest session guitarists on the West Coast in the late fifities. He litterally became part of the Imperial house band, along with Gene Garf (piano), James Kirkland (bass), Ritchie Frost (drums) and eventually James Burton on second guitar. He was even asked to join Ricky Nelson's band on a permanent basis after having brilliantly played on Ricky's second single and first LP for the label in 1957, but the heavy touring schedule and probably some advice from the Country community ultimately put him off. Of course, James Burton took the job and another brilliant career was launched.
[For a detailed account of Joe Maphis's work as session guitarist, and an ambitious attempt at compiling a complete listing of those recordings, check out the 'Back-Up Sessions' page].

Meanwhile, Joe & Rose Lee made their first own recordings for the small Lariat label ; two singles were issued in 1952, the first one comprising 'Lonesome Train Boogie' c/w 'Square Dance Boogie' (#1106, some copies on red wax) and fetching very high prices nowadays. In 1953, the year they married, they were signed up by Okeh Records, a branch of Columbia which seemed to specialize in Rhythm'n'Blues but had a strong Country roster as well. They cut six singles for the label, starting with their biggest seller to date and an all-time classic, 'Dim Lights, Thick Smoke (And Loud, Loud Music)' (#18013). Their duets on these honky tonk songs were quite pleasant and Joe's playing was always the ice on the cake. In fact, Joe is as pure a Country musician as you can find ; his guitar lines were patterned after those played on fiddles and even when, later on, he attended Rock'n'Roll sessions, the Country essence of his playing always showed up. He developed a clean, precise, though sharp, picking style which, combined with his astonishing dexterity and speed, produced one of the most thrilling, memorable and influential guitar sounds ever. Cliff Gallup, Gary Lambert, Larry Collins, Danny Gatton, Deke Dickerson are part of the legion of pickers who owe him a lot.

In 1955, Joe & Rose Lee were moved to the parent company - Columbia - and cut more fine sides until Joe came up with 'Fire On The Strings' at an October 3 session, which became his signature tune. Apart from playing also banjo and mandolin on the track, Joe used his double-neck Mosrite guitar to great effect. So much so that many wondered if he could really play that fast ! Says Milbourne Whitt : 'I had heard his records but thought it was high-speed trick recordings - until I saw him in person in 1959. I went right out and hunted up that 'Fire On The Strings' and I still have it today. [] More than that, I heard him imitate Merle Travis perfectly using a flatpick and fingers. He was able to change his tone and lighten up the bass beat to a 'snip-snap' beat to sound like Chet Atkins. Merle's beat was more like a 'thump-thunk', much heavier, and Joe could clearly distinguish the difference between the two.'
Joe's first LP was released in early 1957 ; aptly titled 'Fire On The Strings' (CL 1005), it is, quite simply, one of the absolute greatest instrumental albums of all time, on a par with 'Chet Atkins In Three Dimensions' or 'The Merle Travis Guitar' for example. By simply looking at its baulously flashy cover showing Joe with his double-neck guitar (with the Carvin pickups), one could be sure that they would be treated to a grand listening session. Indeed, it contained such monsters as 'Guitar Rock And Roll', 'Bully Of The Town', 'Flying Fingers' and the hauntingly beautiful 'Lorrie Ann', all recorded between February '56 and March '57. Joe's playing is so tasteful that one never grows tired of listening to this stuff. With three exceptions, including Earl Scruggs' 'Randy Lynn Rag', all songs had been composed or re-arranged by Joe himself, as would so often be the case throughout his entire career. His banjo playing is quite interesting too, because, in the words of a guitar player with whom I once worked, he plays the 'hound dog' like a guitar. With this record, Joe had definitely arrived and created patterns, figures dand motifs that were his very own and that he would use permanently, albeit generally with enough variation to keep his audience captivated. He had also showed his complete mastery of overdubbing, 'Flying Fingers and 'Twin Banjo Special' being two more examples. These two tracks appeared, along with 'Fire On The Strings' and 'Guitar Rock'n'Roll', on an EP culled from the album (B-10051) ; it is pictured at left. In fact, 'Guitar Rock'n'Roll', like most of the other titles, was issued as a single in 1956, prior to the release of the LP ; Joe & Rose Lee even trekked to Nashville in November 1956 to attend the annual C'n'W Disc Jockey Convention and promote these records. In the January 1957 issue of 'C'n'W Jamboree', a reviewer wrote : 'The 'Guitar Rock'n'Roll' is a happy marriage of hillbilly and rock'n'roll. Maphis is one of the truly versatile pickers in the hillbilly business.' If Chet Atkins was still voted 'Best Instrumentalist' in their DJ and Readers' Polls, Joe Maphis was now the 'Best New Instrumentalist'.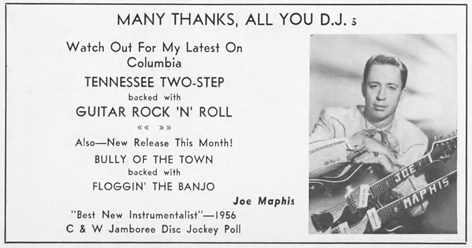 In January 1958, Columbia put out an astonishing EP called 'Swingin' Strings'. It featured Joe and his protégé, young Larry Collins (of The Collins Kids, of course), chasing each other in a spectacular battle of the double necks ! One track in particular got all listeners flabbergasted, at the time and decades later as well : 'Hurricane'. Larry Collins was so damn good at reproducing Joe's licks that at times, it's hard to tell who's soloing. But, as Colin Escott wrote in his superb notes to the Collins Kids 2-CD set on Bear Family (BCD 15537), Larry Collins was responsible for introducing 'double-timed bass string runs awash in reverb' which would prove to be a major influence on Dick Dale and coutless Surf guitarists of the early 60's.
1959 saw the release of the Harmony album, 'Hi-Fi Holiday For Banjo', but also that of a single (#41353) which marked some kind of departure from Joe's usual sound : 'Short Recess' featured Plas Johnson playing tenor sax (bit like in some of Duane Eddy's recordings for Jamie) and the flip, 'Moonshot', had some Bo Diddley-influenced percussion. That was Joe's attempt at making a Rock'n'Roll single but it didn't catch on.

Joe and Rose Lee, as mentioned earlier in the text, had become a fixture on the 'Town Hall Party' TV shows in the 50's. They had solo spots of course and Joe was the in-house lead guitarist. Those Country cats were very biased towards Rock'n'Roll - they mostly didn't like it and it showed even if most of them were able to cut some classic Rockabilly tracks. But Joe was always willing to do his best and his finest work on 'Town Hall Party' was when he played behind Bob Luman or Wanda Jackson for instance. All these shows are now available on DVD thanks to the Bear Family label in Germany and I would urge you to check'em out, especially 'Bob Luman At Town Hall Party' (BVD 20004), featuring outstanding performances from Bob and Joe. The liner notes to the original 1957 'Town Hall Party' compilation album (#1072) inform us that this combined dance and show emanated from the stage of the Town Hall of Compton, a suburb of Los Angeles and was started in the autumn of 1951 by William B. Wagnon, Jr. It was at first released over the full NBC Radio Network, then, in 1952, through special arrangements of the LA Times television station, KTTV, a 3-hour TV show was telecast directly from the ballroom every saturday night from 10 p.m. to 1a.m. Other artists of distinction appearing on that show were Gene Autry, Freddie Hart, Tex Williams, Johnny Cash, Hank Thompson, Doye O'Dell and of course, Gene Vincent and Eddie Cochran whose fabulous performances are also available on both video tape (courtesy of RockStar) and DVD (courtesy of Bear Family).
Joe also made his mark by playing on the soundtracks of other popular TV shows like 'The Deputy', 'Riverboat' and later on, the dramatic albeit short-lived 'Thunder Road'.

In 1960, Joe parted company with Columbia, although Rose Lee cut her own delightful album for the label later in the year (with Joe arranging and backing her up). The first side of the album is particularly fine, with 'My Curly-Headed Baby', 'Nobody Answered Me', 'Nobody's Darlin' But Mine' and the utterly beautiful 'The Wind And The Tree' with steel guitar sounds that can only remind me of Pete Drake who was beginning to make great strides in the Country Music circles at that time. It's quite possible that part - or all - of the record had been recorded in Nashville. There was a lone but great sounding '45 on Gene Autry's Republic (#2006) : Joe's version of the super Merl Lindsay number, 'Water Baby Boogie'. A full-length stereo issue of this track on a Sundazed CD in 1990 (CD HC 12001) allowed us to hear Joe's various guitar overdubs and it's a joy to hear those cascading runs up and down the necks ! Now, who plays piano in there ? Around that time, Joe recorded that famous LP for the Mc Gregor label, located at 729 South Western Avenue in Los Angeles. Though almost exclusively comprised of traditional country & folk tunes, Joe takes them to a higher level - especially since he does all guitar, banjo, mandolin and fiddle parts. His double neck Mosrite, well to the fore on the outstanding front cover, is used in several tracks - 'Square Dance Rock', 'Crazy Pickin' (which goes a bit over the top) and 'Green River Rag' where he does some real good Travis pickin'. There are times when you can clearly hear where the master was spliced : my question is, do stereo tapes exist ? The listening would no doubt benefit from clean stereo separation. The front cover is another winner with different shots of Joe with all his favorite instruments while the back features another pic of Joe, this time with Rose Lee and three musicians, one of whom appears to be Skeets McDonald, Fender bass in hand !

From 1961 to 1963, Joe & Rose Lee were under contract with Capitol. The two albums they cut there were, again, fantastic. First, there was that Bluegrass LP with The Blue Ridge Mountain Boys ('Lonesome Train' contained a fine dobro solo and I particularly liked Joe & Rose Lee's rendition of 'Little Rosewood Casket'). Joe went on another overdubbing spree there, with the bonus of hearing him play the autoharp on a couple of cuts. The sound, courtesy of the Capitol Tower studios, was excellent and very polished but the feel was intact.
Then, Joe teamed up with his longtime friend, Merle Travis, to cut an instrumental set - 'Country Music's Two Guitar Greats' - which was pure magic. Merle's subtle picking combined with Joe's blazing artistry produced gems like 'West Coast Blues' or 'Blast Off' (the latter being really 'Flying Fingers' #2).
I should also mention two more Capitol outings in 1963. Firstly, 'The Prisoner's Dream' (T 1920), recorded in prison by a real prisoner, Charles Lee Guy III. Guy sings songs by Johnny Cash ('Folsom Prison Blues'), Jimmie Skinner ('Doin' My Time') and Spade Cooley ('Cold Gray Bars') in a pleasant Country-Folk style, while accompanying himself on acoustic guitar ; the lead acoustic guitar is played by none other than Joe Maphis. Secondly, there was 'Country Music Hootenanny' (T 2009), in honor of Cousin Herb Henson and his ten years on TV with the 'Trading Post' show. It was recorded on September 12, 1963, at the Bakersfield Civic Auditorium, over two big show in front of a total audience of 6,000 people. Buck Owens, Rose Maddox, Johnny Bond, Glen Campbell, Roy Nichols, Merle Travis and Roy Clark were among those who participated. Joe, who had joined the cast in 1962, conducted the Trading Post Band and also functioned as director and helped Cousin Herb put the entire show together.
The next step would be at Starday Records in Madison, Tennessee, although Joe, Rose Lee and their three children (Jody, Lorrie and Dale) did not leave their San Fernando Valley home to settle close to Nashville - where most of the action was then - until 1968. Joe worked many Californian clubs during the '50s and '60s. In the February 1959 issue of 'Trail', columnist Carolina Cotton reported that 'Joe Maphis is hosting many friends at his 'Frolics Club' in the San Fernando Valley. Rose Lee and Joe are so well liked by everyone, and folks are coming in from far and wide to visit them at the club.' Guitarist Walt Rogers recalls playing with him at the 101 Club in Oceanside and at Bill Testers's 1440 Club in San Jose.
Frankly, Joe's Starday albums are wonderful and every bit as good as the previous ones. The first for the new label, 'Mr & Mrs Country Music' (SLP 286, 1964), a mixture of solo and duo vocals, was a well-balanced affair. Backed up by The Willis Bros and Pete Drake on steel, Joe shone on 'Hot Time In Nashville Tonight' (taken at breakneck speed), 'Lonesome Jailhouse Blues' (great 12-string work here), the rockabilly-tinged 'Sweet, Sweet Lips' (with a tremendous Pete Drake steel solo) and the lone instrumental, a remake of 'Del Rio'. Rose Lee was in good singing form as evidenced by the re-cut of 'Please Mr Mailman' and 'Remember ('I'm Just As Close As The Phone)' where Pete Drake's famous talking steel guitar can be heard. The combination of two giants like Joe Maphis and Pete Drake was very rewarding ; he was the only steeler on Joe's Starday stuff when one was needed.The classic cover photo of the Maphises beside their touring bus was taken on the farm of Grandpa Jones, in Goodlettsville, Tennessee.
The three subsequent Starday albums (not counting various artists comps) were instrumental only ; Don Pierce, the label's boss since 1958, opted to showcase Joe Maphis, the guitar picker.
'The Amazing Joe Maphis' (SLP 316) is a terrific record. Included are some of my all-time favorites like 'Little Bit Of Travis', 'Coffee Break' (done in one take), the romping 'Banjo Boogie Shuffle', 'Double Neck Boogie' where Joe overdubbed two guitar parts, and the delicate 'Sweet Rosie', played on an unamplified concert guitar, in a style appropriately described by Maphis as 'gut string swing'. The new version of his own 'Fire On The Strings' is even faster than the Columbia original. There's also a splendid, dense sounding version of Rex Allen's 'Invitation To The Blues' and great fiddlin'by Joe on 'Scalping The Indians', plus another stunning collaboration with Pete Drake and his talking steel, in the form of the non-stop 'Hot Rod Guitar'. The latter appeared on a fine single (#683) with 'Lonesome Jailhoues Blues' on the back. Typically for Starday, it was re-named 'Big Rig Guitar' on some compilations and even appeared in different (reversed) stereo mixes (see 'LP Discography' for all details and pics).
Rounding out the LP is a rousing cover of the recent Willis Bros' hit, 'Give Me Forty Acres'. Milbourne Whitt again : 'On this tune, Joe does some amazing tricky licks which he very seldom did. Years ago, I even gave that lick a name, the 'come to me, go from me' lick'.
Next to come, 'Golden Gospel Guitar' (SLP 322) is a marvelous collection of sacred tunes. The cover shows Joe posing in front of a church with a newly-built Mosrite guitar featuring the later black Mosrite humbuckers. In his liner notes, Don Pierce wrote : 'Joe Maphis has the style and the technique that enables him to bring out all the glory and Christian message in these beautiful songs of faith. He picks out the happy, hand clapping, songs with a country guitar sound that reminds one of the old country church back home'. Absolutely right. Joe had already cut a Gospel instrumental album for the Sacred label out of Waco, Texas ('Gospel Guitar, LPS 7-4014, produced by Wesley Tuttle) and had played guitar background for Alan McGill who had an LP out on Sacred in 1959 ('Beside The Still Waters, # 9060). Joe would record a second Gospel record for Sacred in 1970. The sound on the Sacred releases is pretty close to that of the Starday album and the notes to the first Sacred collection explain how that special sound was achieved : 'To create a new conception in sound, we combined Joe's custom made two-necked Mosrite guitar and a Standel amplifier plus an Eccophonic amplifier. Overdubbing in triplicate achieved a new and refreshing sound'.
His last Starday LP was 'Country Guitar Goes On The Jimmy Dean Show' (SLP 373), which presented Joe's renditions of traditional tunes and other favorites, among them two George Jones numbers, 'Window Up Above' and 'Seasons Of My Heart'. Joe plays acoustic lead guitar, sometimes using his electric Mosrite in counterpoint like in 'Dixie Guitar' or his lovely take on Arlie Duff's 'Y'All Come'. Of course, Don Pierce always made sure that his artists cut some of his most enduring copyrights, hence the many versions of 'Y'All Come', 'Satisfied Mind' and the like. It should be noted that the jacket of that latter album - nicely designed, like the other Starday LPs from the '60s - included a now scarce, illustrated 34-page guitar method (see photos on the left).
There had been a few singles in between the LPs, mostly culled from them although they sometimes featured new vocal tracks like 'Don't Pass Me By' (#728) or 'Ridin' Down Ole 66' (#745). The latter, as well as 'Ten Days Out, Two Days In' (which only appeared on compilation albums), were truck driver songs, a genre much in vogue among 60's country music fans.
As the sixties drew to a close, Joe & Rose Lee remained active. They cut two albums and a few singles for the Mosrite label, on which Joe's discovery, Barbara Mandrel, had debuted. The first one was essentially instrumental and titled 'The New Sound Of Joe Maphis' (MA 400) ; you would perhaps think that it was only hype, but no, Joe was at the height of his powers and with a minimal backing of drums, bass and occasional piano or harmonica, he still delivered the goods with flying colors (and fingers !). His galloping version of 'Yakety Axe' sets the tone for the whole album and 'Durango', 'Thunder Road', 'Liberty On The Guitar', 'Spanish Dobro', 'Ole Jobro' (with some vocals thrown in), 'Alabama Jubilee' and 'Pickin' And A-Guitin' are all arresting performances. His take on 'Buckaroo' is noteworthy in that it's one of the rare times when Joe used a fuzz box. And whoever played the harmonica parts on some of the tracks did an outstanding job !
The second album, 'Stringin' Along With Joe & Rose Lee Maphis' (MA 401) was essentially comprised of vocals, some in their wonderful duet style, some sung solo by Rose Lee. There was a tasty mixture of humorous songs like 'Country Girl Courtship', 'Down By The Railroad Tracks', 'Second Fiddle To An Old Guitar' and 'Preview', and splendid ballads like 'I'm Willing To Try' and 'There Goes My Everything' (one of Rose's best). These two records are to be counted among the duo's very best. They were released in Canada on the Dominion label with different front covers and minor differences in content. One track in particular, the aptly-titled and 12-string driven 'Tunin' Up For The Blues' (sung by Joe and produced by Bill Woods), was on the second Canadian LP but only appeared as a single on Mosrite.
A hard-to-find compilation of Mosrite recordings, 'Artists Of The 60's' (#1284) was released on this label in 1984. Both sides of Barbara Mandrell's original single are featured, albeit with a newly recorded backing track. Also featured were Eddie Dean, Doyle Holly, Gene Moles, Tommy Duncan, Al Brumley, Leo Le Blanc, Louise Lovett and Joe & Rose Lee who have the lion's share with five songs. The liner notes tell us that all vocals were originally recorded in 1966 at RCA Studios in Hollywood and produced by Larry Scott. However, no mention is made of Bill Woods who did produce both 'Tunin' Up For The Blues' and its flip, 'A Lifetime Of Love', the latter being included here nevertheless.

The October 5th, 1968, issue of Billboard mentioned that Joe & Rose Lee Maphis, now based in Nashville, are with Ripcord Records. This company was owned by Bobby Gibson in Vancouver, Washington. Apparently, they cut one lone single there and it's a very disappointing one - a rare case indeed with Joe & Rose Lee.
Joe then appeared on the Chart imprint. His single, 'Guitar Happy', is tremendous : wonder who plays that dazzling steel on it. In 1971, Joe put out an album with his son, Jody Lee, titled 'Guitaration Gap' (CHS 1042). In his liner notes, Earl Scruggs noted : 'You will also hear Joe playing a unique 18-string guitar on one of the tracks'. After that, Joe moved on to CMH, where he cut another nice series of albums (sometimes with Merle Travis, Grandpa Jones and others). The 'Grass 'n' Jazz' LP was an acoustic Bluegrass/Country Jazz effort , where Joe was supported by a stellar cast of musicians : Johnny Gimble, Benny Martin, Bobby Thompson, Harold Bradley, Josh Graves, Hargus 'Pig' Robbins & Buddy Harmon. All those records are more wonderful examples of Country music at its best ; Joe's playing is always inventive while his and Rose Lee's vocals stay well rooted in traditional styles - the whole thing sounding varied, modern, though conjuring up what I would call 'old time' images and feelings.
The duo remained very popular until the end. The end occurred on June 27, 1986, when Joe died of lung cancer. Rose Lee and their children (Jody and Dale cut at least one album each with their father) keep his memory alive, as do all those fans and collectors who were instantly knocked out by his incredible musicianship. His skills and versatility led to his ubiquity in the West Coast recording studios during the mid-to-late '50s, a most important period of transition. But beyond the technique and mastery, there was taste and sincerity. Joe and Rose Lee's records make you feel good. And though they still sound incredibly fresh and modern today, for all the high level of musicality they contain, it's still the 'feel' that prevails. Like with Chet Atkins, or George Barnes to name only two.
Joe & Rose Lee Maphis remain the most charming ambassadors of Country Music and absolutely deserve a choice place among all its Greats.
The original double neck Mosrite is now in The Country Music Hall Of Fame in Nashville but I can still hear it play all the time ... Let's fly away, away, let's fly away ...

© Paul Vidal * Privas, France * 1998
-
2008 - 2019