Glenn Barber is one of my favorite Country'n'Western singers.
He has a strong, ample voice which adapts itself to any kind of Country material.
He's also an incredibly prolific songwriter and his recording career spanned four decades.
It all began on February 2, 1935, when Martin Glenn Barber was born in Hollis, Oklahoma.
In his liner notes to the 'Stars Of Texas Honky Tonk' LP (Ace LTD 603 ; 1991), Philip J. Tricker recounts that, when he was 6, Glenn came home crying after being scolded for touching someone's guitar. Definitely a strange way to get into music but this really is how it happened and Darrell Taylor, from Willis, Texas, knows the story better than anyone else : 'Glenn Barber got a spanking and scolded by his mother at the age of 6 at my mother and dad's house for touching my dad's guitar which was leaning up in the corner. They were next door neighbors and best of friends and all of this was before I was born. [] My dad (Steve Taylor) pulled Glenn's dad from a burning car that he had wrecked in a bar ditch full of water before that and that is how the two families met. My dad wound up giving the guitar to Glenn and teaching him to play it just like he did me when I was 8 years old'. This took place in Pasadena, a Houston suburb in Texas.
Glenn gradually learnt how to play other stringed instruments - banjo, bass fiddle, mandolin, steel guitar - and ultimately got involved in the local music scene. Apparently, he cut his first record - 'You Took The Twinkle Out Of My Stars' - for the Stampede label in 1952 ; that small record company, owned by Curt Peeples and Willie Jones, was based in Kemah, Texas, and had already issued three '78s by singer/bandleader, Smokey Stover, probably better known to Hillbilly collectors via a clutch of singles on his own Ol' Podner imprint. On his first outing, Glenn was backed by a band named 'The Music Masters' ; also - and this would continue for a few more releases - he was billed as GLEN Barber. Glenn's next two ventures into a recording studio would take place at the famous ACA Studio (Houston, Tx). On June 24, 1953, he took part in a session for Bill Nettles which resulted in two unissued songs for the Trumpet label (namely, 'When My Kitten Starts Cattin' Around' and 'Be Fair With Your Heart'). Then, in 1954, he cut his second solo single ; this time, it was for the Hallmark label and the main song was 'Styles & Ways Of The World'. That disc may have made some noise since a contract with Starday Records ensued.

His first Starday (#166) was a brilliant slab of Hillbilly Bop ; on a personal note, it's the one that turned me on to Barber. The stop-and-go 'Ice Water', with its stompin' bass sound, has all the ingredients of proto-rockabilly - except for a guitar break since the soli are taken by the steel guitarist and the piano player.
'If I get weak and my steps get shorter, wash my face in ice cold water !' - truly a memorable side. Its flip, 'Ring Around The Moon', is slower but totally charming ; it's a re-cut of a tune which featured on his Stampede record.
Next came 'Poor Man's Baby (And A Rich Man's Dream)' (#196), most probably derived from the same session as #166 and quite good too ; it was released during the Summer of 1955. A new session produced both sides of his third Starday disc (#214), again both self-penned ; 'Ain't It Funny' is a very fine ballad while the sprightly 'Livin' High & Wide' features more excellent steel and piano soli plus one on fiddle ('I won't stop and I won't steal, as long as I can pay the bill, livin' high & wide' !). That latter song was superbly revisited as 'High & Wild' by Ray Condo & His Ricochets in 2000 (LP Joaquin #2507).
His last one on Starday (#249) came out in Summer 1956, which was quite different from the previous summer. Rock'n'Roll was all over the place and Country artists were having a tough time trying to adjust. However, history shows that most of them were more than capable to handle the new shakin' music ; Glenn of course was no exception to that rule, as a crazy guitar/piano bopper from 1955, 'Atom Bomb', already attested (it was first issued by Ace Records, CH 191, in 1986). Likewise, the typically echoey 'Shadow My Baby' is classic, powerhouse Rockabilly with Glenn's assured vocal and Link Davis's tenor sax well to the fore. I have yet to hear the flip, 'Feeling No Pain', but I guess it rocks too !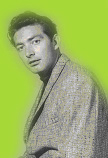 After Starday, Glenn remained with Pappy Daily, joining the D stable. Several excellent singles appeared, beginning with 'Hello Sadness' in 1958 (#1017) ; the double-tracked vocal made it sound very much like an answer to The Everly Bros' 'Bye Bye Love' - with fiddle, steel and piano added. The other side, the self-penned 'Same Old Fool Tomorrow', was almost a copy of The Cochran Brothers' 'Your Tomorrows Never Come' (Ekko). Another good one was #1069, coupling the superb rock-a-ballad 'Most Beautiful' with a lively handclapper, 'Your Heart Don't Love' - both self-penned. His best D production probably was 'Go Home Letter' (#1098), a medium but tuneful 1959 rocker punctuated by some amazing picking from guitarist Hal Harris. He would later redo the song while at Hickory.
Glenn's son, Glenn Jr., who drummed for Tanya Tucker and then Roy Drusky in the 70's, sheds some interesting light on his father's musical activities at that time : 'As far as who Dad has worked with in the past - the list is quite impressive. In his early years (50's and 60's), he played guitar on several hit records that where recorded in the Houston and Beaumont areas. He played lead guitar on the Big Bopper's 'Chantilly Lace'. Another hit he played on was 'Black Land Farmer' by Frankie Miller. He played on George Jones's 'Why Baby Why' and Link Davis's 'Big Mamou'. He also played on sessions for Mickey Gilley, Johnny Lee, Bob Luman and B.J. Thomas'.
Of course, he also wrote the great bopper, 'You'll Look A Long Time' for Sonny Burns (Starday 189, c/w 'Six Feet Of Earth'). According to collector/researcher Sean Brady, Gene Watson, who cut an excellent single on Dixie (#2003, 'I'll Always Love You' b/w 'Life's Valley'), mentioned in a radio interview from December 2006, that he had recorded some sides in Texas with the assistance of Glenn Barber.
Leon Thomas was another musician who worked with Glenn ; his wife, Helen Boyles, remembers : 'My late husband, Leon Thomas, and I, knew Glen Barber before we were married. Leon and Glen played together in Baytown Texas (about 30 miles east of Houston) and their wives were very good friends. In fact, when Leon and I married and were expecting our first child, Leon's first wife (Polly) passed her maternity clothes to me which she had received from Glen's wife ! Yes, Glen and Leon played together at local clubs but never toured together, to my knowledge. They had both cut records at this time but I don't know if they recorded together, since Leon was a sideman and had recorded with various artists. In 1956 and 1957, Leon was touring and recording with Billy Gray. I knew Glen when he played in Baytown at Freddie Real's club, in the mid-fifties ; Freddie Real and his wife, Peggy, were my neighbors and I would go to the club when they needed me, watch their daughter and take care of the door. This is where I met and dated for several months, George Jones, a few years before I met and married Leon. Leon and I moved to New Mexico, when he received a job offer he couldn't refuse in 1958, playing at a club there. We left Houston in 1958, and that was the last time we saw Glen'. Leon Thomas was a steel guitar player.

As the sixties arrived, Glenn became a DJ on Houston's KIKK but he also seems to have operated a recording studio out of Pasadena, Texas, around that time (see headed notepaper at left). Darrell Taylor again : 'Glenn never stopped recording. He drove a Pearl beer truck by day for years and played music by night and he had his own recording studio at his house even. It was in the garage area and I remember it had egg crates on the walls for the best acoustics. There is a lot of recording that goes on that nobody ever knows about until later on. Glenn's family had a band too. They were all musicians. Can't remember all their names but one of them was named Wimpy. Mostly brothers and sisters I think. I was real young at that time. I remember that Betty Ann's parents were Giggie and Doris. Also good friends with my parents, Steve and Ann Taylor'.
He went on to record for Sims, Pic One (a label for which both Joe Barry and Warren Storm recorded), the Houston-based Skill imprint (probably '65-'66, like Warren Smith) and ultimately, Nashville's famous Hickory label, after having had a second stint with Starday at some point. He made the charts several times between 1964 and 1971, notably with 'Kissed By The Rain, Warmed By The Sun' (Hickory #1545), a very pleasant Gene Thomas composition which kicked off his first Hickory LP, 'A New Star', in 1970. 'Ain't it funny' (pun intended) that Glenn should be billed as 'a new star' some 18 years after his recording debut ?! Well, I know, Dorsey Burnette and countless others suffered the same fate at one time or another. That said, Glenn's Hickory album is very enjoyable even if Country Music had become far more... predictable, shall we say, at that time. But for two of them, all the cuts were composed by Glenn and the production was handled by Don Gant, who himself had cut several nice things ('High Hoss Baby' for example) on Hickory earlier in the decade. The ballads abound and are real nice (especially the gorgeous 'She Cheats On Me' that Elvis should have recorded) but of course, I tend to fancy the uptempo songs ('Don't Worry Bout The Mule', 'My World Is Square' or the Merle Haggard-inspired 'Gonna Make My Mama Proud') a bit more. Glenn also delivers a good version of 'Abilene' (the acoustic guitar intro is terrific as are the dobro parts). Maybe not as distinctive as the early Starday stuff to be sure but Glenn's voice had now taken on a kind of holographic quality and the backings, supplied by Nashville's A-Team (I guess the B-team would have been just as good !), were flawless.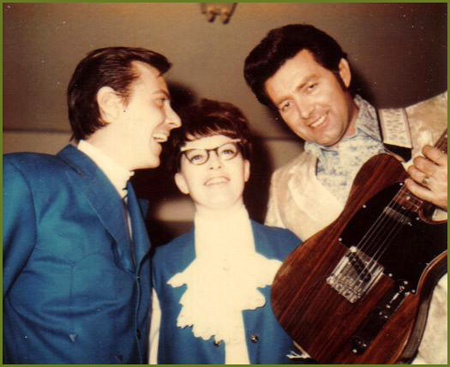 Longtime fan, Jerry Morris, had this to write about the Hickory years : 'You Only Live Once (In Awhile)' is one of the best songs ever recorded by anyone. I used to go see Glen when he would come to Tampa, Florida to sing at the Imperial Ball Room. They booked him for a week at a time, I was there every night. I loved the special Hank Williams tribute he did on stage, taking the persona of Hank, explaining even down to the way Hank stood stoop-shouldered bending over the mike and the way he placed his feet. Glen would
sing song after song of Hank's, explaining a little about when and how Hank wrote them. The only thing wrong with it was, it took an entire set and you didn't get to hear Glen do any of his songs. The song with a line about waking up with the sun shining through pretty purple curtains. Not to mention his great rendition of Mickey Newberry's 'Poison Red Berries' that I still sing for myself. I miss hearing Glen and the other great singers of Country Music. Not what they are calling Country today.' Above is a picture of Glenn (right) with Trisha Moore, taken during one of his many gigs in the seventies. Here's another appreciation of Glen's talent and personality, this time from singer Malinda Taylor : 'I had the privilege of working with Glen a few times when he came to Sacramento in 1975, to the 40 Grand and The El Rancho, owned by Lloyd Hickey at the time. His voice mesmorized me and I loved harmonizing with him. He sang part of two songs he was working on called 'Yes Ma'm' and 'Bedroom Eyes', which I can't find on the discography. Did he ever record them? I'd love to hear them. He knew I was a Marty Robbins fan & would do 'Devil Woman' for me if I sang 'You Gave Me A Mountain'. He was always a gentleman and I'm proud to have shared a stage with him'.
All in all, Glenn had 21 singles released on Hickory, and three albums. After Hickory, Glenn had releases on Tudor, Brylen, GRT (1976), Groovy (1977), Century 21 (1978-9), MMI (1979), Kik as well as Sunset Sunbird (1981) - just about none of which I've heard. But I reckon they can't be bad because an Artist of that magnitude rarely disappoints.
The Rockabilly Revival which began in the mid-70's obviously generated a new appreciation of Glenn's earlier sides and, as his first records began to fetch astronomical prices, Ace Records in England saw fit to re-issue some of his Starday and D stuff - albeit in homeopathic doses. But hearing 'Shadow My Baby' as mastered by the late Boppin' Bob Jones from the original master tape was a godsend in the 80's. However, as of this writing (2019), a comprehensive re-issue program of Glenn's music is still longed for.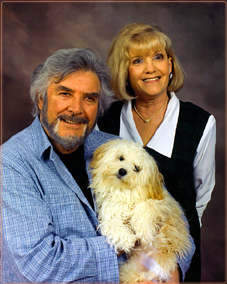 Fast forward to the New Millenium : Just as he was about to appear in France for the very first time in his career, Glenn suffered a congestive heart failure and kidney failure on August 22, 2006, and had to be taken to a hospital in Gallatin, Tennessee. Said his wife, Betty : 'We are very optimistic that he will have a full recovery and they are even talking about bringing him to France in March'. That prevented him from performing here with The Collins Kids as was originally planned - Marvin Rainwater took his place at the last minute. But Glenn did come over in March 2007 and shared the bill with Haley's Comets on a memorable night. Glenn is shown at left with his wife, Betty, and their dog, Angel.
Unfortunately, Glenn didn't survive very long. He passed away on March 28, 2008 ; he was 73. Here's what Glenn Jr. wrote : 'About 3:00 am my mother found daddy in his music room, sitting at his desk with his guitar around his neck and he had died. He had been practicing for a rock-a-billy show in Las Vegas on the 9th of April. My mother and I just want to thank you and all of daddy's fans in Europe for making his last days very happy'. His Memorial was held on Saturday, April 19th, 2008, at 2:00pm.
Betty Barber passed away on March 27, 2014. © PAUL VIDAL * Privas, France * July 2002-April 2014-May 2019


A SELECTED GLENN BARBER DISCOGRAPHY


With grateful thanks to Reginald Bartlette, Jean-Guy Meunier, Jeff Porterfield,
Dave Sax, Big Al Turner and Kees Van Der Hoeven
STAMPEDE

104

You Took The Twinkle Out Of My Stars
Ring Around The Moon
HALLMARK

1110

Styles & Ways Of The World
Stolen Dreams
STARDAY

166

ST 2999 Ice Water
ST 2998 Ring Around The Moon

196

ST 2213 Poor Man's Baby (And A Rich Man's Dream)
ST 2214 Married Man

214

ST 2261 Ain't It Funny
ST 2263 Livin' High & Wide

249

ST 2452 Shadow My Baby
ST 2453 Feeling No Pain

676

ZTSB 93857 Stronger Than Dirt
ZTSB 93856 If Anyone Can Show Cause

699

ZTSB 99865 Dancing Shoes
ZTSB 99866 Knock Knock

722

ZTSB 101049 Loneliest Man In Town
ZTSB 101050 She's Out Of Our World

741

ZTSB 110067 Happy Birthday Broken Heart
ZTSB 110068 Let's Take The Fear (Out Of Being Close)
D

1017

1034 Hello Sadness
1035 Same Old Fool Tomorrow

1069

1146 Most Beautiful
1147 Your Heart Don't Love

1098

Go Home Letter (I Wish I Was You)
New Girl In School

1128

The Window
Another You
UNITED ARTISTS

337

ZTSP 66333 Most Beautiful -> Probably a different version to that on D 1069
ZTSP 66332 Night Without End
Note : Recorded May 25, 1961.

512

ZTSP 81780 I Can't Stop (Part 1)
ZTSP 81781 I Can't Stop (Part 2)
SIMS

148

How Can I Forget You
Rain Check
SKILL

45-002

You Can't Get There From Here
April Fool
PIC ONE

1 137

Most Beautiful
We'll Take Our Last Walk Tonight

1 140

Cheatin'
Go Home Letter

1 143

I Created A Monster
Love Rules The Heart
HICKORY

1494

Go Home Letter
Who Made You That Way ?

1517

Don't Worry 'Bout The mule (Just Load The Wagon)
Reflex Reaction

1527

I Don't Want No More Of The Cheese
Motor Mouth Harry

1533

You Can't Get Here From There
Gonna Make My Mama Proud Of Me

1545

Kissed By The Rain, Warmed By The Sun
My World Is Square

1557

She Cheats On Me
Who's Taking The Picture

1568

Poison Red Berries
Abilene

1585

Yes Dear, There Is A Virginia
I'm Only Company

1593

Six Years And A Day
I Committed The Crime

1605

Blue Eyes Cryin' In The Rain
The World You Live In

1618

Betty Ann
Fat Albert

1626

I'm The Man In Susie's Mind
Satan's Painted Woman

1645

Unexpected Goodbye
Blue Bayou

1653

Yes Man (I Found Her In A Honky Tonk)
Who In The World

1666

It's A Beautiful Thing
That's How A Coward Tells An Angel Goodbye

302

Country Girl (I Love You Still)
Watching You Go

311

Daddy Number Two
We Let That Lovely Flame Die

316

You Only Live Once (In Awhile)
Sweet On My Mind

323

Almost
Blue Eyes Crying In The Rain

333

You're Gettin' Heavy On My Mind
Sweet On My Mind -> Same cut as on #316 ?

340

She's No Ordinary Woman
We've Got It All Together This Time

LPS-152

'A NEW STAR' Kissed By The Rain, Warmed By The Sun/ Gonna Make My Mama Proud Of Me/
Satan's Painted Woman/Where There's Smoke (There's Fire)/I'm Only Company/
Don't Worry 'Bout The Mule (Just Load The Wagon)/She Cheats On Me/My World Is Square/
Who's Taking The Picture/Motor Mouth Harry/I Don't Want No More Of The Cheese
(I Just Want Out Of The Trap)/Abilene

LPS-167

'BEST OF'

LPS-4510

'GLENN BARBER'
TUDOR

LP 113304

'FIRST LOVE FEELINGS'

LP 113904

'SATURDAY'S HEROES ARE GONE'
BRYLEN

LP 4405

'MOST WANTED MAN FROM TENNESSEE'
G R T
071
It Took A Drunk (To Drive God's Message Home)
If I Thought For One Moment
GROOVY
102
(You Better Be) One Hell Of A Woman
Another Man's Woman Worth Another Man's Life
103
Cry Cry Darling
Has It Been So Long
CENTURY 21
100
What's The Name Of That Song
I Can't Find A Way (To Be Free)

101

Love Songs Just For You
Go Home Little Girl
103
Let's Go With The Feelin'
I Can't Find A Way (To Be Free)
ACE (UK)

LTD 603

'STARS OF TEXAS HONKY TONK' (features 'Ain't It Funny')

LP CH 191

'ROCKABILLY SHAKEOUT' (features 'Atom Bomb' and 'Shadow My Baby')
-> Reissued on CD in 1992 with bonus tracks (CDCHD 191)

LP CHA 218

'THE 50s - ROCKABILLY FEVER' (features 'Go Home Letter')

10 CH 18

'KINGS OF ROCKABILLY - Vol.1' (features 'Shadow My Baby')
CASCADE (UK - A Division of ACE)

LP DROP 1004

'20 GREAT COUNTRY RECORDINGS' (features 'Livin' High & Wide')

LP DROP 1011

'20 GREAT COUNTRY RECORDINGS - Vol.2' (features 'Go Home Letter')

LP DROP 1009

'20 GREAT ROCKABILLY HITS - Vol. 2' (features 'Shadow My Baby')

BEAR FAMILY

BCD 15832

'THE COMPLETE 'D' SINGLES COLLECTION-Volume 1'
(features 'Hello Sadness' & 'Same Old Fool Tomorrow')