In a way, the late ERNIE HAGAR took over where his early mentor, Speedy West, had left off. Indeed, it was Speedy who had given Ernie his real start in the music business. In the early to mid-'60s, when most steelers were following the paths led by the super talented Pete Drake, Buddy Emmons, Lloyd Green and Ralph Mooney, Ernie opted to carry on with the Western Swing style of steel guitar playing. He played on innumerable studio sessions but cut only a handful of solo records -- brilliant stuff nonetheless.
A piece on Ernie Hagar seemed highly overdue : here it is !!
This piece is based on multiple mails and e-mails exchanged with Ernie over the years, plus an excellent article by John Helak which appeared in 'Guitar Player Magazine'.


Ernie was born in Ottawa, Ontario, on February 13, 1938. He has a permanent visa for the USA but never wanted to give up his Canadian Citizenship. He was married for 31 years to Johanna, who was originally from Holland ; however, they met in Ottawa when she used to watch him on local TV : Ernie was around 15 by then. The TV show in question was The Cammie Howard show on CBC. Cammie Howard was a popular Canadian bandleader in the early '50s, who had spotted Ernie playing in a semipro band with one of his cousins and asked him to join. Because at that early age, Ernie already excelled on the steel guitar !! He did many recording sessions for London Records with Howard's band: need I say that if anybody who reads this, can supply tapes or, better yet, the original waxes, I'll be delighted to hear them !!
He got interested in the instrument after hearing early Eddy Arnold RCA Victor 78s ('Molly Darling' in particular) which featured Little Roy Wiggins prominently on steel. Wiggins remains a very underrated steeler ; his first professional work was on WSIX in Nashville and he went on to be part of Pee Wee King's band, just like vocalist Eddy Arnold. When Arnold decided to go solo around 1943, he asked Roy to come with him : that was the beginning of a long and fruitful association which produced classics like 'Anytime', 'Texarkana Baby' & its flip, 'Bouquet Of Roses', or 'Just A Little Lovin' to name a few. Okay, Arnold was mainly a ballad singer and his stuff is often too saccharine for us, Hillbilly boppers, but Wiggins's playing was always perfect - that famous 'Ting-A-Ling' style. As a solo performer, Roy Wiggins cut some fine sides on Dot and Starday notably.
Later on, Ernie fell in love with Jerry Byrd's tender touch and harmonic choruses. Certainly, Byrd's Mercury recordings impressed Ernie in terms of precise playing and use of the C6th tuning. But while Jerry kept using his 6-string, 1938 model Rickenbacker, Ernie used a Fender double-neck Stringmaster ; he would later adopt a Fender 1000 pedal steel before switching to Sho-Bud guitars during the sixties.
In 1960, Ernie Hagar decided it was time he broke out on his own and opted for California. There, he sought Speedy West out ; Speedy took Ernie under his wing, gave him useful advice and introduced him to Roy Rogers and The Sons Of The Pioneers, with whom he got to play a few gigs. In fact, Speedy was Ernie's biggest influence : he had learned to duplicate all his fanciest licks and, as later recordings would show, was able to combine energy and finesse in his playing just like his mentor.
Still, Ernie had to find his own style and it wasn't long before he did, via a special tuning on his Sho-Bud Baldwin model. Expert John Helak explains: 'The top neck is in A6 tuning with an augmented fourth second string ; it becomes an E9 when pedals one and two are pressed. The bottom neck is in C6 tuning. The result is a unique sound on the A6 (A9) neck and a full, rich sound on the C6 neck which Ernie gets by using a thumbpick and three fingerpicks'.
The early '60s were a busy period for Ernie, as he began backing up a lot of artists such as Ferlin Husky and Bobby Bare, using either Gold Star Studios or Western Recorders in Hollywood. However, Ernie decided to pursue a career in civil engineering while keeping his music on the side ; the fact that the Ralph Mooney steel guitar sound (far different from Hagar's) was then the rage, prompted that decision. Ernie continues the story : 'Sometime around 1965, I worked with Bonnie Owens. She was going out with Merle Haggard at that time and had been married to Buck Owens. Anyway, we did a session at Buck's studio and his publishing company manager, Dusty Rhodes, asked me if I'd like to do 'staff musician' recording here in Bakersfield.' In a 1986 letter, I asked Ernie to mention some of the recording dates he worked on ; here's what he wrote : 'I've never been able to keep track of the sessions. [To this day] I've done 1,400 sessions and most of the time, I forget them as soon as I do them. For one week a month, I would go to Bakersfield and Dusty would line up the sessions - five days' worth. At that time, Blue Book Music had a lot of artists and were always looking for material. So, we would meet at 7 AM Monday, stet up and record from 8 till 12, then 1 to 5 PM, with each artist getting one hour ! We saw arranged and recorded eight songs a day with eight different artists ! Usually, at least one day in that week, we would also do four more artists between 8 PM and midnight. All this was done for various labels ; most would only be used as 'demos' but many were master cuts. So, in one hectic week, I had recorded 40 songs and sometimes 40 different artists. Then I'd go home and my wife would let me sleep for two days - it was draining !'. In this same letter, Ernie mentioned that he had just done several sessions for Larry & Lorrie Collins (formerly known as The Collins Kids on Columbia in the '50s) - with whom he had worked stage shows for years -, during which Merle Haggard and Willie Nelson showed up to help out.
Obviously, such a gifted musician deserved to be showcased on his own solo records. This happened in 1965 when the legendary Sage & Sand Records label in Hollywood released Ernie's 'Swingin' Steel Guitar' album (Sage C-42) : 'I wound up with Sage because I did some sessions with Sterling Blythe who was under contract with them ; I believe we did an album that Sage never did release. However, they asked me if I'd be interested in doing my own albums and I agreed in 1962, but got busy doing other people's stuff and didn't get around to it until 1965'.
Regarding Sterling Blythe, he did have an LP on Sage called 'A Night At The Showboat' (C-14) but Ernie maintains that it was already out by the time he played with him. What I do know though, is that the 'Swingin' Steel Guitar' album is one of the best instrumental records ever - on a par with Speedy West's 'Guitar Spectacular' LP (Capitol T ST 1835) or 'The Amazing And Incredible Pete Drake' (Starday SLP 319). As singer/DJ Red Murrell wrote on the back cover, 'you are in for the treat of a lifetime' !
Sure, the uptempo stuff is very reminiscent of Speedy's style ; the opening cut, 'Swingin' Steel', even resembles West & Bryant's 'Caffeine Patrol'. But what a delight to hear someone pay tribute to Speedy in such brilliant fashion ! The short but driving 'Steel Boogie Twist' was the first track I ever heard by Hagar and it still amazes me today. Another gem is the cleverly titled 'Outside Inn'. However, Ernie's playing doesn't limit itself to speed : it also displays a beautiful tone quality, very evident on slower tunes like 'Blue Steel' or 'At Sunrise', a bit of which you can hear by clicking the turntable pic at bottom left. In an era dominated by the smooth sounds of Lloyd Green and the like, Ernie definitely gained the status of 'New Master Of Hot Pickin' Style'.
The album was cut at Jim Meagher's Studio in Monterey, California, on a 4-track machine - with no overdubs. The musicians who backed up Ernie did a commendable work ; they were : Walt Herrington (drums), Barney Carl (bass), George Johnson (rhythm guitar) and Jimmy Wright (lead guitar). All, with the exception of Jimmy Wright, were part of Ernie's band : Ernie Hagar & The String Dusters. Interestingly enough, some of Jerry Byrd's ancient Mercury discs were billed as by 'Jerry Byrd & The String Dusters'. Jimmy Wright, a tremendous guitar player (in rockin' Jimmy Bryant style), lived in Salinas, California, about two miles from where Ernie lived : 'Jimmy was working for singer Larry King, 30 miles away in Monterey. I loved his guitar playing and we would jam together. We would work the stuff out in his living room, then call the rest of the musicians and cut it in the studio. Jimmy was a very quiet, good old country boy, very family-oriented. He wouldn't go on the road for anybody. He raised three kids and never did want to play music for a living. He liked Chet Atkins a lot. I couldn't get him away from his wife and kids to even play a club date. But he sure could play!'. In February 1986, Ernie got a phone call from Jimmy's wife, Gloria, saying he had passed away at home of a heart attack. Jimmy Wright's playing complemented Ernie's perfectly ; the twosome displayed the same kind of interaction as Speedy West and Jimmy Bryant. This was again demonstrated on Hagar's next singles for Sage & Sand.
Ernie again : 'After my album was released, Larry King got a record deal and asked if we would back him on his records ; we did and he used 'Larry King & The Kingsmen' on them. So when we went back in to cut my stuff, I left the name intact, since he was also using the band for live gigs he was doing. He also had an accordion player and I wish I could recall his name, but I can't. We were just having fun and anyone who would show at the studio when we were fooling around, could sit in and play if they felt like it. I can't recall more than three takes on any [number we did] ; we just sat in a circle and picked. I remember, on a break, I was fooling around with something and the drummer walked in and said 'spacey' ; twenty minutes later, we had 'Space Walk' in the can. Of all the sessions I've ever done, only the fun ones ever sound good to me !'
Three singles appeared on the Sand label : as far as I am concerned, I had never seen any of them for sale nor had I heard them until ... Ernie himself sent me copies of two of'em, which speaks volumes about his human qualities. He once told me that he thought these '45s were even better than the Sage album because they had learned a lot from it ; at any rate, these are records of exceptional quality. I'll even pick out Sand 402 as the best steel guitar double sider ever released ; it coupled the unstoppable 'Spindrift' with the more relaxed but equally hot 'String Duster Blues', in which Ernie's improvisations are mesmerizing. The band was tighter than ever, the sound was crystal clear and the addition of an accordion to some of the tracks worked nicely. In fact, the singles should have been part of a planned second album which never materialized because the Sage & Sand label folded a short time afterwards ('It was a bad scene I'll explain sometime', he said).
More session and club dates followed until 1974, at which time the famous group, Commander Cody & His Lost Planet Airmen, called and asked him to fill in for Bobby Black (pictured at left) who had just left to concentrate on steady session work in Nashville. The story of Commander Cody goes back to the late '60s when George Frayne (piano & vocals) teamed up with Andy Stein (fiddle & sax), Bill Kirchen (guitar), Billy C. Farlow (vocals & harp) and others ; they released their first album in 1971 ('Lost In The Ozone', Paramount PAS 6017) but veteran pedal steel player, Bobby Black, didn't join until their second - and best loved - LP, 'Hot Licks, Cold Steel & Truckers Favorites' (Paramount PAS 6031). Black was a real talented player, well rooted in Western Swing : he had been in various bands since the early part of the '50s. One of them was Blackie Crawford & The Western Cherokees, a superb outfit that cut some great sides on Starday with him ; while on the subject, I'd like to point out that it was Pee Wee Whitewing - not Black - who played steel on Crawford's Coral sides, including the inspired solo on that big favorite of mine, 'Baby Buggy Blues' (Coral 64118), from a December 1951 session held at Clifford Herring's Studio in Fort Worth, Texas (many thanks to Jason Odd for that important piece of info).
Before Ernie Hagar came on board, they tried the legendary Jimmy Day but that didn't work out for some reason and he quit after a few nights : 'It was Andy Stein who called me on a Tuesday evening and I worked my first gig on that Friday'. By all accounts, Ernie's stint with Cody was successful in every sense of the word. However he cut only one album with them ('Commander Cody & His Lost Planet Airmen', Warner Bros BS 2847, their fifth long player and the first on WB), from which their spirited remake of Roy Hamilton's 'Don't Let Go' was chosen as a single. It was produced by John Boylan but Ernie was never satisfied with the sound they got : 'The band at that time was frustrated and looking for direction, and the producer didn't help much. That album just was a chore. A case of when it's not fun, it don't work'. As far as I'm concerned, however, I think this particular LP is easily one of the strongest the band ever made. The choice of material was excellent and Ernie's glowing pedal steel sound shone not only on the ballads ('California Okie' or 'Willing') and the Western Swing stuff he had long mastered ('That's What I Like About The South' or 'Four Or Five Times'), but also on a number like the stunning 'Keep On Lovin' Her' where he delivered a real Rock solo. Ernie also co-wrote one of Commander Cody's best remembered classics, 'Hawaii Blues'. A fresh listen to the record reveals that the band had a much tighter sound than we thought at the time and that Ernie fitted right in, and right away. Meanwhile, Bobby Black got very dissatisfied with the Nashville scene and by the end of 1975, he was back with Cody (in 1978, he would join up with The New Riders Of The Purple Sage) ; in the January 1979 issue of 'Steel Guitarist', a fine but now defunct mag published by Tom Bradshaw, Bobby was quoted as saying : 'The band was really cooking when I left them in '74. Ernie Hagar played steel for them during my absence, and did an excellent job I might add'.
Singer/songwriter/musician Larry Hosford, whom Ernie backed up in those years, is also more than ready to praise his skills : 'I've known and worked with him over the course of 30+ years, and he is one of the truest artists I know ; plays exactly how he feels. Needs/has to play to express those feelings. When down, he's still beautifully expressive, and when up - well, he's a bit suprapreternatural himself. An outstanding talent'. Hagar appeared on Hosford's first two albums, cut for Leon Russell's erstwhile Shelter Records - namely, 'AKA Lorenzo' (SR-2132) and 'Crosswords' (SRL-52003), the latter recorded at The Capitol Tower in Hollywood and featuring Russell himself, plus George Harrison to boot ! They should be reissued on CD by Capitol sometime in the future. More recently, Larry went back into the studio : guess who played steel on two of the cuts ? Other artists who benefited from Ernie's skills were Sterling Blythe (at Sage) and Steve Whitt (the Sierra Nevada recording, produced by Jody Peterson in 1979).
In 1978, Ernie recorded his second solo album, this time for a company devoted exclusively to steel guitar players, DeWitt Scott's Midland label : 'I met DeWitt Scott when I was touring with Cody. We played St. Louis, Missouri, and he showed up. After the concert, he drove me to his house and we stayed up all night listening to his hours of steel guitar tapes. I think I got back to the hotel just in time to go to the band's bus to head for Detroit ! Anyway, I think DeWitt mentioned [doing] an album that night in 1975. As usual, I was very busy and didn't get it done until '78 !' Ernie took a couple of months off the road to record 'Steel Guitar Odyssey' at Magic Devices, Santa Cruz, California - incidentally, not that far from where he had recorded 'Swingin' Steel Guitar'. It was engineered by Alan Goldwater (aka Merlin Sparks) and Ernie had a vast array of super fine musicians at his disposal : Wayne Goodwin (violin - he later replaced Ricky Skaggs in Emmylou Harris's Hot Band), Todd Epstein & Tony Gilkyson (guitars), Kevin Mc Cracken (harmonica), Ann Hughes (flute), Richie Begin & Zack Bass (drums) and either Tom Groves or Duane 'Beans' Sousa (who went on to play a lot for Lacy J. Dalton) on bass. Those of you who have never heard this album are about to get a shock : it's a beautiful record, mature, varied, uplifting - and technically flawless. It would be quite hard to pick out favorite tracks : the furious 'Lickity Split', the jazzy, complex 'Hi-Jinx', 'Blue Jade' with its strong bass line and lovely flute or the delicate, or his swinging rendition of Ellington's 'Perdido' (with a splendid harmonica solo) are all contenders ; Ernie's (almost) unaccompanied intro to 'How High The Moon' is another highlight. Also impressive is his take on Bob Wills's 'Cherokee Maiden' where he duets with himself, supported by some wonderful fiddle playing. But for my money, the top one is the multi-layered and exquisitely arranged 'Morning' where Ernie shows off all the precision and delicacy of his playing.
Lately, Ernie has been more into producing than playing (although he still does of course, sometimes adding dobro parts as well). In the '80s, he also worked as a sound technician in Reno, Nevada, for the 'MGM Grand Hotel & Casino' : 'I'm fascinated by electronics ; I study that on the side with a goal of possibly coming up with better effects for guitar players', he wrote in 1986.
In 2000, with the help of a few close friends, Ernie set up his own label, Ambiance Records. The first release on the new imprint (CD AR 10135) was a long overdue retrospective of his career : it certainly was one of the top reissues of that year. More details will appear on the 'Discography' page. In 2001, this company also released a CD by an 8-piece band (including horns) called 'High Street' (AR 10926). It's a good mixture of Swing, Blues and Rock - designed for the general public, though. Ernie Hagar had a hand in that production too - reason enough for adding the disc to your collection. As far as I know, that was the swan song for the label.
2002 saw the release on Wolf Dog International of a tremendous CD by Country Artist Ross Lewis, that Ernie had played on and co-produced. Titled 'Comin' Home' (WD-1002), it features ten Ross Lewis originals. One of them, 'That Good Lookin' Woman', did well on the US Country charts. Now, this is GREAT modern Country Music - with a beat, with a feeling and with guitar & pedal steel guitar breaks in the good ol' tradition ! Of course, the pedal steel sounds and dobro work were concocted by Ernie. Paul Chapman is responsible for the lead guitar work ; in 2010, Paul wrote : 'I am a guitar player from Ontario, Canada. I came across your website tonight while staring at a Tuffy Hotpatch that I bought from Ernie Hagar 17 years ago. [] I used to room with Ernie in Vegas when we were playing with a guy named Eddy Dunbar. He was still married and living in Reno at the time. We played together for 2 years. We got to know each other pretty well...[] Just wondered if you knew about that pedal he invented. I put a fresh battery in mine tonight after 17 years and it still works great !'. Other musicians included Herman Helkema (bass & background vocals), Mike Holliman (drums), J. D. Smith (fiddle) and Darrell Schoppa (piano). The recordings took place at StarSound Studios in Reno, Nevada.
The disc opens with the rocking, piano-driven 'My House' (where Ernie takes off brilliantly) and ends with another potential hit, 'I Miss You Missing Me'. In between, all songs are well written and well sung, and display Ross's love for the real Honky Tonk sound of yesteryear - a sound which comes off fresher than ever with his immaculate treatment. 'The Country Song Of The Year', featuring some splendid fiddlin', is another strong contender for Hitsville ; Paul Chapman shines in 'Last Call For Alcohol', a solid piano bopper, and he and Ernie illuminate 'Everybody's Baby' and 'No News Ain't Good News', two of the best cuts on a totally satisfying CD. You see, there are truly ten winners on that disc ! The CD is now out of print & deleted. Should you need a copy, feel free to send me an e-mail.
A few years ago, Ernie was presented with an award from The Pedal Steel Guitar Association at Scotty's International Steel Guitar Convention in St. Louis. Coming full circle, he eventually did a tribute show for his friend, the legendary Speedy West, with whom he's pictured at left.
'It was more fun than anything I ever did', he commented recently.
Ernie Hagar sure has come a long way since the early days in Ottawa : however gifted he may have been, he worked hard and never ceased to improve himself. Great playing never goes out of style, they say ; Ernie Hagar's music is therefore guaranteed to endure and turn many heads along the way.
Sadly, Ernie Hagar passed away Monday, April 10, 2006, at his home in Caldwell, Idaho.
May he rest in peace.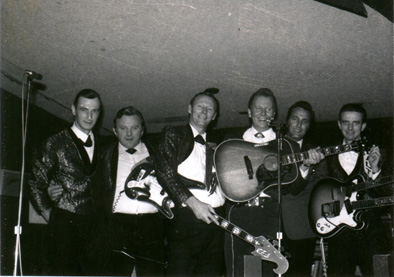 Ernie Hagar (far left) and Walt Rogers (far right), pictured with Bobby Austin (third from right) at The Corral Club in Seaside, California, in 1969. Photo courtesy of Walt Rogers.

© Paul Vidal * Privas, France * Autumn 2000/Summer 2007/Spring 2019