That Internet thing can be magical ! In November 2002, I published a piece on Country singer, Eddie Marshall, and started it by bemoaning the lack of biographical data on him. Well, four months later, thanks to his daughter, Mrs Jane Marshall, I'm now able to reveal the true story of that legendary performer whose short recording career yielded nine superb singles for RCA Victor from 1949 to 1951, including one sung as a duo with Rosalie Allen, no less.

Eddie Marshall was born in 1925 and became interested in singing at the young age of 9. He bought himself his first guitar for $3.00, learning to play by ear. His inspiration came from such artists as Gene Autry, Montana Slim & Ernest Tubb. He used to play for the local fire dept as well as the police dept. As a young man, he entered the U.S. Navy and served during WWII, until the age of 21. He played guitar and sang while on the ship. When he returned home, he started playing nightclubs, stage shows & in radio stations. He first became a professional when a man by the name of Steve Nelson approached him while performing in a nightclub. Nelson asked him if he would like to cut a 'demo' record ; Eddie agreed and recorded two songs (one by Hank Snow, the other by Eddy Arnold). Nelson took the songs to RCA where A&R man, Steve Sholes, played them to both Hank Snow and Eddy Arnold. They were impressed enough to ask who the singer was. That's when Sholes contacted Eddie Marshall and invited him to come to New-York for an audition. He was signed to RCA Victor in 1949.
Eddie's first record was 'The Tom Cat Blues', an excellent track written by Steve Nelson & Jack Rollins (the same pair who composed 'Frosty The Snowman'), coupled with a Bob Newman-Shorty Long song, 'Three Kisses'. His very competent band was called The Trail Dusters although they're not credited on all his singles. They consisted of Tony Matola (lead guitar), Buck Lambert (fiddle), George Johns (steel guitar) and Gabby Craig (bass), Eddie playing rhythm guitar. Next came 'Buddy, Stay Off Of That Wine', which was directly inspired by Tex Williams' 'Smoke, Smoke, Smoke (That Cigarette)'. The third single, 'Coffee, Cigarettes & Tears' (# 48-0413), again written by Nelson & Rollins, is one I particularly like. A fast Western Swinger, it features some hot fiddle (playing yodel-like lines during the solo) and a fantastic jazzy guitar. Eddie's vocal is clear and seems adaptable to any kind of material. Here, two band members join him during the refrain.

I don't know if he had the original cut on that tuneful song because there was a superb rival version by Charlie 'Peanuts' Faircloth on Decca ; it was taken at a slower pace and didn't feature any fiddle but the steel guitar and guitar breaks were great, the guitar sounding a lot like Billy Byrd. Eddie doesn't recall hearing Faircloth's version of this song.
The flip side, 'The Lovin'-You-Continu'lly Blues', a song penned by Hal Miller, was reminiscent of Tennessee Ernie Ford's everlasting 'I've Got The Milk'Em In The Morning Blues' ; again, the guitar backing & solo are tremendous and the steeler takes off in fine fashion, the fiddle taking a back seat. Eddie's acoustic rhythm guitar is very audible here, helping to keep a steady, bluesy tempo.
My copy is on black vinyl but, like most other single releases in RCA Victor's '48' series, it probably exists on green vinyl too.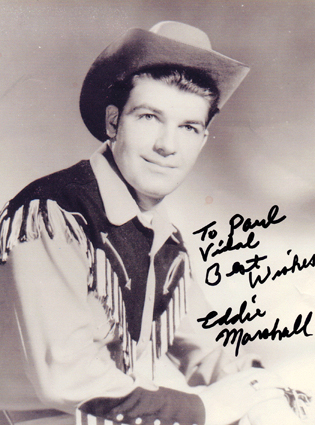 Benefitting from RCA's promotion tools, Eddie's records enjoyed some success. He went on tour with Tex Ritter, Bill Carlisle, even a young Bill Haley. He was sent to Nashville where he appeared on the 'Grand Ole Opry' and cut at least one session with Chet Atkins on lead guitar in 1950 ; Chet is therefore present on 'My Bucket's Been Fixed' (# 48-0437) and 'Honky Tonk Blues' (# 48-0459). It should be noted that an organ accompaniment was often present in Eddie's slower sides, most notably in 'A Hundred Ways To Break A Heart' (the flip of 'Honky Tonk Blues') where the organist even takes a full solo to complement Chet's own contributions. Then, in the wake of Tennessee Ernie Ford's hugely succesful pairing with Kay Starr on Capitol, RCA decided to team up Eddie with Rosalie Allen. Rosalie was an established artist who had her own radio show on WOV in New-York at the time and who was more than familiar with duets, having cut numerous records with fellow yodeler, Elton Britt. The bluesy 'If You Don't Believe I'm Leaving, Just Count The Days I'm Gone' (# 47-4227) was released in 1951.
Another nice record was 'Mine, All Mine' (#47-4447), written by Lasses White. 'You may want her but you can't have her' sings Eddie in a lively style not far removed from Gene O'Quin's, the then new Capitol star who'll be discussed elsewhere on this very site. Fiddle, piano and guitar each take a solo here. The other side, 'Blue Eyes (How Could You)', is a nicely sung Pop song with organ solo and steel backing à la Jerry Byrd.
The comparison with Gene O'Quin is adequate since Eddie Marshall's last RCA single (# 47-4661) was a cover of Rodney Morris's 'Mobilin' Baby Of Mine' which was also recorded by Gene O'Quin (Capitol # F 2075) in January '52. There are sound effects at the beginning and end of the song which features fiddle and piano breaks plus nice steel guitar fills. To date, 'Mobilin' Baby Of Mine' is the only song by Eddie Marshall which saw a legal re-issue ; it was on the remarkable 'Hillbilly Houn' Dawgs & Honky-Tonk Angels' compilation LP put out by Boppin' Bob Jones in 1989 on his (UK) Detour label (# 33.008, now deleted). Arguably, Eddie's version was slightly better than Gene's.

So how come Eddie stopped recording after that ? A singer with such a melodious voice deserved a much longer career. In fact, he decided to end his career in music because he made the honorable choice to stay with his family (his wife and two children) instead of touring, something he has never regretted. He then became a carpenter by trade, until his retirement in 1987. Eddie Marshall now resides in Northern California with his wife of 55 years and on occasion, he plays guitar for his 14 grandchildren as well as his 5 great grandchildren.
[A million thanks to both Eddie and Jane Marshall]
© Paul VIDAL * Privas, France * November 2002 - July 2007 - May 2019
EDDIE MARSHALL's COMPLETE RCA VICTOR DISCOGRAPHY
compiled with the help of Big Al Turner and Jerry Kendall
& updated by Jane Marshall and Shane Hughes
21/48-0357
E0VB-4653 The Tom Cat Blues

(Steve Nelson-Jack Rollins)


E0VB-4652 Three Kisses

(Bob

Newman-Shorty Long)



21/48-0385
Buddy, Stay Off Of That Wine
I Could Lose These Blues
21/48-0413
48-0413 B Coffee, Cigarettes & Tears

(S

.

Nelson-J

.

Rollins)


48-0413 A The Lovin'-You-Continu'lly Blues

(Hal Miller

)

21/48-0437
My Bucket's Been Fixed
Crossroads
21/48-0459
Honky Tonk Blues

(Hal Miller

)


A Hundred Ways To Break A Heart

(Ben Raleigh)

21/48-0487
Oh Dear, Where Could My Honey Be ?
There's No Escape
20/47-4227
[duet with Rosalie Allen]
If You Don't Believe I'm Leaving, Just Count The Days I'm Gone
Playhouse Of Love
20/47-4447
E1VW-4602 Mine, All Mine

(Lasses White

)


E1VW-4603 Blue Eyes (How Could You)

(Brooks-

DeMejo

)

20/47-4661
E1VB-4626 Mobilin' Baby Of Mine

(Rod Morris

)


I Shoulda Said
RECORD PREVUE EP 50-26
Featuring tracks by Eddie Marshall, Jesse Rogers, Slim Whitman
& Arthur Crudup