Besides my own research, this piece is based on an interview with Mr. Eddie Dean, conducted in 1988 by my dear friend, the late Hank Penny, at my request. The above photo was taken by my wife at Hank Penny's house on August 16, 1987 (note Eddie's custom-built guitar).
---
Don't you think that 'The Seventh Son' would make a good western movie title ? Well, Eddie Dean really was the 7th son of the 7th son of a 7th son and he was born in the 7th month of the year.
Even without that, he did play in more musical westerns than we'll ever remember ! Although these
movies are a bit dated now, they remain an integral part of the Country music scene of the '30s, '40s and well into the '50s.
Edgar Dean Glosup was born on July 9th, 1907 in Posey (Texas), a small town north of Sulphur Springs. His father was from Alabama while his mother originated from Tennessee. She used to tell him "You're gonna amount to something" and he did just that -- but he truly earned it.
He was reared on a ranch where they raised cotton, barley, corn, wheat as well as horses and mules ; his love for music began when he went to music school ('two weeks every summer'). While in high school, he sang in a quartet with two of his brothers, Virgil and Jimmie. Thanks to John R. May from Grayson, Louisiana, who unearthed the beautiful poster at left, we can safely affirm that Eddie once was even part of a Gospel Quartet led by one Otis Deaton (far left) in the Dallas area ; the other members were Henry Long (second from left) and Theo Casey (far right).
Brother Jimmie was 4 years older than Eddie and was at one time lead singer with Foy Willing & The Riders Of The Purple Sage. Eddie took Jimmie under his wing and they eventually teamed up as a duet.

However, they had trouble down home on the farm : they had no irrigation, so the crops depended on the weather ; it was a bad year and Eddie and his father lost something like $1000. Eddie then decided to go and see his eldest brother in Dallas in order to get a job and make some money ; he told Eddie to contact a fifth cousin who was working for the Dallas News.
For a short while, Eddie carried papers (he did that on foot, with a pile of papers stacked up on top of his head !) but he was soon to get into big trouble with Union men and found work in Austin at a machine shop. Still, he was singing in schools and churches, so much so that he decided to go all the way up to Chicago, where the action was then (it was 1925 and many talents hoped for a spot on WLS and the famous 'National Barn Dance' radio show). It's hard to realize now how radio was important for Country music in those days.

In Chicago, Eddie landed a job at WBBM and played floor shows (he learned how to reach for the tables and get his tips) in places like the Triangle Café (where Al Capone used to hang out !). He also met a tenor singer from Scotland, Johnny Sloan, with whom he toured for a while (1926/1927). Eventually, they got broke and Eddie went to Shenandoah, Iowa. At the time, as Hank Penny remembered, the place was kinda like a frontier for Country music due to the powerful KMA radio station to which Hank tuned in all the time while he was in Alabama. Eddie recalled being paid $75 a week for his radio shows ... in gold coins (much later, this would lead him to write a song called 'Save A Little, Spend A Little & Give A Little Away').
Afterwards, Eddie Dean went to Yankton, South Dakota, working on WNAX. That's when he met his wife, Lorene, better known as Dearest Dean -- herself a good songwriter since she co-wrote several of Dean's best known tunes. They were a happy couple : 1999 marked their 69th year of marriage.

Back with his brother, Jimmie, Eddie toured extensively : Minnesota, Nebraska, Iowa, Kansas. They all settled down in Kansas for a couple of years (1930 to 1932) ; Eddie and Dearest had a daughter, then a son. Eddie and his brother worked on WIBW in Topeka before going to Kansas City (where Perry Como lived, said Dean). They went back on tour and stayed in Omaha, Nebraska ('two radio shows a day').
With a growing popularity, WLS now wanted Eddie Dean : thus, Eddie and Jimmie headed back to Chicago where they spent quite some time -- and cut a session for Decca Records in 1934 (see Discography for more details ; source for the Decca sessions : Cary Ginell's superb book, 'Decca Hillbilly Discography-1927/1945', Greenwood Press, 1989). In fact, they were among the very first artists to record for Jack Kapp's American Decca label. They would come back again to Decca in 1941 and 1942.

At the beginning of the '40s, after flipping coins, Eddie opted for Hollywood, California rather than going to New-York. That's when he made the move into motion pictures but he had to struggle some more. About the time he arrived in Hollywood, he couldn't find work because of the famous 'Petrillo ban' (a union strike called by AFM president, James C. Petrillo, in August 1942) which lasted more than one year. Eddie backed up various singers on guitar for a mere $3 a night but managed to audition for Republic Pictures. Since he could ride a horse and memorize a full script, he was signed, at first doing bit parts. He appeared in several Tex Ritter films - including 'The Golden Trail'. At that time, Eddie became friendly with Pete Canova and Pete got him on the popular Judy Canova Show ('Judy had this radio show on CBS, down on Vine Street, at the old Columbia Playhouse'). Eddie also worked with Gene Autry & The Ranch Boys (Frankie Marvin, Johnny Bond, Dick Reinhart and others) : they played countless rodeo shows together.

The big break came in 1944 with a film entitled 'The Harmony Trail' (Eddie's sidekick was Ken Maynard, probably the first film singing cowboy thanks to his role in 1930's 'Song Of The Saddle'). Afterwards, from 1946 to 1949, Eddie starred in his own series of musical action films (not for Monogram who had turned him down but for PRC-Eagle-Lion) -- in color, which was a first !! In the 1950 issue of 'Hillbilly & Western Scrapbook', they wrote : 'His screen popularity grew fast and he was voted one of the top ten western box-office money draws by theater exhibitors throughout the nation, and was presented th 'Fame' scroll for 1946 and 1947.'
Other movies included 'The Renegade Trail' (1939), 'Sierra Sue' (1941), 'Raiders Of The West' (1942), 'Song Of Old Wyoming' (1945), 'Down Missouri Way', 'Stars Over Texas', 'The Caravan Trail', 'Tumbleweed Trail', 'Romance Of The West', 'Driftin' River', 'Colorado Serenade' (all in 1946), 'Shadow Valley', 'Beyond The Blue', 'Black Hills' (all 1947), 'The Hawk Of Powder River', 'The Westward Trail' and 'Check Your Guns' (all 1948). When TV came along, Eddie gradually left the pictures (in 1963, he appeared in two episodes of the famous series, 'The Beverly Hillbillies'). However, all the while, he kept on touring (playing nightclubs, Las Vegas and other venues with his personal appearance unit, 'The Golden West Review'), composing and recording.
One of the TV shows he hosted was The County Barn Dance, a live weekly show that was broadcast in Los Angeles on Channel  5. 'It was broadcast from a large dance hall in Baldwin Park, California. I believe it was a Monday night program' wrote Steve Sadd, whose father, Leo Sadd, was a drummer/singer who performed with Eddie extensively in the 1950's.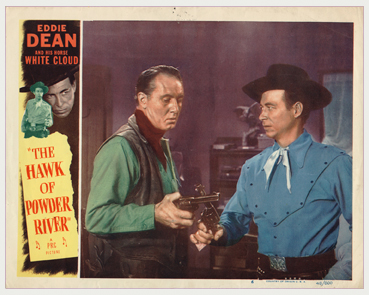 His wonderful, deep baritone voice appealed to Country, Gospel and Pop fans alike ; his songwriting skills ensured that nice royalty checks kept coming in : come to think that a song like 'One Has My Name [The Other Has My Heart]', co-written with his wife and Hal Blair, was recorded by dozens of people - including Nat King Cole, Willie Nelson, Mickey Gilley and even Jerry Lee Lewis, who cut it for Smash (single S 2224) on February 26, 1969. Thereby hangs a little tale !! Eddie liked Jerry Lee a lot (the way he could make a song all his own, that is) and The Killer admired Dean very much. So, one day, Eddie Dean caught Lewis' show at the Palomino Club in North Hollywood and the two met backstage. When Jerry Lee mentioned that one of his best loved songs was 'One Has My Name', Eddie told him to go ahead and cut it ; a few weeks later, Jerry Lee's version hit the shops and Eddie watched it climb up the Country charts !!

Many very fine songs appeared on a variety of labels over the decades, including Bel Tone (1945-1946), Majestic (1946-1947), Crystal (1948), Mercury (1949-1950), Capitol (1950-1952) and Intro (1953). The original version of 'One Has My Name, The Other Has My Heart' was on Crystal 132. His Capitol sides are mighty hard to find, especially on '45s ; one of them, 'Tears On My Guitar', is a small masterpiece, graced with an utterly beautiful steel guitar backing. Not surprisingly, my favorite phase of Eddie Dean's recording career is the period he spent with Sage & Sand, in the mid-to-late fifties. There, he cut some superb sides, often backed up by The Frontiersmen ; they comprised of Hi Busse (vocals & accordion), Wayne West (bass) and guitarist/composer/singer, Hal Southern, who co-wrote 'I Dreamed Of A Hillbilly Heaven' with Dean. This group was sometimes joined by female singer, Joanie Hall, and augmented by steel player, Marian Hall. The latter is heard to good effect on both versions of 'Impatient Blues', one of those songs with a bluesy feel that were tailor made for Dean (who even attempts some kinda yodel) ; incidentally, it was written by Eddie Dean's son who was about 19 years old at the time. 'I Dreamed Of A Hillbilly Heaven' was perhaps Eddie's biggest hit, although fellow Tex Ritter had an even bigger one on that. In the very first issue of 'Country'n'Western Jamboree' from March 1955, they gave the song a five-star rating : 'Eddie tells the story of the country greats who passed on to their reward. This one can't miss'. Another nice one was 'Rock'n'Roll Cowboy', cut with the Eddie Cletro Combo (go to my 'Sage & Sand Label' page for details).

In the sixties, he could be found cutting songs for labels like Commerce and Mosrite when he was not bowling or golfing. In 2011, researcher Michel Proost wrote : 'Commerce Records had a curious story, as far as I can tell. Eddie Dean and Roy Counts were certainly brought to Commerce by Bobby Boyd, head of Boyd Records in Oklahoma City, who purchased an interest in the label in 1963. While the first half of the releases are all by white performers, the second half was black only, with the exception of Sammy Jackson, who had possibly the last release on the label'. Eddie's single on Commerce was released in late '63 and featured a very modern-sounding A-side in the shape of 'Don't Take Advantage Of Me', complete with strong 6-string bass and organ backing. The disc was housed in a heavy cardboard picture sleeve featuring liner notes by the legendary DJ and singer, Biff Collie. 'One More Time Around', his lone Mosrite '45, was probably issued in 1967 ; Joe & Rose Lee Maphis did a wonderful version of it that same year for the same label.

The passing of Eddie Dean on March 4, 1999, of heart and lung disease, in Thousand Oaks, California, saddened me very much. I was fortunate enough to meet him and hear him sing, live, songs such as 'I Dreamed Of A Hillbilly Heaven' and 'Can't Help Falling In Love', which he did as a tribute to Elvis Presley.
He was a gifted, golden voiced singer and a real gentleman ; he was one of the last surviving singing cowboys of an already ancient era.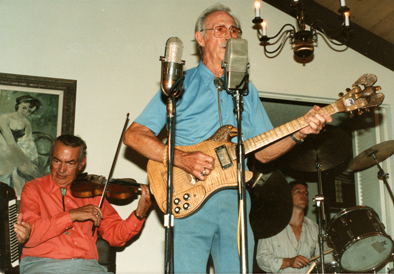 © Paul Vidal * Privas, France * August 1999 - December 2006 - May 2014 - June 2019