Eddie was born on October 3, 1938, in Albert Lea ('I was raised in Minnesota !' he told Marty Wilde on British TV) but his family moved to Oklahoma not long afterwards before eventually settling in California.
He joined Hank Cochran (no relation) to form The Cochran Brothers in 1954 but turned professional in June 1955 (aged 16). They cut two singles for Ekko that same year (nice albeit straight hillbilly) and then a third one in early 1956 which coupled two rockabilly gems ('Tired & Sleepy' & 'Fool's Paradise'). There was also, just before Ekko 3001, a one-off single on John Dolphin's Cash label in Hollywood which paired The Cochran Bros with Jerry Capehart whom Eddie had recently met and who would soon guide his solo career. With his mind now firmly set on pursuing a career in Rock'n'Roll, Eddie split with Hank and subsequently cut his first solo '45 for the Crest label ('Skinny Jim' b/w 'Half Loved'), located at 9109 Sunset Boulevard, the home of American Music Publishing. At this early stage of his career, Eddie was already doing much session work, mostly at the famous Gold Star Studios which would eventually become his second home.
He had a shrewd - and controversial - manager in the person of Jerry Capehart who helped him to secure a recording contract with Liberty in September 1956, which in turn led to a mesmerizing appearance in Frank Tashlin's classic movie, 'The Girl Can't Help It'. Of course, Eddie performed 'Twenty Flight Rock' in the film, a song entirely written by Mrs. Nelda Bingo (born Fairchild) who was part of a country duo with her sister (more on that on the 'Films' page) but, by special arrangement with her, Eddie got co-writer credit for it on the records. However, Eddie and Jerry Capehart would soon develop a strong songwriting partnership ; together, they penned a huge percentage of what we now call 'Cochran Classics'.
Eddie's first Liberty single was an inspired cover of Johnny Dee's 'Sittin' In The Balcony' in early 1957. Its flip side was the haunting ballad, 'Dark Lonely Street'. It was a smash hit but Eddie would have to wait until the following summer to score another huge international hit : the masterful 'Summertime Blues'. The original sheet music can be seen below ; inside the fold-out, there's a never-mentioned credit which reads : 'Arranged by Dale Fitzsimmons'. In between his two hits, Eddie cut some lesser-selling though exceptional singles like 'Mean When I'm Mad', 'Pretty Girl' and 'Jeannie, Jeannie, Jeannie' which defined Rock'n'Roll as much as 'Be-Bop-A-Lula' or 'Hound Dog' did. Not to mention that some of these recordings also featured a heavy dose of overdubbing, making Eddie one of the true pioneers in that area along with Buddy Holly. Then came 'C'mon Everybody' and 'Somethin' Else'(in '58 and '59, respectively).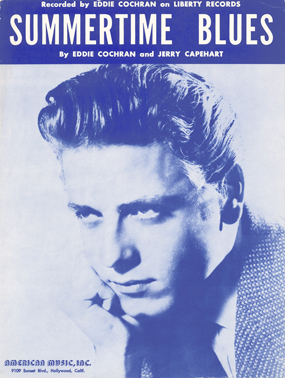 Film-wise, Eddie had a further role in 'Untamed Youth' ('57) where he sang the wonderfully Presley-ish 'Cotton Picker'. He also appeared all too briefly in the film, 'Go Johnny Go' ('59, with Alan Freed, Chuck Berry & Ritchie Valens among others), singing 'Teenage Heaven' to good effect. He was also involved in a movie called 'Shotgun Wedding' for which he co-wrote and performed two songs, notably the instrumental 'Country Jam' which shows how Eddie had fully absorbed, and now put his very own stamp on the Chet Atkins style of picking he loved so much.
The other fascinating aspect of Eddie's short but brilliant career is his work as back-up musician and producer. He played guitar on tracks by Ray Stanley, Lee Denson, Danny Andrew, Baker Knight, Bob Denton, Galen Denny, Don Deal, Troyce Key, Mike Clifford, Skeets Mc Donald, Paula Morgan, Jody Reynolds, Johnny Burnette, Wynn Stewart, Ernie Freeman, Elroy Peace, Derry Weaver, Eddie Daniels, Jewel Akens, John Ashley, Jack Lewis, Lynn Marshall, Jess Willard, The Holly Twins, Barry Martin and Al Casey. He sang back-up vocals on most of Gene Vincent's 'Record Date' album and would later use The Blue Caps for a session with the doo-wop group, The Four Dots (featuring Jewel Akens & Jerry Stone), with whom he worked extensively while assisting Jerry Capehart who was in charge of the Freedom label, an offshoot of Liberty. On that label, he played on, and probably produced a proto-soul '45 by the enigmatic John T. Webster III & Anna. At the time of his death, he was credited as producer on an odd single by a certain Danny Williams. All of this will be studied in detail in my 'Back Up Sessions' pages, take note !
We should also mention his backing and touring group, The Kelly Four, who played on a lot of his stuff in '59 and cut a terrific double-sider on the Silver label ('Annie Has A Party' b/w 'So Fine, Be Mine'). This outfit, first known as The Hollywood Swingers when they backed singer & piano player, Dick d'Agostin, included fine musicians in Jim Styvers (piano), Gene Riggio (who went on to drum for Trini Lopez), Mike Henderson (tenor sax, later to play on records by the Marketts and others), Mike Deasy (another top session guitar player in the '60s and '70s before going solo) and Dave 'Driver' Shriver (bass). Prior to forming this band, Eddie would mostly use seasoned studio musicians like Earl Palmer, Plas Johnson and his brother, Ray Johnson. The only accompanist who worked steadily with him was bass player, Connie 'Guybo' Smith. He was still present at Eddie's very last recording date with The Crickets in January 1960.
When Eddie arrived in England, he knocked everybody out with his skills and professionalism. Georgie Fame was there and remembered his first meeting with Eddie very fondly : Eddie was sitting on a stool, picking country licks on his beautiful Gretsch 6120 ; the sound was so amazing, everybody was rooted to the spot ! Brian Bennett, future drummer with The Shadows, was there too. In Mike Read's book, 'The Story Of The Shadows' (Elm Tree Books, 1983), Brian says : 'Eddie was a great guitarist, he taught Big Jim [Sullivan] a lot and showed me quite a bit about playing rock'n'roll drums as he had beaten the skins on several of his own records'. On April 17, 1960, Eddie Cochran was killed in a car crash, depriving the world of one of its greatest Talents. I must say that this tragedy still haunts me. In his remarkable book, 'Sweet Gene Vincent' (Orange Syringe, 1999), Steven Mandich reveals that it was a certain Clive Selwood, later head of Dandelion Records, who suggested taking a car instead of a train (as it was planned) to Gene and Eddie. Being Americans, they obviously favored that idea and ultimately found a guy by the name of George Martin (!) who offered his services to take them to the London Airport. It's mindboggling crazy to think that it might not have happened if Clive...............

In view of such a legacy, it's impossible not to think that, had Eddie been there in the '60s, he would have been all over the place. Phil Spector and Brian Wilson were about to invade Gold Star studios ; being fascinated by production work as he was and being such a perfectionist, Eddie would certainly have crossed their paths. He would have had no trouble playing with some blues-based band or/and, given his early and thorough background in country music, some country rock group. If the song he sang on the 'Boy Meets Girl' TV show in England, called 'I Don't Like You No More', is any indication, we can also picture him trying his hand at some stuff that Bobby Darin later tackled at Capitol. I've always thought that this track was one of the reasons which led to the creation of The Brian Setzer Orchestra. Although one could of course speculate ad infinitum, it is true that Eddie is one of those few artists that we feel could have easily adapted to, and more importantly enhanced, any subsequent phase of music.
In his book, 'The Beatles - All These Years - Tune In' (Crown Archetype, 2013), by the way an absolute must-read for anyone, Mark Lewisohn writes that George Harrison caught (at least) one of Eddie Cochran's shows and, in a lovely passage, George recalls how Eddie blew him away. He goes on to say : 'I thought, yes, that's it, that's rock'n'roll !'.
Guitarist, multi instrumentalist, singer, composer, producer, showman, Eddie Cochran remains one of the most talented and charismatic artists to ever step in front of a microphone. Brian Setzer has the final word : 'Eddie Cochran had the whole package and he changed my life !'.
The Greeks were probably right when they used to say 'Whom The Gods Love, Die Young'.
---
One of the first extended (and still largely valid) accounts of Eddie's story was Lenny Kaye's in the booklet which accompanied the 'Legendary Masters' double album from 1971 on UA. Since then, Eddie's career has been reconstituted with much more precision in countless magazines and books. I'll pick out the ones which were the most important to me. But I'd like to start at the begining, when Eddie was alive and featured in such rags as 'Dig' which, were it not for the photos and bits of info here and there, were a load of crap and much closer to fashion mags than anything else, never really discussing music and trying to trap teenagers by every conceivable means.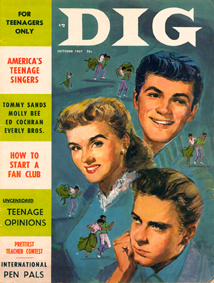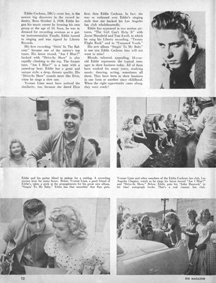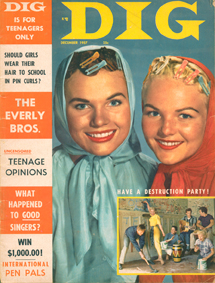 Above left and center : this is the cover of the October 1957 issue of DIG and the page dedicated to Eddie. It was simply a photo session and only four of them were used at the time. Members of Eddie's fan club are present, including Yvonne Lime, and the focus seems to be as much on her as on our man 'because she dated Elvis, then Eddie Cochran' ! They give a good review of his current single ('Am I Blue') though but they wrongly announce that 'it is also rapidly climbing to the top' : it stalled at No. 82. The remaining shots, all taken from photo editor Ralph Poole's original negatives, appeared for the first time in issue 409 of Now Dig This in April 2017. Above right : the cover of the December 1957 issue of DIG and a super nice one 'cause the color insert shows Eddie with Steve Rowland, Edd Byrnes, Yvonne Lime and others... at a 'destruction party'. In terms of downright stupidity, we can't be better served ! Apparently, it was the latest craze in Hollywood. Just locate an old house or apartment about to be demolished, take some paint and a couple of axes and let yourself go at breaking up the joint ! Thankfully, Eddie brought along a different kind of axe (a beautiful acoustic Gibson SJ200 in all probabililty) and seemed totally unconcerned by all the hubbub. Steve Rowland, who had previously cut singles for Liberty and Intro, beats the bongos while Eddie plays. More pics appear below. Hip bunch !!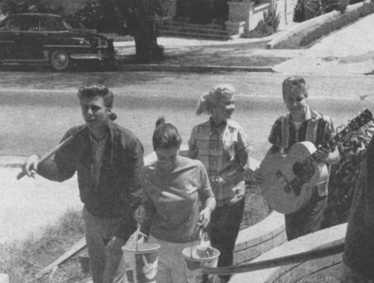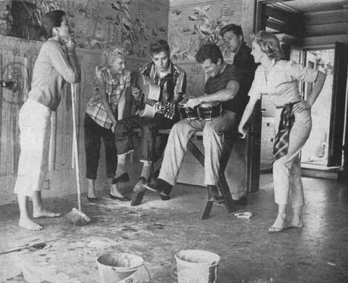 Fast forward to 1963. 'Disco Revue' was THE mag for Rock'n'Roll lovers in France and it sure helped make Eddie's name and music well-known in this country. Their July 1963 issue (below) was a feast for Eddie's fans and featured a plethora of rare and never-seen-before pics of Eddie, some alone, some with Sharon Sheeley. But there was also a stupendous collection of never-seen-afterwards shots taken directly from the negatives belonging to a British photographer named Philip Gotlop. Sadly, Mr. Gotlop died many years ago and his widow confirmed to Tony Barrett (of RockStar Records) that the original negatives had been destroyed... There were 32 of them - all in color ! All those pics of Eddie wearing a reddish sweatshirt, a shiny waistcoat and leather pants, holding his guitar or a green telephone were part of the lot. A couple of them somehow appeared on an album ('Inédits' in 1965) and a later box set. I don't know how Jean-Claude Berthon, the editor, managed to do it but he did publish 24 of them in his mag. Granted, they were printed in low black & white quality at that time but, thanks to Adobe Photoshop, I've restored them to a more satisfactory state. Enjoy them in the column at left. In March 2002, I wrote that the search would continue for these color prints. Eighteen years later, this is still the case.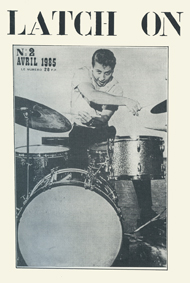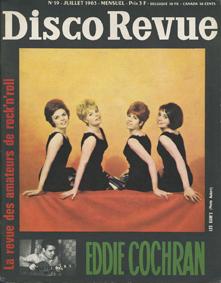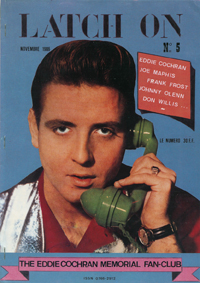 In 1984, a new magazine was launched here, called 'Latch On'. With such a name, it was evident that Eddie would be strongly featured in each issue. Editor Jean-Guy Meunier did a real good job and I'm happy to have been part of the first team who worked with him. Pictured above are issues #2 (1985) and #5 (1986).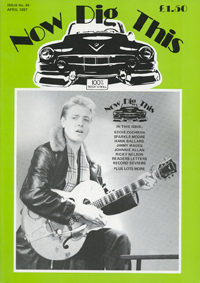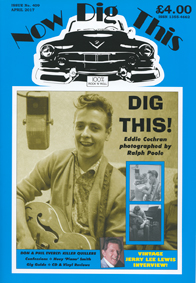 England has long produced quality music mags and fanzines, one of the most renowned being 'New Kommotion' (formerly 'Kommotion', in reference to Duane Eddy's awesome instro) with Adam Komorowski at the helm. There was also the short-lived but interesting 'Not Fade Away' ; issue #15 bore an Eddie Cochran cover but, surprisingly, wasn't especially dedicated to him ! It is shown between two annual 'Now Dig This' EC issues. There's no denying that Tevor Cajiao's mag is required reading for 50's rock'n'roll lovers - highly informative, constantly offering previously unpublished photos and interviews, all topped with a neat layout and it can be fun if yours is the 'purist-only' approach. It ultimately buried all the competition. They certainly know how to pay tribute to the Greats, be they well-known or more obscure.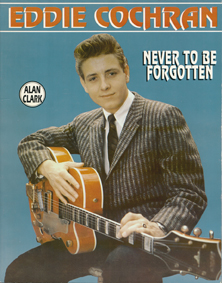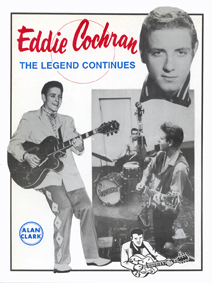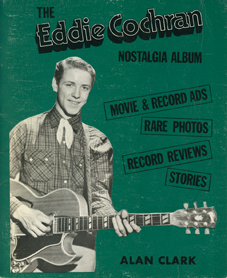 When we look back, two names are definitely and indelibly associated with Eddie : those of RockStar and Alan Clark. His first publications were smaller-sized booklets but always crammed with incredible photos, old magazine clippings, TV and tour programs, record reviews, you name it ! His 'Nostalgia Album' (above right) was a serious eye-opener in 1980 and a bedside book until the arrival of the next ones. The superlative 'Never To Be Forgotten' book (above left) was given to me by Gary Lambert and perfectly complements the two definitive works I'm about to review now.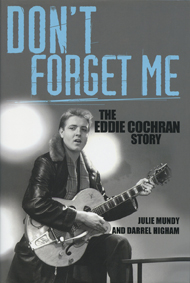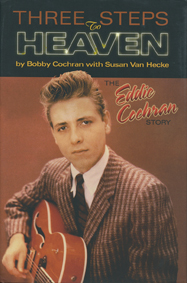 In 2000, one of the books to buy, read and cherish was Julie Mundy's 'Don't Forget Me' (Mainstream Publishing). It is extremely well researched and written, with an abundance of precious interviews with most of those who were associated with Eddie throughout his career and a wealth of superb photographs printed on real quality paper this time. Julie's style of writing is perhaps not as sophisticated as Susan Van Hecke's but it is precise and most pleasant. She had contacted me in 1999 to ask permission to use my interview with Ray Stanley, which I duly accepted. Very ably assisted by a true Cochran fan (and top guitarist & singer who, like Alan Clark, went on to play with The Kelly Four) in the person of Darrell Higham, and benefitting from the invaluable help of the RockStar gang, she wrote a marvelously comprehensive account of Eddie's story.
It seemed that she had filled all the gaps until Eddie's own nephew, Bobby Cochran, whose huge talent as a musician added more letters patent of nobility to his family name, came along with his first-hand memories of Eddie's family life and decided to put them in writing in collaboration with Susan Van Hecke. He was ten years old when Eddie died so he had a lot to say. It was, however, a different kind of book because, despite his sub-title, 'Three Steps To Heaven' (Hal Leonard, 2003) recounted both Eddie's and Bobby's story by interwining the two from start to finish. It could have been a bit confusing but it was perfectly well organized and, under Van Hecke's pen, it became a very effective way to showcase and discuss several aspects that Julie Mundy could only touch on. Inevitably, the myth is broken and the aura that surrounded it somewhat tarnished. There's the good, the bad and the ugly in anyone's life and Eddie's was no exception. But the timeless music he created remains immaculate, proving that there are indeed two distinct parts in every artist's life.
Both books are a joy to read and the pride of any Rock library.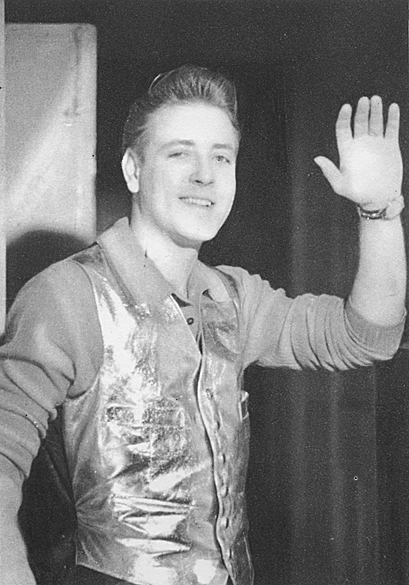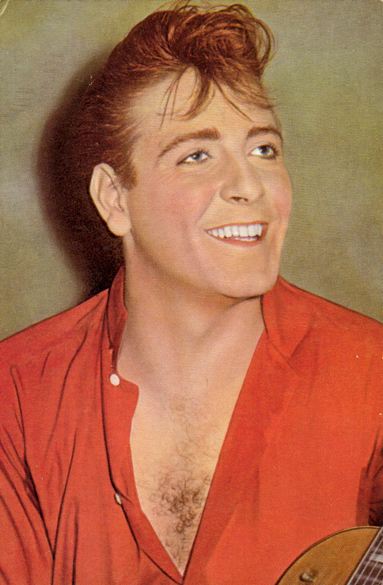 © PAUL VIDAL * Privas, France *
1998-2002-2006-2020




MERRILL MOORE DISCOGRAPHY