This piece is based on my own research (including correspondence exchanged with Doye over the years)
and an interview with Doye conducted at my request by the late, great Hank Penny in 1987. The cassette-tape of this priceless interview, with Hank's writing on the tag, appears at right.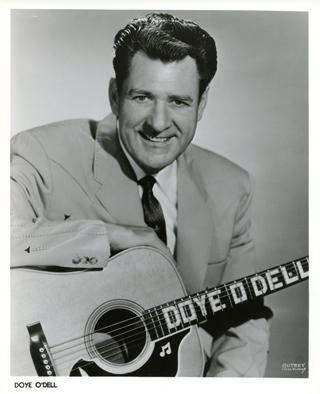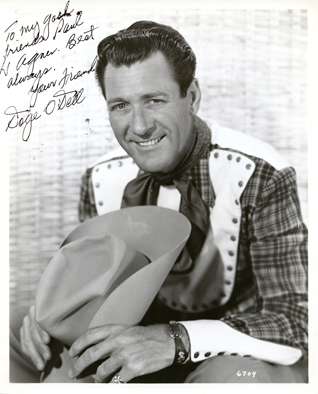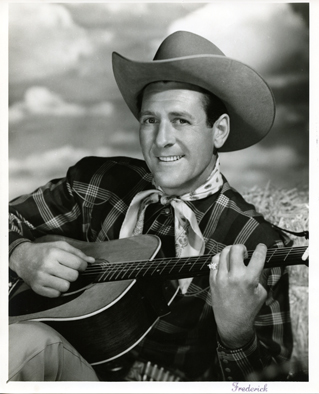 Believe me : Doye is a terrific, much underrated singer with a friendly voice (to paraphrase his friend, Cliffie Stone) and a quality song catalog. Often mistakenly called 'Doyle', he was born Allen Doye O'Dell near Plainview, Texas, on November 22, 1912. His parents, Carrie and Joe O'Dell, had a cotton spread down there. An old publicity flyer tells us that, when Uncle Tom Gregory visited the O'Dells, he always brought his fiddle. He took a fancy to his nephew and began to teach the young cotton picker a thing or two.
Allen Doye O'Dell got purty good at the fiddle, won a few contests and decided he'd like to graduate to the guitar. He played guitar in high school and soon started singing in a trio. When he was 18, he left his father's cattle ranch. His association with Dallas-born Max Raney, a fine accordion player, probably began at that time. They went to Amarillo, Texas ; there, they played on KGRS radio to pay for their hotel room. His professional career had now begun, so he decided to shed his first name to pick up his middle name : Doye O'Dell had arrived ... Well, not quite... After almost one year at KGRS, he and Max went down to the Mexican border to work on XEPM, located in Piedras Negras. They stayed there for about 18 months, then Doye joined Doc Snyder's Texans. Hank Penny said that this outfit had one of the flashiest vaudeville shows to ever hit the stage. Doye was hired as fiddle player ; he played all the way back east with them. A bit later, another fiddle player joined up, so Doye switched to guitar. It is unclear whether Max Raney was also part of the band but at some point in the mid-thirties, both of them had been recruited by NBC to broadcast over station WGY in Schenectady, New-York. It is reported that, within three months of their first broadcast, they were featured daily on the NBC Red Network from coast-to-coast. Doye and Max were probably already billed as The Hi-Boys by that time. It seems that, at the suggestion of NBC, a few more members were added and they became The Radio Rangers. The cast included King Owen (described as a very versatile chap, who sings, plays guitar and piano, as well as being a very funny comedian), Little Flossie ('the half-pint singer of the troupe'), Frank 'Fiddling Shorty' Haggerty, Pat 'Pasquale' Atton (bass fiddle) and Jayne Conyne (a tap dancer). They had quite a repertoire of 'ranch, mountain and heart songs', as evidenced by the very rare song book from 1939 pictured below.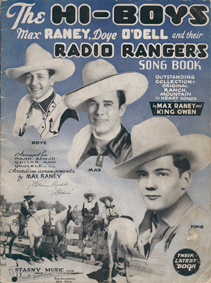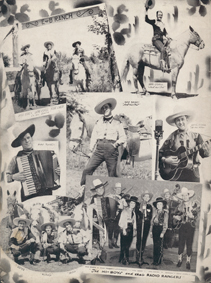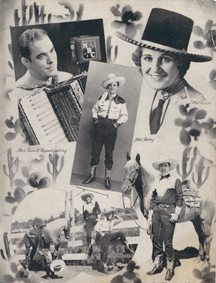 In 1938, they arrived in Hartford, Connecticut, where they were signed to radio station WTIC, The Travelers Broadcasting Station. But Doye wasn't quite satisfied and still wanted to go to Hollywood to make pictures. He left The Hi-Boys to spend the year 1940 there and appeared in two Monogram westerns : 'The Pioneers' (an Edward Finney production starring Tex Ritter, Red Foley and Wanda McCay) and 'Fugitive Valley'. They didn't meet with much success so Doye then returned to Hartford and WTIC with a new outfit, The Lazy 'A' Ranch Gang. His new cohorts were Sleepy Hunter (bull fiddle) and Eddie Lee (steel guitar) ; as Doye put it, between the three of them, they were able to play anything with strings on - plus harmonica (by Sleepy) ! They were on the air each weekday morning from 6 am to 6:25 am, entertaining their radio audience with cowboy and hillbilly songs. Then, the three of them had to rush down to Colt's machine gun assembly shop to do their bit for national defense until 3 pm. After that, there were usually personal appearances on stage ; Doye recalled that they played theaters all over the New England States. An article in the Hartford Courant Magazine from March 1942 stated : 'Whether they sleep, and if so when, it was impossible to ascertain' !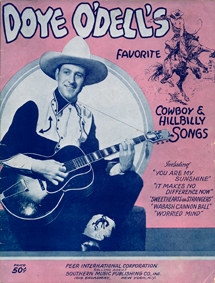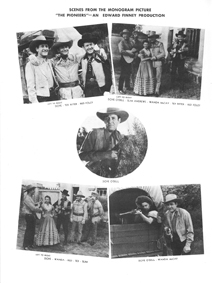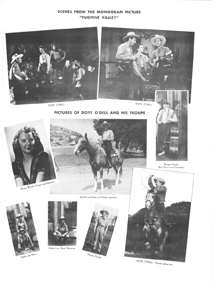 Then ensued a spell in the US Marines, during which he was stationed at Camp Joseph H. Pendleton, situated in San Diego County. In a letter he wrote to a friend who worked with him at Colt's, Doye mentioned that 'I am now in the 1st Guard Co.'. He went on to say 'I don't like guard duty but I guess it will have to do for awhile'. After the war, he settled in Los Angeles. He took part in various recording sessions for other artists as rhythm guitar player - for instance, on December 14, 1947, he backed up Johnny Bond. Shortly afterwards, he signed a recording contract with Exclusive records, a label mostly renowned for its Rhythm'n'Blues recordings but which started a Western Swing series in 1947. At his first session, he waxed one of his biggest hits, 'Old Shep', a song which had first been a smash hit by Red Foley who had cut it in Chicago on March 4, 1941 (Decca 5944). In fact, some of the local DJs suggested that Doye should record that song ; they brought a scratchy dub transcription of Red Foley's version to the studio and Doye did it : it took off. Incidentally, the song was to become very important for a third artist : Elvis Presley, who included it on his second brilliant RCA album in 1956.
Doye was backed by Texas Jim Lewis & His Lone Star Cowboys on several of his Exclusive '78s (Lewis himself had a bunch of releases on the label, before going back to Decca and then Coral). He cut many 'novelty' songs ; however, among his other significant sides were 'Give Me Texas', 'Blue Christmas' (later sung by everybody, including Ernest Tubb in 1949 and Elvis again in '57), 'Bath Tub Blues', 'Lookin' Poor But Feelin' Rich' (reissued by White Label in their excellent 'Boppin' Hillbilly' series) and most notably its flip, 'Dear Oakie'.
'Dear Oakie' was originally written by Rudy Sooter. Here's a little tale : when Doye decided to record the song, Rudy hadn't finished writing it. A few weeks later, it wasn't ready yet so Doye and his label boss had to put the finishing touches to the tune before recording it. It was a big hit in 1948 : Doye proudly recalls that his original version is on an album in The Library of Congress (Washington, DC). It is important to know that Doye wrote or co-wrote a lot of his own material ; he also co-penned a song that Spade Cooley cut on RCA Victor in 1950 ('I Miss You Already').

After Exclusive, Doye signed with Intro Records, a subsidiary label of the famed Aladdin Records out of Hollywood, California, devoted to Country 'n' Western. The first releases on the label ('7000' series) were quite bland but when they started their '6000' series, they quickly delivered the goods. The Intro roster included Tommy Duncan & His Western All Stars, Curly Wiggins, Eddie Hazelwood, Rusty Mc Donald, Gene O'Quin, Jimmy Walker and Win Stewart (sic): a really neat list ! Doye wasn't at all out of place.
His first Intro session took place on October 2, 1951. The resulting single (# 6032) included a cover of Rex Griffin's 'Won't You Ride In My Little Red Wagon', an ancient (but timeless) hit for Hank Penny. From that session, a song called 'A Pretty Woman For The Boss' (written by Doye and Harold 'Mr Fiddle' Hensley) was shelved ; it would be later re-recorded for his Era album. His second single would be the one that clicked : it was to become one of the hottest C'n'W platters of 1952. 'Diesel Smoke, Dangerous Curves' (# 6047), recorded on February 13, 1952, was a Cal Martin-penned song which can't be beat for good special effects. In retrospect, as Stompin' Steve Hathaway rightly pointed out in issue #18 of 'Hillbilly Researcher', it may be considered as a forerunner of the truckin' songs - and maybe even hot rod music - that would be so popular in the '60s. Speedy West does an astonishing steel guitar work, ably supported by Jimmy Bryant and Harold Hensley in the band. In fact, the song was covered by many artists that same year and Speedy West played on all the great versions - notably those of Billy Strange (Capitol F-2032, released in March '52) and The Sons Of The Pioneers (RCA 47-4639). Speedy told me in 1987 that he 'tried to do something a little bit different each time'. For two or three weeks, Doye's original was Billboard's most played Country record by DJs & in jukeboxes. Incidentally, the more conventional flip, 'If Tears Were Gold', was also written by Cal Martin. It was recorded along with 'Mabel, Mabel' and an unissued first attempt at Tex Atchison's song, 'The Man Behind The Throttle', at a previous February 6, 1952, session. Collectors, take note : there was a blue vinyl issue of that historic single (see Doye's Discography). Two more releases followed - including a good remake of 'Dear Oakie' recorded at a split session with Charlie Aldrich on August 31, 1953 - before Doye went with one of the majors, Mercury Records.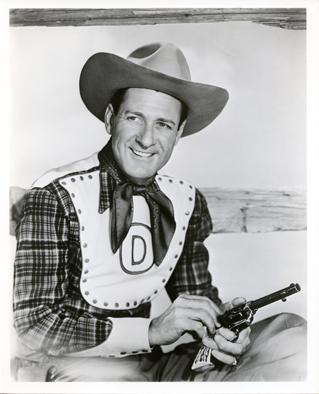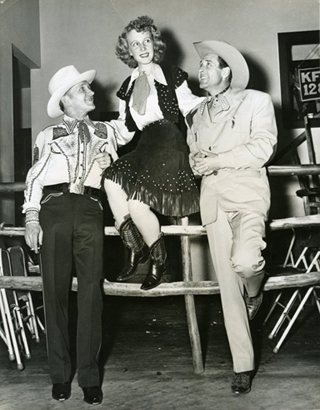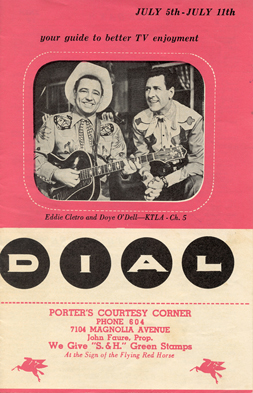 [Center : Please enjoy a rare pic of Doye (at right) with Foreman Phillips and the wonderful Yodelin' Blonde Bombshell, Carolina Cotton - April 26, 1950. At right, a TV program from circa 1955 featuring Doye and another great talent, Eddie Cletro.]

Meanwhile, Doye appeared in a bunch of movies, the very first one being 'Pioneers' with Tex Ritter, as mentioned above in the text. At first, he was a bit player but worked up to a feature player all within a year. Since then, he has starred with Charles Starrett, Roselind Russell, Bill Elliott, Monte Hale, Ronald Reagan (this one sounds familiar !), Jack Lemon and James Garner. 'Republic was grooming me to take Roy Rogers' place' he grins ; 'I tried out, passed the tests, and signed the contract. Roy was supposed to be drafted about that time. I was in a famous Western clothes store in L.A., trying on boots, hats and the whole bit. Right in the middle of the tailoring, Republic called. The draft age had been lowered, and Roy was safe. So, I didn't get the clothes - or the part !' Doye did, however, appear with Roy in 'Home In Oklahoma', 'Under California Skies' and 'Along The Navajo Trail'.
His career in television is equally impressive. For five or six years, 'Western Varieties' was the highest rated Western show in Los Angeles (over Paramount's TV station, KTLA) ; Doye was the emcee six evenings every week and among the regulars on the show, were Eddie Dean, Jimmy Wakely, Tex Williams, Eddie Cletro... He also appeared on 'Country Thrills' with Slim Andrews ; that was a children's show on Channel 5, divided into a half hour live (with kids singing) and the other half filled with Western pictures. Doye says it was one of the great experiences in his life. Deservedly, it brought him an Emmy award two years in a row. In February 2018, Carl Walker, then 71, recalled how he got on one of Doye's children TV shows : 'I won a safety slogan contest that Doye was having on his KTLA kids show. I won the contest with the slogan, "Stop, look & listen" when crossing the street (my mom entered me). I went on the show to receive the grand prize of a Schwinn bicycle. I remember that I wasn't tall enough to get on the bike and was fascinated by Doye's holstered six-gun. I wouldn't shut up and kept asking him questions. It was a good time'.





He had roles in several leading television network shows such as 'Maverick', 'Sugarfoot', 'G. E. Theater', 'Cheyenne', 'I Love Lucy' and more recently, 'Columbo'. However, Doye never stopped recording. After Mercury, he had a short spell with Era Records where he cut his first ever album with vocal and instrumental backing by The Cass County Boys, namely Bert Dodson (bass fiddle), Fred Martin (accordion) and Jerry Scoggins (guitar) who had been recording as early as 1946 for ARA and later on for Decca. The October 1956 issue of 'Country'n'Western Jamboree' carried an article about the two-day sessions which produced the album, simply titled 'Doye'. Apart from the fact that they kept calling our boy, 'Doyle', they wrote : 'As we dodged microphones and cables, Era's musical director, Billy Strange,, led us in and out of control booths, echo chambers and studios, always stressing the point that, with today's records, nothing is left to chance. After much preparation, mellow voices blended in rich harmony, and the final result was toe-tapping rhythm that is as uniquely American as the ten gallon hat and the six gun'. The album mixed three new songs (of which 'According To The Evidence' and 'Bow Your Head And Pray' which were chosen for '45 release) with a number of old favorites like 'Old Shep', 'Red River Valley', Bob Wills' 'San Antonio Rose' and Jack Guthrie's 'Oklahoma Hills', all excellently arranged. The record was pressed in both black and red wax. As was often the case, the aforementioned magazine had ornamented their article with several priceless photos taken during the Era sessions which I'm all too happy to reproduce below.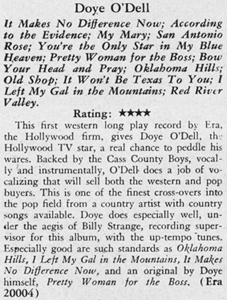 In the March 1957 issue of 'Country'n'Western Jamboree', the record received a very good review and a four-star rating.
After Era, Doye cut a one-off single for Radio Records and then inked a contract with Sage & Sand Records. The recordings he laid down there are top flight Country product, often drenched with Western Swing, West Coast style like 'Take Any Number', 'I Wish I'd Stayed In The Wagon Yard' or, even more typically, 'It Takes A Lot Out Of Me'. There were also beautiful ballads like 'Shalley Belle' and 'Half Past A Heartache'. His biggest seller was 'Burning Bridges' (Sage 350), although it was Jack Scott's version which became a Top 3 hit in May 1960. All of the Sage cuts feature the house band, led by the incredibly talented Roy Lanham. The late guitarist was really in a class of his own, playing complex, sometimes almost oblique, chords and executing bone-chilling glissandi on the neck of his Fender that complemented Doye's warm, assured singing perfectly. The remake of 'Diesel Smoke' is astounding : Roy's guitar takes the role of Speedy's steel guitar in the original and he really drives the song all by himself, in the same assured manner as Eddie Cochran drove 'I. O. U.' by Jack Lewis on Crest. Roy's solo in the middle of the song is impeccably executed, even displaying proto-surf overtones. 'Everybody Likes A Little Lovin' (Sage 297), a Merle Travis song, is my all-time favorite ; it rocks effortlessly and features another unmistakable solo by Lanham. With the annoying exception of that latter song, Doye's first five Sage 45's were compiled onto a fantastic Crown album titled 'Country Time' (CLP 5264). There's another splendid collection of Sage cuts on his next album, 'Crossroads' (Sage C-36). Beginning with the drivin' 'Run Johnny Run', the LP features several Harold Hensley compositions : 'The Blues Keep Following Me', 'You're On My Mind All The Time' and the funny and catchy 'Plant A Watermelon On My Grave', co-written with Doye and issued as a single (#357). Bobby Lile's 'Pick Up The Pieces' is also on board, Lanham's guitar racing with a piano this time (Lile had fine releases on 4-Star, like 'Money Talks', and on Sage). Doye is at his best on songs like the happy 'A Hobo' or the reflective 'Crossroads', but the icing on the cake may be that distinctly rockabilly-tinged 'Wait For The Wagon', where Roy once again works marvels.
Here's something of interest to guitar pickers and collectors. The sleeves of these two albums feature splendid color pics of Doye proudly holding the 1951 Martin D-28 acoustic guitar custom-made for him at a time when the back and sides of the Martins were usually made with beautiful Brazilian rosewood. The serial number of Doye's instrument was 122 253.
After Sage and Sand, Doye recorded briefly for Liberty with Joe Allison producing (1960-1961). The two singles he cut for them were later re-released on a Sunset album. Doye then recorded more sporadically for several smaller labels well into the seventies (see his discography for more details). He kept on playing in clubs and other venues in California. Steel guitar player, Herb Steiner, recalls : 'I've played steel guitar in Austin, TX, with many country acts, currently Johnny Bush and Cornell Hurd, among others. But when I was first strating out as a professional steel guitarist, living in L.A., I would occasionally work with Doye at the Mustang Club on Alvarado Street in downtown Los Angeles. This was in 1970-1972. I was always filling in for Noel Boggs who was Doye's regular steel guitarist. Ted Lessler was the drummer and I don't recall the bass player. It seemed that Doye would be embarrassed or annoyed when I mentioned to him I used to watch hid kiddie show on KTLA-5. Through Doye I got to be friends with Junior Nichols and through Junior, got to play a gig with Tex Williams. I also worked occasionally with Thumbs Carlisle and Jimmy Bryant at the Cajun Country club on Sherman Way. Those were fun days !'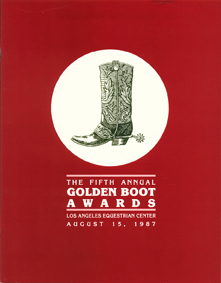 In 1987, my wife and I had the pleasure to meet Doye in person as well as hear him sing live at Hank Penny's Annual Party. Doye, Hank, Sue Thompson and Harold Hensley's Band also provided the music at the Fifth Annual Golden Boot Awards which took place on August 15 at the Los Angeles Equestrian & Polo Center in Burbank ; it was incredible to see those lifelong friends sharing the same stage - a delightful  25-year throwback ! Doye gave me a copy of his latest album, which appeared to be his last, but what a treat it was. Titled 'Doye O'Dell Today' and released on Longhorn Records in 1983, it somewhat summarized his career in fine fashion.
Of course, there were inevitable (and splendid) remakes of both 'Diesel Smoke' and 'Dear Oakie' but the set also included a clutch of superb new compositions (some previously issued on Berdie or Jan Mar) like 'Suddenly', which is one of the most sensitive Country songs you'll ever hear. In fact, this was only one of many great Allen Johnston songs on the album, others including 'Louisiana Lady' and the nostalgic 'Freight Train Goin' Home'. Loved the modern rendition of an old Exclusive number, Rudy C. Sooter's 'Who Do You Spend Your Dreams With', too. On this project, Doye was backed up by Jay Dee Maness on steel & banjo, Jay Lacy on guitar & harmonica, plus an assortment of very fine studio musicians who did justice to the songs. Needless to say, Doye's voice was intact : warm, friendly, magnifique.
In 1995, Doye had a stroke, resulting in his left side being totally paralized. He had already retired from show business but now, he had to stop entertaining for good. There's no arguing that he and his good old Martin guitar deserve a choice place in Country'n'Western music : yes, Doye O'Dell is one of the unsung greats of the idiom.

Postscript : Russell Hall, who is related to Doye O'Dell, informed me of Doye's passing. According to Doye's daughter, Cathy O'Dell Goodfarb, he died in January 2001. He will be missed by many. Roy Harder has since confirmed Doye's passing on January 3, 2001. After living at 9420 Donna Avenue in Northridge for many years, his last residence was Newhall, California.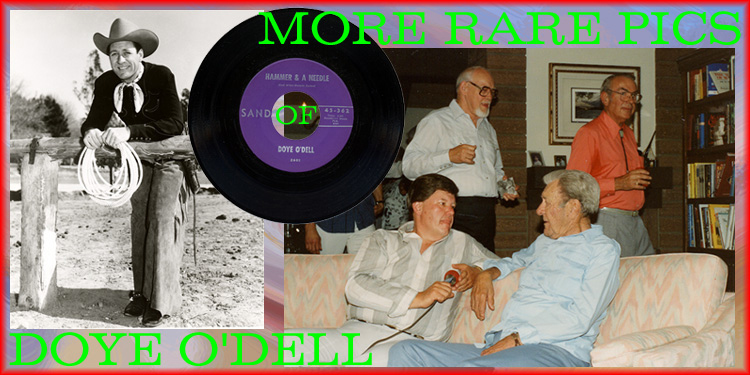 The photo on the right, taken by my wife, shows Doye O'Dell during an interview with DJ Don Hillman. In the background, you can see Hank Penny and Harold Hensley getting ready to fill up their glasses ! My wife and I were right in front of Doye, lapping up his words.
That pic is very emotional for us because all four guys are now deceased.

© Paul Vidal * Privas, France * September 1999 - June 2019