In his massive book, 'America - The Fifty States' (Crescent Books, NY, 1986), author Bill Harris writes that, due to very little immigration from other states, West Virginia is one of the few whose population is almost entirely native-born. This probably accounts for the distinctive brand of Country Music created in the Mountain State, the heartland of 'Appalachia'. If, like me, you fell in love with those authentic 'backwoods' sounds, you need to read the best book on the matter : 'Mountaineer Jamboree' by Ivan M. Tribe (The University Press Of Kentucky, Lexington; 1984). It's a masterful piece of work which emphasizes the crucial role of radio in the West Virginia Country Music scene. The most significant radio station in that state was WWVA in Wheeling but other powerful stations included WSAZ and WHTN (Huntington), WCHS
(Charleston), WMMN (Fairmont) and WHIS (Bluefield). Early in 1948, another station - WDNE (Elkins) - began broadcasting ; that's where a man by the name of John BAVA began to make his mark.
Thanks to Mr. Tribe, we know that Bava was born at Thomas in Tucker County (West Va.) in 1913 and was a multi-talented performer who led his own Hillbilly Gospel group and published a magazine called 'Musical Echoes'. He eventually set up COZY Records, based in Davis - the label which best reflects the wealth of talent to be found in the Mountain State.
There's a serious lack of information about the creation & development of the Cozy label. Initially, I had to rely on bits of info supplied by a certain Ms. Amanda Rupprecht, according to whom 'it appears that John Bava had the West Virginia operation for Cozy but the label itself was actually based in Philadelphia. It began sometime in 1940 or '41 and was operated by Norman Kelly. Some of that early product was '78s and 6" cylinders. A certain Floyd Cloydt was the main financier for most national releases although he didn't own any interest in the label at the time. Very little of the music released from Philadelphia was Hillbilly ; most of it was Pop, at least by production. In those days, a lot of artists did their own sessions, some of them at WMMN and other radio stations, including Pittsburgh's famed KDKA. Neither record keeping nor license clearances were a high priority by either John Bava or Norman Kelly'. It seemed, she continues, 'that both men operated on a get-it-done basis with little communication between them. It also seems that there was also an operation in New-Orleans and one in St-Louis'.

However, recent research by Sam Mathis led to his interviewing Ms. Janet Bava, John Bava's daughter, who was around in the early years but married at 18 and moved to Ohio. She returned to Davis around 1972. Here's the fruit of their conversation which certainly contradicts most of the above assertions : 'John Bava retired from the coal mines at the age of 55. He went on to build a church in Gorman, Maryland and pastored there for the next 25 years. He first entered the music industry by publishing a song magazine called 'Musical Echoes' which he printed on a small printing press in his converted chicken coup. His daughter vividly remembers one of her chores being to staple the sheets together. He became interested in recording music when a poem he had written for a coal mine magazine was published and put to music. He started Cozy records in approximately 1947-48 and he named it after the Cozy Restaurant in Grafton, WV. Janet insists that Bava's Cozy label never had any affiliation with Norman Kelly nor was there any Philidelphia connection. Norman Kelly ran the Process label and Ms. Rupprecht's information might be confused with Kelly's label. I feel, however, that Bava had to have known Kelly because they were contemporaries in the same market and Kelly was married to Junie Lou who had at least three releases on Cozy'.
Furthermore, Sam Mathis had the recent opportunity to track down and talk to Norman Kelly's widow, Junie Lou : 'She was able to corroborate the info given to me by Bava's daughter. Norman Kelly was not in any way a business partner of John Bava, but they knew each other well. Norman Kelly actually started the Process label in approximately 1946. However, the label was inactive at the time he took Junie's sides to Bava for release on Cozy. Her songs were recorded in the dining room of her home. Junie was emphatic that Rupprecht's information concerning early Cozy history is incorrect'.

Early signings to the label included The Country Cousins (Bava's group, with his wife, Lucy Bava, as vocalist), The Western Swingbillies, Bob Mason and Hank The Cowhand.
The latter's real name was David Stanford ; he was born in Texas on October 9, 1912, and had a long career in radio. He also led several bands, one of them being called The Foggy Mountain Boys. He had a handful of releases on Cozy (generally under his Hank The Cowhand pseudonym although one was billed as by Hank Stanford), including an EP and an album of Gospel readings. There was more than a touch of Bluegrass in the backing to songs like the excellent 'Would You Care' or his best-known composition, 'Texas Rose' (sometimes called 'My Brown Eyed Texas Rose'), but he knew how to rev things up like he did so well in 'Popcorn Boogie', a close cousin to Tennessee Ernie Ford's 'Shotgun Boogie', or in 'She's A Hum-Dum Dinger'. He kept on dee-jaying and singing until his death on October 2, 1966.
Bob Mason's real name was Bob Luce ; he too died in 1966 [info courtesy of his son, John Luce]. Other important local artists to appear on Cozy in the early years were Bonnie Baldwin (who had worked briefly with The Chuck Wagon Gang), Red Belcher and Jake Taylor who once had Cowboy Copas as featured singer in his band. Charlie Arnett was a West Virginian who was the chief announcer and business manager for the Renfro Valley Barn Dance in Kentucky ; in the '40s, he teamed up with (and soon married) Ethel Irene Reddy, from St-Louis, Missouri, already known as Daisy Mae. The duo took the stage name of Old Brother Charlie & Daisy Mae and cut one lone '78 for the Cozy label before moving down to Tampa, Florida around 1948. [My thanks to Dick Wheeler for that piece of info]. They also had six singles as a duo on Mercury plus one as 'Daisy Arnett' only, all in '48-'49.
The late Charles 'Rex' Parker and his wife, Eleanor, lived in Lerona, West Virginia. They were Rex & Eleanor Parker on Cozy and also recorded for King as The Parker Family with their two daughters. Little John & Cherokee Sue had several releases on the label. Sue died in 1967. John [Graham] cut an LP in the 80's, 'Mother's Old Checkered Apron', which was his signature song. Most of Sue's solo numbers (never recorded) were children's songs. Millie Wayne was sometimes a singing partner with Bonnie Baldwin as the Radio Rangerettes. Together they did an album on Country Star, another Norman Kelly label. Millie lived in McKeesport, Pennsylvania in the 1980s. Bonnie Baldwin lived in Bridgeport, Ohio. Both are probably deceased by now - Bonnie, born 1924 and Millie, born 1920. Millie's actual last name was Miller. [Many thanks to Ivan Tribe here]
Dors(i)e Lewis, a youngster from Morgantown, had a very popular hit with 'The Scared Coal Miner' long before cutting one of the most sought-after Cozy rockabilly sides, 'Mexican Twist' (#433). Another hot one was 'Hot Rod Boogie' (#399). According to noted UK collector, Brian Taylor, who had the privilege to meet John Bava in 1982, Dorse was Dana Lee Lewis's father. Dana Lee Lewis waxed 'A Lot Of Lovin' on Cozy (#532) in the first half of the '60s - a real good rocker with a definitive Eddie Cochran flavor & featuring a slick guitar break ; its ballad flip, 'Secret Place', was written by Dorse(y) Lewis who had previously cut it for the Advance label (#1003, b/w 'Treat Them Rough'). The Bluegrass duo, Bill & Ed, recorded quite a few sides for the label while The Lonesome Pine Fiddlers cut four titles in March 1950 (two of them - 'Pain In My Heart' and 'Lonesome, Sad & Blue' - being leased to Coral). While we're on the subject, there's a much later EP (#523/524) not to be missed if you find it, by The Virginia Blue Grass Singers featuring The Elliott Brothers (with Bill Crabtree & his famous banjo). An incredibly rare release was Cozy #300, dating probably from 1951 ; it was a '78 by the soon-to-become-famous Skeets McDonald on lead vocal and rhythm guitar. The top-side of the disc ('The Tattooed Lady') had been a sizeable hit on Detroit's Fortune label and it is thought that Cozy 'bootlegged' the record, pure & simple. The other side featured an entirely different artist, Curley Parker.
In a different bag, Bava also recorded Harrison Booher, a fine interpreter of Jimmie Rodgers's songs who once enjoyed several releases in a row on the label.

There was more raw, hick country stuff in the fifties by artists such as Hank Frazier, Eddy Bailes (whose recording of 'West Virginia' proved immensely popular) and the Echo Valley Rangers, probably led by Eddy Williams who wrote the wonderful slapper, 'All Because Of You' (#441), for them. Steel guitar player, Paul Preston, out of Florida, recalls the late Hank Frazier : 'Hank was from New Hampshire, my old home state. I used to jam with him, playing my Gibson steel guitar. He also had a great fiddle player with him ; his last name was Murray but I can't remember his first name. Hank used to tell about going to West Virginia to be on the radio. He went down to get onto the WWVA Jamboree but they said he didn't fit in as he didn't have a southern accent ! At some point, he returned to New Hampshire and ran a band there for years. He also ran a small music store in Laconia, N.H.' Another obscure singer was Charlie Carroll (real name : Charlie Burroughs) but his two Cozy 45's are first class Hillbilly. However, I think that one of the very best discs on the label has to be that Vandergrift Brothers single (#447/448), coupling 'Sittin' Here A-Cryin' with 'She's Gone' - two slappin', chuggin' boppers fueled by haunting vocal harmonies and plaintive steel guitar backing. That outfit later recorded for the Emperor ('Honky Tonk Woman') and King ('Who Needs Your Cold, Cold Love') labels. Gospel was well-represented on the imprint thanks to Fred Steele, Calvin & Betty, The Robson Quartet, Dave Kidwell and, as previously stated, Hank The Cowhand and John & Lucy Bava, among many others. The Sunshine Boys, who once counted a certain J. D. Sumner in their ranks, also waxed some Sacred Music for the label. Jerry Kendall, a Country & Gospel collector from Georgia, has much interesting info to offer on them : 'They were primarily a southern Gospel quartet but a group which also did Country, Pop, Barbershop and Cowboy music - even to the extent of appearing in some B-Western movies with Eddie Dean, Charles Starrett and a few others. J. D. Sumner appeared in their final movie ('Prairie Roundup') in 1950. Of course, J. D. would later back up Elvis Presley with his group, The Stamps. The four members of the group who appeared in 'Prairie Roundup' actually sang together in old-timer get-togethers as late as 1998, just a few months before the deaths of J. D. and longtime member, Ace Richman'. Other members included Eddie Wallace (who joined in 1943) and Fred Daniel (1949). Kendall goes on to point out that, apart from at least two EPs on Cozy, the Sunshine Boys also recorded for Decca (where they backed up Red Foley on 'Peace In The Valley' in 1951), Dot and Starday (they had at least one EP and six LPs there, not counting those on the budget Nashville label).

It's time I mentioned another skilled performer, Dale Brooks, born in Upshur County (West Va.) in 1933. Dale could play guitar as well as accordion, trumpet & keyboards, he sang, wrote songs and, like most other Cozy Artists, was a longtime deejay. Thanks to an article printed in the Morgan Messenger years ago and sent to me courtesy of Dianna Coffman, we learn that Dale was one of the founders of radio station WCST in Berkeley Springs and that he also had a live country music television show on a Clarksburg station. He later lost his left arm in an automobile accident and struggled through a long recuperation but ultimately continued to play in clubs. Dale had at least one release on the label in 1959 : a 4-song EP (#499/500) combining western-styled songs like 'The Sage & The Sand' with the rousing, guitar-driven 'Ambridge Boogie', a true classic much in demand among rockabilly collectors. Also worthy of mention is Wilson Coffman (born in Hancock, Maryland in 1927), a talented multi-instrumentist who backed up Dale Brooks, Sammy Moss and Bobby Weller among many others. Indeed, he was part of Dale Brooks's Country Caravan and played the furious, echo-laden guitar soli on 'Ambridge Boogie'. He later was a member of a band [The Nu-Tones] that won a trophy for best band of the year (1975) following a WYII poll. According to his daughter, Dianna : 'He even came close to playing back up for both Patsy Cline and Mel Street. [] He built many of his steel guitars or would add to them to get the sound he wanted. He had a chance to go to Nashville to be a professional pedal steel guitar player, but gave his dream up for his wife and his children.' Sadly, Wilson Coffman passed away on April 2, 1993.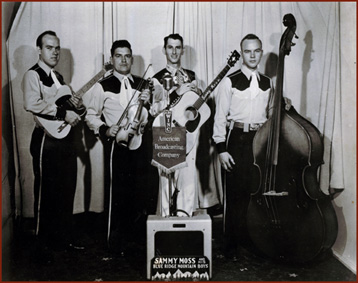 Pictured above are Sammy Moss & His Blue Ridge Mountain Boys, left to right :
Wilson Coffman (electric Fender Telecaster), Ray Bishop (fiddle), Sammy Moss (acoustic guitar) & Ercel Coffman (bass).
Moving into the '60s, a brilliant singer appeared in the person of Keith Anderson - yet another DJ born in Paden City (West Va.). He wrote just about all his material and this includes strong Rock'n'Roll like 'Hot Guitars' (#513) and delightful Country like 'I Need A Hit' (#550), 'Guitar Picker At Heart' or the Buck Owens-styled flip, 'I Still Care' (#530/531). 'Hot Guitars' is a firm favorite of mine, very tuneful and featuring some remarkable drumming behind neatly recorded acoustic & electric guitars. The two guitar breaks are awesome. His last release on the label was 'It's Wrong For Loving You'. As you can see, I was fortunate enough to secure an autographed copy of this very desirable disc.
Says Bob Parsons, the 16 years old boy who played bass on 'Guitar Picker At Heart' in 1965 : 'It was recorded on a reel-to-reel tape in the upstairs ballroom of the Eagles Club in Paden City, about fifty miles south of Wheeling on the Ohio river. I have no idea why it was recorded upstairs in the Eagle's ballroom, except that the acoustics were good there. Two musicians came over from Shinston, WV, between Fairmont and Clarksburg, probably 60 miles or so to the east of Paden City as the crow flies, but there were only back country roads in those days (I don't think the route to Shinston has actually changed much even today) and it was 2 to 3 hour drive. Here's what I remember -- the guys from Shinston were a pedal steel and a lead guitar player. They were good and I was very impressed from the first notes I heard. Keith was a good singer and writer, but only played rhythm guitar. My mother was a waitress at Carl Smith's High Hat bar, and though I was underage, she always told me when Keith was playing and I would watch from a side door. I was a lead/rhythm player in a fledgling rock band that played a few times at the High Hat too, though I think it was against the law, and I also sat in as a bass player for another country/rock band once and apparently Keith was in the audience. Keith lived in Paden City, and it was from that, I think, that he asked me to play bass on this recording. I believe he paid me $30, but I am no longer certain. [] Now, I did not know that Keith was a disk jockey. I knew him only as a performer around Paden City, New Martinsville, Sistersville and Moundsville, all along the river. Apparently he was known in other parts of the state too, though. We only got two radio stations during the daytime, Radio WETZ (from Wetzel county) in New Martinsville and WWVA, a famous station in Wheeling. At night, on the AM frequency we could pick up a lot of other stations, including WCKY Cincinnati, Ohio, but they came in and out and it was frustrating that they would often go out in the middle of a song. Anyhow, I know that Keith was not a disk jockey at either of those two stations. He may have been somewhere else, but any commute outside of the Ohio Valley, say to Charlestown, Huntington, Morgantown or Fairmont, would have been difficult. Maybe it was a weekend only thing, I don't know. It would have made sense that he would want to play in those larger towns on weekends. Anyhow, back to the recording. Here is what I do and don't remember. We did it all in two takes. I was completely impressed and a bit intimidated by the two Shinston musicians. I do not remember one of them singing with Keith, though. I thought Keith sang it all by himself. Maybe he put down another track at a studio later. There were no studios that I knew of in our area. I also remember very clearly that I made a mistake on the second song, 'I Still Care'. Near the end of the song, the music comes to a complete stop and I put one more bass note in. Nobody but me seemed to notice when it happened and I worried about it for days afterwards. A couple of weeks later when Keith brought me the record, he mentioned it to me and asked if I knew. I said I did and apologized. He laughed and said that if the record were to become a hit it wouldn't be long before everyone would be trying to imitate that extra bass beat ! That was the first thing I listened for in the MP3 you sent me. It is still there, at 1:55 approximately of the MP3. It makes me wonder why Keith did not remove it, if in fact he did another track at a studio. Maybe my memory is wrong about the singing and one of the Shinston guys did sing the harmonies. However, both voices sound like Keith to me.
[] I realize I need to clear something up because I omitted an important detail about the recording, and as I think about it, it also probably explains the harmony singing on the record. It has to do with the two musicians from Shinston. As I mentioned, I was impressed from the first notes I heard. They were playing when I got up the stairs and into the dance room, and they were both very good. But when we started to record, the lead guitar player handed the guitar over to Keith -it was actually Keith's guitar, and the pedal steel player played everything himself. So, it was just the three of us playing, Keith, the pedal steel guy and me. And Keith only played rhythm. So, though it sounds like each instrumental lead on both records is split with pedal steel playing first and lead guitar second, it is actually all only the pedal steel, changing styles right in the middle of the instrumental lead in a way that makes it sound like a lead guitar. If you have a technical way of verifying that, or an expert that can listen and confirm it, check it out. [] My memory is strong on that point, only the pedal steel guy played, unbelievably. I imagine, as I think of it, that the lead player was there to sing the harmony, but in those days I had very little interest in the singing. I was totally focused on the instrumental stuff, to the point that I couldn't understand why Keith got all the credit when the other guys were better than him !
I don't think like that now, as I have come to appreciate singing and writing much more. Anyhow, in my memory, only Keith is singing, but I imagine my memory is wrong about that'. What a fascinating insight into the making of a legendary Cozy record ! Bob Parsons later took up the mandolin in addition to his guitar and bass playing. He was involved with a group named Rural delivery who had a CD released on Frontier Records, 'The Songs Of Rudy Perkins'. Bob played lead guitar on it while Rudy Perkins played mandolin.
Elmer Jones & Viola Dickerson had a fine waxing in 'Lazy Man's Blues' (#580/581), a good guitar instrumental. There was also some awful stuff, to be frank, like Gene & Ann Westfall's Country Tones - plodding songs which remind me of one terrible Loyal Pritchard record ('Too Much Of Not Enough' on Moonbow) ! There was also a rare incursion into Doo-Wop territory, courtesy of The Royaltones Dance Band. 'He Really Loves You' (#527/528), which Brian Taylor describes as 'a crazily rare oddity, with great retro doo-wop type vocal & bluesy guitar backing', is indeed much sought after by vocal group collectors who have generally never heard it as West Virginia doo-wop is something of a rarity in itself ! The delicate saxophone intro and the shady organ fills add up to an irresistible feel. But flip the record over and you're now treated to a fantastic 'Northern Soul' number,'Got To Go My Way', with strong vocals and a stunning lead guitar break. What's more, the sound is brilliant here. It has become one of the most desirable outings on the label and quite deservedly so.
As for Garage Rock collectors, they should be aware of two scarce singles : one by The Buccaneers ('Please Go steady With Me', #550/551 - ever heard that one ? Its flip was a cover of Jessie Hill's 'Ooh-Poo-Pah-Doo', a 1960 smash on Minit) and another by The Jay-Bees coupling a good version of Bobby Lewis's 1961 hit,'Tossin' & Turnin', with a cover of The Rolling Stones' 'Good Times, Bad Times' - shortened to 'Good Times' (#580/581). Says collector Tom Fallon : 'Both the Buccaneers and the Jay-Bees were popular teenage/garage bands from the town of Ashtabula, here in northeast Ohio. The 45s were recorded at an Ashtabula radio station. I believe the two bands had the same manager, who had connections with John Bava. The records were pressed in July, 1966 and February, 1968 respectively. The Jay-Bees name was supposedly inspired by James Brown not John Bava'. Other rarities include Plain Slim ('One Little Teardrop Too Late', #570). Bava also set up a subsidiary record company called Country Sound ; the only release I know on that label is by Bruce Lambert & The Western Wheeler Band, with Linda Woods at the piano - a fine rockin' Country item titled 'I Can Read Between The Lines' (#C-100).
According to what's printed on Cozy EP 27321/2, Gospel albums by both Hank The Cowhand and John & Lucy Bava were issued but I've never heard them or seen them for sale. All that takes us up to the late '60s, by which time John Bava was about to close shop.

Don't know exactly how the Cozy recording studio looked like but the sound quality sometimes left a lot to be desired (even if the discs bore the 'Ultra-Sonic High Fidelity' tag !), which gives much credit to the fact that, by and large, most of the recordings were made in radio station studios. None the less, the 'feel' was perfectly captured by John Bava, generally assisted by engineer, Erwin White. The Cozy records were almost all Rite pressings, meaning that the best vinyl was certainly not always used ! However, the numerous label color variations are a real treat for the collector : from the early deep maroon (100/400 series) to the later blue label (500 series). In between, a dark red label was used as well as different shades of yellow and blue. Another problem is the frequent duplication of catalog and/or matrix numbers, as you will observe in the following discography : Cozy may even hold the record there !

Regarding that famous studio, Bobby Farrell, who had records put out in Philadelphia as early as 1943, offers this summary of John Bava's operation : 'Although a lot of recording was done in radio stations, there were a few actual recording studios in Huntington, Charleston, Clarksburg, Fairmont, Parkersburg, Wheeling and Martinsburg over in the Eastern Panhandle. Cozy's own studio was in Davis, near Black Water Falls, now a national park. Davis lived on the hunters, fishers and vacationers who liked the area in addition to the lumber and coal industries. It wasn't as big as Fairmont, Morgantown or Clarksburg, but it was a whole lot more beautiful. [] The main room [of the studio] was only 15 by 20 or so, and the control room about the same width and perhaps 10-12 feet deep. Nothing spectacular but efficient for the day. A Gates board, Magna-Cord tape decks (portable too, as I remember) and several microphones to carry all the instruments and singers. An absolute jumble to the uninitiated eye, but capable of state-of-the-art when the musicians and singers knew what the hell they were doing. [] The only sound proofing was thick acoustic panels just like in the radio stations of the day, white blocks with holes, fitted as the room permitted. Carpeting caught hell from smokers and spillers alike. In those days, nobody thought much about the effects of tobacco smoke on equipment, nor set-up alignment between tape decks and other equipment either. At least, John Bava had his decks set to the same head-levels as those of Carl Burkhart's at Rite. That in itself was a chore as Carl thought the way it came was the way it should remain. Incompatibility between decks was one of the reasons for shoddy records from otherwise good tapes. Along with the second grade materials Carl Burkhart used'.
Once again, Janet Bava has a very different view, as recounted by Sam Mathis : 'Janet went on to say that Bava NEVER had his own recording studio. His was primarily a vanity label and most of his releases came from submissions by the artists or he took them to a local radio station to record. Janet is reasonably sure that his recordings were done in Fairmont and Clarksburg. He may have gone to Grafton as well. She said that he occasionally made road trips to record acts in Logan, Huntington, etc. Bava folded Cozy records in approximately 1972 with his last two releases being on 8-track tape. My friend John Newbraugh has one of these tapes given to him by Lucy Bava after interviewing her in 2000. She passed away in 2002'.
I truly hope that this piece will become the stepping stone to the definitive Cozy label story. Meanwhile, and in spite of all its mysteries and shortcomings, John Bava's label has allowed us to hear a multitude of West Virginia Artists in the Hillbilly, Bluegrass, Gospel and Rockabilly fields. Many of them were virtually unknown outside the Mountain State but their work sure deserved to be committed to wax. © Paul VIDAL * Copyright June 2002-April 2014-May 2019
THE COZY DISCOGRAPHY


1007-1008 * CHUCK PALMER & CORNMUFFINS 'Cattle Trails Across The Prairie' / 'Bucky-Jo'
-> Top side has a vocal by Chuck Palmer, the other side by John Bava. This 78 rpm only release has a blue & silver label.
109-110 * WESTERN SWINGBILLIES
121 * REX & ELEANOR PARKER 'Moonlight On West Virginia' / ?
130 * JOHN PETERS 'Don't Waste My Time' / ?
130 * WESTERN SWINGBILLIES
132-133 * JACK SWANSON
132-133 * HANK THE COWHAND -> Duplication with above.
134 * WESTERN SWINGBILLIES
135-136 * ROCKY MOUNTAIN BOYS 'Take A Look At My Heart' / 'One Year Ago'
-> Vocals : top side by Red & Erty, other side by Jimmy Schumaker.
142 * REX & ELEANOR PARKER 'Will There Be Red Roses On My Grave' / ?
147-148 * HARRY WELLMAN
149-150 * WESTERN SWINGBILLIES 'A Heart Once Broken' / ?
162-163 * BOB MASON/WESTERN SWINGBILLIES
164 * REX & ELEANOR PARKER 'Build Your Treasures In Heaven' / ?
166 * JOHN PETERS 'I'm Swinging On A Rainbow' / ? -> Music by Louie Morcie Quartet.
171-172 * WESTERN SWINGBILLIES
180-182 * AL BURGE/RALPH & RUTH RR-180 'You Said Good-by' / RR-182 'A Thought Crossed My Mind'
-> Top side by Al Burge ; other side is a vocal duet by Ralph & Ruth.
183 * LEE BAILEY & EDDIE KING with Cookie's Skyline Patrol Boys ' Lonesome And Blue' / ?
196-197 * COUSIN BOB NICHOLSON
199-200 * THE DRIFTING PIONEERS 'Please Don't Go' / 'Two Broken Hearts'
-> Vocal on top side by Dick Weston ; vocal on B-side by Tex Ferguson.
201-202 * DUSTY SHAVER (Better Known As Oscar August Quiddlemurp, Funniest Man in Radio)
201 'My Name Is Ticklish Rueben' / 202 'Come Sit By My Side Little Darling' -> Comedy Series.
214-215 * WHISPERING STRINGS 214 'Wooden Nickel Boogie' / 215 'Does Your Husband Know About Me'
-> Top side, singing with string band ; other side, trio vocal.
226-227 * DORSE LEWIS
228-229 * STAR DUST TRIO with Stevie Bell 228 'I'll Always Have Your Heart' / 229 'Sally Of Red River Valley' -> Vocal by Rita Flory.
232-233 * LONESOME PINE FIDDLERS 'Pain In My Heart' / 'Lonesome, Sad & Blue'
234-235 * FRED ZAJAC & His Polka Aces 234 'Carnival Polka' / 235 'Chicken Polka'
242-243 * BOB MASON/WESTERN SWINGBILLIES 'Who's Right,Who's Wrong' / 'Those Three Little Words'
243-244 * WESTERN SWINGBILLIES
254-255 * DAISY MAE & OLD BROTHER CHARLIE 'Our US Volunteers' / 'Our United Nations Flag' -> Recorded during the war in Korea.
256-257 * BOB MASON/WESTERN SWINGBILLIES 'Move On, Gal' / 'Just A Handful Of Memories'
256-257 * BONNIE BALDWIN
258-259 * RED BELCHER
260-261 * HANK THE COWHAND 'When You Walked Out Of My Life Yesterday' / ?
260-261 * THE GOSPEL AMBASSADORS 260 'The World Is Not My Home' / 261 'My Home Sweet Home' -> Duplication with above.
262-263 * JAKE TAYLOR & The Radio Ranch Hands 'A Triflin' Woman' / 'I'm Losing You'
-> Says collector Johan Lofstedt : 'The first side is the more interesting and more uptempo.
The Radio Ranch Hands are supplying ample backing with acoustic guitar, mandolin, accordion and bass. Two good sides'.
264-265 * HANK THE COWHAND
268-269 * JAKE TAYLOR
270-271 * TEX EAGY
272-273 * LONESOME PINE FIDDLERS 'Will I Meet Mother...' / 'Don't Forget...'
278-279 * JOHN & LUCY BAVA 'Where The Saints Of God Go' / 'Mother How I Miss You Tonight'
282-283 * CLIFF ALLEN (* denotes duet with RAY ANDERSON) 'I'm A-Gonna Leave You' * / 'I'm Lonesome & Blue'
290-291 * LITTLE JOHN & CHEROKEE SUE (The West Virginia Hills Folks) 'Hang Out The Front Door Key' / 'Mother's Old Checkered Apron'
-> Swedish collector Johan Lofstedt again : 'The contribution of Cherokee Sue (if any) may have been the guitar playing which is the only instrument here. First side is nice enough ; flip is, as title indicate, not all that interesting'.
292-293 * JOHNNY HALL
294-295 * BONNIE BALDWIN 'I'll Just Yodel & Forget About You' / 'I'll Never No More Be Shackled In A Fool's Paradise'
300-302 * SKEETS MC DONALD */ CURLEY PARKER ** 'The Tattooed Lady' * / 'Cotton Eyed Joe' **
305-306 * BOBBY COOK 'Let's Live A Little' / 'Sick, Sober & Sorry'
307-308 * BOB MASON'S SWINGBILLIES 'Too Late For Tears' / 'Honey You're...'
309-310 * LITTLE JOHN & CHEROKEE SUE 'It's A Boy' / 'Reveille Time In Heaven'
313-314 * STANLEY O'DELL
317-318 * BOB MOONEY
329-331 * HARRISON BOOHER 'Blue Yodel #1' / 'Hobo Bill's Last Ride'
330-332 * HARRISON BOOHER 'Never No Mo' Blues' / 'I'm Sorry We Met'
333-334 * CINDY COY 'How Far Is Heaven' / 'Mother'
336-337 * HARRISON BOOHER 'A Drunkard's Child' / 'Mother, Queen Of My Heart'
338-339 * HARRISON BOOHER 'Blue Yodel #6' / 'Travelin' Blues'
345-346 * RAY & INA PATTERSON 'Come To Mexico' / 'You've Branded Your Name On My Heart'
349 * TENNESSEE SWEETHEARTS 'Faded Love' / 'Sweet To Be Remembered'
355-356 * BONNIE BALDWIN & FRED CLARK 'I Love The Way You Say Goodnight' / 'It Doesn't Cost Us Anything To Dream'
357-358 * HANK STANFORD
367-368 * THE WEST VIRGINIA COWHANDS 'That Great And Final Day' / 'A City Over The Hill'
-> Vocal by Manson Smith on top side ; vocal by Elmer Powers on the other.
369-370 * THE WATCHMAN QUARTET 'Oh My Lord, What A Time' / 'Some One To Care' -> Gospel Series
371-372 * THE WATCHMAN QUARTET 'The Lilly Of The Valley' / 'How Many Times'
-> Gospel Series. Steve Foehner, who kindly supplied the above info, says that 'The Lilly Of The Valley' features some 'killer harmony' and describes 'How Many Times' as 'a jumper with wild vocal harmony'.
375-376 * MILLIE WAYNE 'You Don't Love At All' / 'It's Dark Outside'
377-378 * MANSON SMITH & THE WEST VIRGINIA COWHANDS 'Little Log Church House' / 'Johnny Sleeps In Korea'
396-397 * FLOYD KAMERICK
398-399 * DORSE LEWIS 'Hot Rod Boogie' / ?
400-401 * HANK 'TINY' FRAZIER 'The Hiccough Song' / 'Shirt That Mother Made For Me'
413-414 * REV. FREDDY STEELE 'The Curse Shall Be Lifted' / 'Beautiful Heaven'
423-424 * RAY COLEMAN & The Rocky Mountain Boys 'I've Changed My Mind About You' / 'My Cheating Heart Is Broken'
425-426 * LEE BAILEY & CHARLIE POOLE 'Faded Love' / 'Sleep Mother Sleep'
427-428 * TURNABOUTS 'Crazy Rhythm' / 'In A Shanty In Old Shanty Town'
429-430 * EDDY BAILES 'Girl With A Future' / 'Pardon My Heart'
431-432 * EP VARIOUS ARTISTS (Western Swingbillies & others) 'Too Many Tears' + 3 other tracks
433-434 * DORSE LEWIS 'Mexican Twist' / 'Trouble In My Home'
435-? * ALBERT CASH 'I Want To Win Your Love' / 'I'm Always Left Out'
437-438 * BILL & ED 'I've Heard That Story Before' / 'When The Sun Sets In West Virginia'
439-440 * BILL & ED 'My West Virginia Rose' / 'Will The Curfew Ring For Me'
441-442 * ECHO VALLEY RANGERS 'All Because Of You' / 'A Teardrop On The Rose That You Gave Me' -> Top side is a good slapper.
443-444 * RAG PICKERS 'Bye Bye' / 'Rag Pickers Polka'
445-446 * BILL & ED & The Mountain Music Boys 'Let's Harmonize' / 'Never Mind'
447-448 * VANDERGRIFT BROTHERS & The Country Gentlemen 'Sittin' Here A-Cryin' / 'She's Gone'
449-450 * GOSPELAIRES QUARTET 'Is Your House Set In Order' / 'Invisible Hands'
451-452 * CHARLIE CARROLL 'I'd Walk A Million Miles' / 'A Rose To Remember'
453-? * FRED & WARREN & The Carolina Mountaineers 'Won't You Think Of Me' / 'I Want My Darlin'
455-456 * R. D. SMITH & The Coeds CP 2178 'He Will Let You In' / CP 2179 'I've Kept My Pledge'
457-458 * LOWELL R. ROGERS CP 2273 'Do They Think Of Me In Heaven' / CP 2274 'Message Of Love'
459-460 * BOBBY BARTON & Orchestra CP 2179 'I've Got My Baby On The String' / CP 2272 'You Gotta Quit Whistlin' At My Baby'
-> Partial duplication of matrix # with Cozy 455/456.
Indeed, pressings of the Bobby Barton single exist with one side being wrongly billed as by R. D. Smith & The Coeds.
460 * EP HAL WEBB TRIO 'The Darker The Night' / 'He Did Anoint My Eyes' / 'The Door Of Your Heart' / 'He Just Looked Up'
461-462 * CHARLIE CARROLL CP 2244 'Deep Water' / CP 2245 'Too Many Tears'
462-463-EP * SUNSHINE BOYS 'On My Way To Glory' / 'Precious Love Of My Saviour' / 'I'd Like To Hear My Name' / 'Telegram To Heaven'
463-464 * JUNIE LOU 'Green Christmas' / 'Thanksgiving'
469-?-EP * JUNIE LOU & The Pine Hog Ranch Hands 'You Went Away' / 'In A Valley In Virginia' + 2 other titles
470-471-EP * SUNSHINE BOYS 'How Wonderful To Know' / 'My Shepard' / 'To Mother With Love' / 'I Talked With The Lord'
472-473-EP * FLOYD & POLLY JENKINS 'Workers Polka' / 'Sweet Candy Doll' / 'Double Trouble' / 'Bower Of Beautiful Roses'
-> 'Double Trouble' is a good bopper with plenty of steel guitar.
474-?-EP * JUNIE LOU & The Pine Hog Ranch Hands 'Weaker & Wiser' + 3 other titles
477-?-EP * FRANK CRISPEN 'I Shall Understand' + 3 other titles
490-491 * BOBBY WELLER & The Night Riders CP 4551 'Listen, Listen To Your Heart' / CP 4552 'I Still Have Those Memories'
490-491 * WILSON COFFMAN & The Night Riders CP 4293 'Listen, Listen To Your Heart' / CP 4294 'I Still Have Those Memories'
-> Same songs as by Bobby Weller but different recordings and brown label rather than red.
Wilson Coffman was the writer of both songs. He played electric guitar on them. Weller also had a Dixie '45 under his name, again with acc. from Coffman & The Night Riders.
499-500-EP * DALE BROOKS & Country Caravans [sic] 'Ambridge Boogie' / 'The Sage & The Sand' / 'Sleepless Night' / 'You'll Want Me Back'
503-504-EP * CALVIN & BETTY 'There Ain't No Grave' / 'Talk About Jesus' / 'It Won't Be Long' + 1 other title
505-506-EP * CALVIN & BETTY 'Inside The Gate' / 'I Won't Turn Back' / 'When The Sun Sets Over Jordan' + 1 other title
507-508-EP * BILL & BARBARA ANGEL 'The Pearly White City'/ 'A Miracle Of Love'/ 'Dear Jesus Abide With Me'/ 'My Sins Are Gone'
509-510 * DORSE LEWIS 'The Scared Coal Miner' / 'Big Rock In The Coal Miners Way'
513-514 * KEITH ANDERSON 12518 'Hot Guitars' / 12517 'One Step Beyond'
515-516-EP * SINGING THORN FAMILY 'If Jesus Came To Your House' / 'I Feel Like Traveling On' / 'I'm Redeemed' + 1 other title
520-521 * EDDY BAILES 'Big Boat' / 'Whatcha Gonna Do'
523-524-EP * ELLIOT BROTHERS with Bill Crabtree & His Famous Banjo
'Too Late' / 'You're Steppin' On My Heart' / 'One More Tomorrow' / 'Why, Oh Why'
527-528 * THE ROYALTONES DANCE BAND 13877 'Got To Go My Way' / 13878 'He Really Loves You'
530-531 * KEITH ANDERSON 14034 'Guitar Picker At Heart' / 14033 'I Still Care'
532-533 * DANA LEE LEWIS 14177 'A Lot Of Lovin' / 14178 'Secret Place'
535-536 * BURGESS FAMILY SINGERS 'Just A Little Talk With Jesus' / 'I Need No Mansion Here'
537-538 * LINDA DENNIS & The Valley Playboys 14717 'My Love Is Real' / 14718 'It's A Mighty Lonely World'
539-540-EP * GOSPEL FOUR QUARTET 'I'm Feeling Mighty Fine' / 'I've Been With Jesus' / 'Just A Little Talk With Jesus' + 1 other title
550-551 * BUCCANEERS 'Please Go Steady With Me' / 'Oo-Poo-Pah-Doo'
550-551 * KEITH ANDERSON & The Western Gentlemen 16047 'I Need A Hit' / 16048 'I'm Gonna Talk To My Heart' -> Duplication with above.
554-555 * RUDOLPH O'DELL 'The Tragedy Of Pulaski' / 'Live For Sweet Jesus'
569-570 * PLAIN SLIM & The Odell Family 18429 'Lonely In Vietnam' / 18430 'One Little Teardrop Too Late'
571-572 * KEITH ANDERSON 'It's Wrong For Loving You' / 'The Lonely Hours'
572-573 * COUNTRY TONES featuring Gene & Ann Westfall 29527 'Tippy Tippy Tappin' / 29528 'You Think What I Don't Know Won't Hurt Me'
573-574-EP * LOU BOARD 'I Love To Sing' / 'Sinner's Prayer' + 2 other titles
575-576-EP * VOLEK BROTHERS 'Brenda Polka' / 'Buckeye Oberek' / 'Scharler Polka' / 'My Darling Polka'
580-581 * JAY-BEES 21215 'Good Times' / 21216 'Tossin' & Turnin'
580-581 * ELMER JONES & VIOLA DICKERSON 25593 'Baby I Don't Mind' / 25594 'Lazy Man's Blues' -> Duplication with above.
27321-27322-EP * HANK THE COWHAND 'Hopeless Love' / 'Texas Rose' / 'Would You Care' / 'Popcorn Boogie'
COUNTRY SOUND
C-100 BRUCE LAMBERT & The Western Wheeler Band 27146 'I Can Read Between The Lines' / 27145 'Lonely Baroom'