There have been happier introductions than the one above but it sums up Charline Arthur's career in the most realistic way. Until the late 80's, Charline Arthur was a name which had escaped all radars. Apart from some well-informed collectors, her name was just about never quoted when it came to mention who the most important female country singers had been. During the fifties, Patsy Cline, Jean Shepard, Goldie Hill, Kitty Wells and Rose Maddox were the ones who got the plaudits. Yet, that young Texan girl with a strong personality had taken a radically different approach to country music and achieved some degree of success before being let down completely by her record company and her producer.
Between 1950 and 1957, she had sixteen records released, thirteen of them on the large RCA Victor imprint. She never enjoyed the luxury of a solo long-playing album but she was on the menu of RCA's 1954 Country'n'Western Caravan and therefore did appear on the very first live country music show transcription ever commercialized. And what a fantastic album it was, with tremendous performances from all involved, Charline's being one of the very best. On that May 9, 1954, night in Little Rock, Arkansas, she opened the show as usual and chose to sing 'Anything Can Happen' and 'I'm Having A Party All By Myself' ; she delivered them brilliantly, with what we could call 'proto-rockabilly conviction'. Remember, that was May 1954, Wanda Jackson had just started off at Decca and Elvis hadn't yet cut his first Sun single.

A Caravan Souvenir Folio was printed at the time, with mini-biographies of the artists, and here's what was written beside Charline's photo (which appears at left) : Charline Arthur began her career in the entertainment field at an early age, when she and her sister furnished the music for the annual plays of their grammar school in Paris, Texas. Charline was born in Henrietta, Texas, September 9, 1929, but when she was four her family moved to Paris. It was a happy day when Charline was taken to town by her father, to buy her a guitar. Both her parents were good singers and she began training her voice at an early age when her father taught her to sing hymns in church. The first big step in her career was her professional debut at sixteen on a medicine show in Paris, and while traveling with the show she met her husband-to-be. In 1950, Charline and her husband, Jack, moved to Kermit, Teaxs, and she went to work on Station KERB as a hillbilly disc jockey, broadcasting as well, twice daily six days a week, with her own band. Following the signing of her RCA Victor recording contract, Charline moved to Dallas where she now appears each Saturday night on the 'Big D Jamboree' over Station KRLD. In light of Bob Allen's notes for the Bear Family reissues, it was a fairly accurate summary of her early days, although her birthdate was sometimes given as being September 2, 1929.
She cut her first record for Nashville's Bullet label in 1950, 'I've Got The Boogie Blues'. Although credited to Charline on the record label, Colin Escott tells us that it was a re-working of Johnny Barfield's 1939 recording, 'Boogie Woogie'. Her forceful vocal, supported by a solid rhythm section and a rocking piano break, already hinted at things to come. It took more than two decades to get a reissue - by Redita Records in Holland ('Nashville Country Rock-Vol. 4', #122).
The following release happened on Imperial and was recorded in 1951 at the KERB studio where she was working. 'I Don't Need No Diary' was co-written by Charline and featured her future husband, Jack Arthur, on bass. Today, the majority of Charline's records are fairly hard to come by but the Bullet and the Imperial are simply elusive. It was after Colonel Tom Parker had spotted her that she was signed to the major RCA Victor label.

The first session for the new company took place in Dallas in February 1953 and produced two superb singles. 'Anything Can Happen' (#5207) and the Sheb Wooley-written 'I Heard About You' (#5313) were very strong cuts which displayed a true vocal style of her own on the uptempo numbers. But she also sang ballads with a resonant, vibrato-laden voice which reminds me of the great French songstress, Edith Piaf. It showed in 'I Was Wrong' but even more in the wonderful 'Heartbreak Ahead', the latter emanating from her first session in Nashville where she would now record under the guidance of Chester Burton Atkins, better known as Chet Atkins, who, incidentally, had also begun his career on the Bullet label way back in 1946. More excellent records followed, including her cover of Rudy Grayzell's 'Looking At The Moon & Wishing On A Star' (#5485, with real good piano by John Gordy), her own 'I'm Having A Party All By Myself' (#5703) and 'Leave My Man Alone' (#5899). It seems Charline is particularly convincing when she warns other girls not to hang around her man !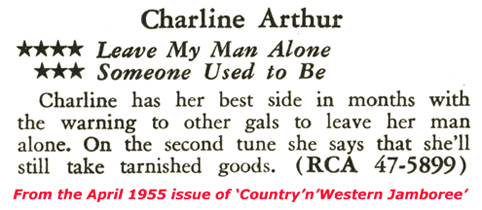 There was only one recording session in 1954, which yielded the excellent 'Flash Your Diamonds' (#5977), which seems to indicate that Charline spent much of her time on the road that year. Indeed, that was the year of the famous Country'n'Western Caravan live recording. The show that was captured on tape took place in Little Rock, Arkansas, on May 9 and the resulting album is one of the best country records of all time, period. If you don't own the original, grab a copy of the Bear Family reissue (BFX 15276) - you won't have anything to regret. The fold-out sleeve is a treasure, filled with photos provided by Skeeter Davis and Charline herself, and the color tinting of the front and back cover pics is splendid. As for the sound, it is nothing short of miraculous, simply leaping from the grooves ! The original recording engineer, who had been sent from New-York for the occasion, did an outstanding job and 34 years later, Boppin' Bob Jones performed one of his absolute best remastering works. Smilin' Eddie Hill, the emcee of the show, introduces Charline this way : 'No finer person could open anybody's show. From down Dallas, Texas, way, a little girl who gives everything when she gets out here. A great, big welcome, Miss Charline Arthur !'. She then proceeds to launch into rousing versions of 'Anything Can Happen' and 'I'm Having A Party All By Myself' that rocked the Robinson Memorial Auditorium and generated thundering applause from the crowd. To put things into perspective, this happened less than two months before Elvis cut his first Sun classics.
1954 was also the year when her musical partnership with Chet Atkins began to seriously deteriorate. She later told biographer Bob Allen, who annotated all the Bear Family reissues, that she didn't think Chet's guitar playing fitted her style and when she argued with him, it led to some tumultuous recording sessions which nevertheless produced a great double sider in 'Honey Bun' c/w 'Kiss The Baby Goodnight' (#6204) plus a terrific version of 'Burn That Candle' (#6297) and the wonderfully arrogant 'Just Look, Don't Touch, He's Mine' (#6428), all in 1955. It is worth noting that it's often the steel guitar, piano and fiddle which take the soli in Charline's songs rather than Chet's guitar ; indeed, that was the case during the Little Rock 'Caravan' show where she was essentially, but brilliantly, supported by Bud Isaacs on steel, Bob Moore on bass fiddle and Don Slayman on fiddle while Chet (who would do his solo spot right after her and stun everyone with his incredible mixing of 'Dixie' and 'Yankee Doodle') stays rather quietly in the background. At the September 29, 1955, date which produced 'Burn That Candle' and its flip, 'How Many Would There Be', we can almost feel how Chet seems bored when it comes to cutting the latter song, as heard at the beginning of the master take on the first Bear Family vinyl album dedicated to Charline Arthur (BFX 15234).
Charline had to wait until May 18, 1956, for her last RCA session but, despite her uneasy relationship with Atkins, she made it a memorable one. Her version of Mae Boren Axton's 'Welcome To The Club', obviously a clone of 'Heartbreak Hotel' with the use of echo on her voice and the same dark mood in the backing, was superb, as was the very last song she cut that day, the galloping and unwittingly aptly-titled, 'What About Tomorrow'. Both songs made up her last RCA single (#6570), which should have clicked with DJs had RCA not licensed Jean Chapel's version of 'Welcome To The Club' from Sun Records (#244) and released it concurrently with Charline's record ! There's a bad smell of conspiration behind all that. Perhaps was it due to the fact that Jean Chapel was related to Martha Carson, herself an RCA artist at that time ? Whatever the reason, it spelled the end of Charline's contract with the label.
She must have felt disgusted and disillusionned but at least, she avoided Chet's next brainwave : recording with vocal accompaniment by The Anita Kerr Singers ! She surely had been blacklisted one way or another because it seems incredible that no other record company expressed interest in signing her up at the time. She might have been better served at Decca with Grady Martin providing the kind of gutsy guitar licks she wanted to hear.
She recorded the classic, 'Hello Baby', for Coin in 1957. It had in fact been (very well, should I add) recorded in Charline and Jack's own mobile trailer home in Dallas and featured a meaty guitar break played by a certain George McCoy - the kind of solo she had long been longing for. From there, it was a constant run across the USA to keep making a living out of singing. She utimately ended up on the West Coast (where she recorded a handful of utterly rare singles on various small labels in the 60's and into the 70's) and then in Idaho, where she passed away in 1987, sick and poverty-stricken. It was a terribly sad end for such a talented and groundbreaking artist. At least, she saw the first long overdue reissue of her RCA material thanks to our friends at Bear Family Records (BFX 15234). Their repackaging of the 1954 Caravan LP (BFX 15276), with Charline's own photos and the late Boppin' Bob Jones at the console, is particularly stunning ; you can feel the whole atmosphere of the show and thoroughly enjoy Charline's definitive renditions of her two songs.
In 2003, Bear Family released another LP, 'Burn That Candle' (BAF 18003), pressed on 180 gram virgin vinyl, which contained the best RCA cuts and added the main Bullet and Coin sides.
Also of great interest is Dragon Street Records' 2-CD set, 'The Big D Jamboree, Live - Vol. 1&2', which allows us to hear Charline singing both sides of her last RCA single on the stage of the famous Dallas Sportatorium.
In May 1956, when Charline recorded her last tracks for RCA, Wanda Jackson, Janis Martin and others were jumping on the Rock'n'Roll bandwagon and would soon gain fame (if not exactly fortune) with that music, something which ironically and tragically eluded Charline who had yet so much contributed to the change.
Compared to Wanda's Decca recordings, made in 1954-55, Charline's RCA stuff from the same period is much more adventurous and plainly more rockin'. A country girl singer who wore trousers, jumped on the stage and belted 'Honey Bun' over a male vocal group backdrop certainly was a bit ahead of her time.


© PAUL VIDAL * Privas, France *
November 2019
CHARLINE ARTHUR - THE 50's DISCOGRAPHY


707
707-A I've got The Boogie Blues
707-B Is Love A Game
IMPERIAL
8121
IF-296 I Don't Need A Diary
IF-297 Dreaming Of You
5207
E3-VB-0563 I Kept It A Secret
E3-VB-0564 Anything Can Happen

5313
E3-VB-0562 I Heard About You
E3-VB-0565 I Was Wrong
5485
E3-VB-2216 Heartbreak Ahead
E3-VB-2217 Looking At The Moon & Wishing On A Star
5637
E3-VB-2219 He Fiddled While I Burned
E3-VB-3402 Double-Crossed By Love
5703
E3-VB-2218 I'm Having A Party All By Myself
E3-VB-3401 Waltzing
5807
E3-VB-4647 The Good & The Bad
E3-VB-4644 Please Darlin' Please
5899
E3-VB-3404 Leave My Man Alone
E3-VB-4645 (I'm In Love With) Someone's Used To Be
5977
E3-VB-3403 Too Long, Too Many Times
E3-VB-4646 Flash Your Diamonds (And Show Your Gold)
6120
F2-WB-2201 For Old Times' Sake
F2-WB-0299 Soft Hearted Gal
6204
F2-WB-2200 Honey Bun
F2-WB-2202 Kiss The Baby Goodnight
6297
F2-WB-6504 Burn That Candle
F2-WB-6505 How Many Would There Be ?
6428
F2-WB-6506 Just Look, Don't Touch, He's Mine
F2-WB-6507 I Love Him Better Than You Do
6570
G2-WB-0280 Welcome To The Club
G2-WB-0282 What About Tomorrow

COUNTRY'n'WESTERN CARAVAN
LPM-3220 (also released as EPB-3220)
Anything Can Happen-I'm Having A Party All By Myself (Charline Arthur)-Downhill Drag-Yankee Doodle Dixie (Chet Atkins)-I'd Like To Sit With The Baby Sitter (Hal Lone Pine)-I Want To Be A Cowboy's Sweetheart-On Treasure Island-Silver Bells (Betty Cody)-Monologue-My Sugar Booger (Eddie Hill)-A Heap Of Lovin'-Rebound (Hawkshaw Hawkins)-Rock-A-Bye-Boogie-I Forgot More Than You'll Ever Know-Gotta Git A Goin' (The Davis Sisters)-Monologue-How To Catch A Man (Minnie Pearl)-I'm Movin' On-Rhumba Boogie-Honeymoon On A Rocket Ship-The Golden Rocket (Hank Snow)

COIN
6570
104-A Hello Baby
104-B Cryin' Alone
BEAR FAMILY
WELCOME TO THE CLUB
BFX 15234
Welcome To The Club-Burn That Candle-What ABout Tomorrow-Honey Bun-Kiss The Baby Goodnight-Just Look, Don't Touch, He's Mine-How Many Would There Be-Later On-I Heard About You-Anything Can Happen-Looking At The Moon & Wishing On A Star-I'm Having A Party All By Myself-Leave My Man Alone-Please Darlin' Please-Heartbreak Ahead-I Was Wrong

COUNTRY'n'WESTERN CARAVAN
BFX 15276
Reissue of LPM-3220.

BURN THAT CANDLE
BAF 18003
Burn That Candle-I Heard About You-Kiss The Baby Goodnight-I'm Having A Party All By Myself-What ABout Tomorrow-Honey Bun-Welcome To The Club-I've Got The Boogie Blues-Just Look, Don't Touch, He's Mine-Looking At The Moon & Wishing On A Star-Flash Your Diamonds-Hello Baby

In 1998, Bear Family had released a more comprehensive overview of her early years on CD (BCD 16279).