In 2003, following the piece I had published on the obscure Sun-Ray label, I got an e-mail from Mr. Bud Chowning himself. He proved to be a gentleman with a good memory of the events that stand out as milestones in his musical life. Rather than remix the story, I've decided to print his own illuminating essay. He also allowed me to dip into his picture albums - you'll thus find Bud flanked by Loretta Lynn, Jack Greene, Bill & Cliff Carlisle, Doyle Wilburn, Tommy Jackson and Red Williams. I'm very grateful to Bud for his wonderful collaboration and wish him continued success.



Bud Chowning at home in 1962
I was born and raised in Lexington, Kentucky. I started playing the guitar at the age of 14. By the time I was 16, I was playing in several rock and roll bands. In 1964, Harold (Red) Williams and I formed a gospel duet. Red sang lead and played rhythm guitar. I sang harmony and played the lead guitar. We were soon signed to Rem Records, from Lexington, Kentucky. The first single was on Rem's other label, Pennent, 'Kneel At The Alter' b/w 'All God's Children'. Both songs were written by Harold (Red) Williams and Kelly T. (Bud) Chowning, Jr. The second '45 was on the main Rem label. The songs were 'Man of Galilee' (again written by both of us) and 'Look Away To Heaven' which was written by Bro. Byron Jessup. He also played the four-string banjo on the song for us.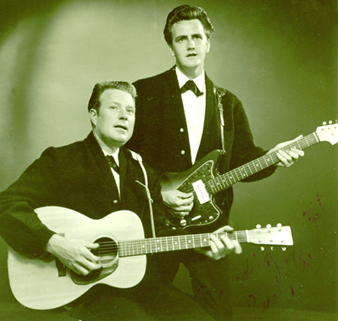 We traveled around quite a bit singing and playing in many churches in and around this area. Ronald Jackson also played the five-string banjo with us. Later on, Ronald got a break and went with the great Buck Owens out in Bakersfield, California. A friend of mine, Marvin Troxell, who I taught to play the bass guitar, also played with us.
In 1965, Red and I joined up with a country singer by the name of Tommy Jackson (no relation to Ronald) who had a live radio show in Mt. Sterling, Kentucky. We then became a country music act, and changed Red's name to 'Shorty Doodlewhite'. He played a snare drum and was the comedian for the act.
The last part of 1965, Tommy and I went over to meet and talk to Jimmy Price at Sun-Ray Records. Jimmy liked our songs and Tommy recorded a 45 RPM record for him, 'Flat Top Box' b/w 'I'm Getting Stoned Tonight'. Tommy wrote both of these songs and I played the lead guitar. Jimmy said 'Flat Top Box' got in the top 100 and gave me a lot of credit for the song doing that well for my guitar work. I can send you a copy of a letter he wrote to Don Marcum at Greater Florida Music concerning this record, if you would like to have it. The same year I recorded two songs of my composition for the Sunray label, 'Two Room Trailer' and 'Darling Stop'. Jimmy said my record did very well over in England. The band that played on 'Two Room Trailer' was from a Jamboree in Indiana, where I used to play some. I don't know the names of the band members, except the piano player : she was a blind girl whose name was Linda Meadows.
After a couple of years, Tommy, Red and I broke up and I pretty much went out on my own. Bob Mooney, owner of Rem Records, had moved to Nashville, TN. I went down there and recorded another two songs of my own, 'I Don't Feel Any Pain Anymore' and 'It's Raining In My Heart'. Bill Owens, uncle and manager of Dolly Parton, played the lead guitar on both of these songs. In 1968, I went back to Nashville and recorded two songs using my own label, Til-Ford Records : 'Let's Walk In This World Together' and 'A Boy Like Me'. 'Let's Walk In This World Together' got on a lot of radio charts and became 'pick hit of the week' on some. About a year later, I recorded another '45 for Rem Records, 'What's A Nice Girl Like You Doing In A Place Like This?', which I wrote, and 'If You Really Want Me To, I'll Go', written by D. McClinton.
About this same time in my career, I formed a group called Bud Chowning and the Buddy Boys. We fronted shows for many Opry stars such as Jack Greene, Tex Ritter, Sonny James, Marty Robbins, Conway Twitty, Loretta Lynn, Crystal Gayle and the Stoneman Family. We played all over the place, but mostly at The Six Mile Jamboree in Henry County, Kentucky. In 1970, I landed a job at the famous Midland Tavern in Frankfort, Kentucky. I had a pretty young female singer by the name of Vata Clark. I dropped some members and added some. The now famous Kent Blazy played at Midland Tavern with me. We played at Midland 1970, 1971 and some of 1972, six nights a week. A few years later, Kent Blazy moved to Nashville and wrote the song 'If Tomorrow Never Comes' with Garth Brooks.
In 1984, the now famous John Michael Montgomery played bass guitar on several shows with me. He was just eighteen years old. John's dad, Harold Montgomery, was a friend of mine and I played with his band sometimes. He had a '45 out on Sun-Ray as well.
In 1989, Jimmy Price called me and asked me if I had any more records of 'Two Room Trailer'. He said he was still getting orders for it over in England. I told him I didn't have anymore. He asked me to come back to his studio and record another single as well as a couple more songs to put on an album called 'Fishing for Country', featuring some of the best artists that had recorded for him down through the years. I put my songs on tape for him but Jimmy was in bad health and died before he could release the records. About 1990, they auctioned off all of his recording equipment, his house, songs and everything else he owned.
I still kept playing music and had another son in 1986 by my second wife. I taught him to play the guitar when he was nine years old. His name is Nathan Bud Chowning. In 1997, he played at Opryland in Nashville, TN. all year long. He was ten/eleven years old. In 1998, he played young Phil Everly in the Everly Brothers musical 'Bye, Bye Love' at the famous Ryman Auditorium in Nashville, TN. The musical played for six months on every Thursday, Friday and Saturday night. I devoted most of the next five years to Nathan's career, but he became interested in computers and I stopped managing him ; however, he still plays in my band. His mother and I got divorced and now I am teaching guitar at the Willis Music Co. in Lexington, Kentucky and play with my band on most weekends. I am back to my songwriting and have three songs in Nashville now to be promoted.
I have covered most of the things I have done with my music, but not all.
© Kelly T. 'Bud' Chowning, Jr. * October-November, 2003
ADDENDUM
Please enjoy some real country pickin' from Bud Chowning, whose story appears above in exclusivity.
This instrumental tune is called 'Southern Bound'. Simply click the pic below to hear it.
Several videos showcasing Bud's artistry can be seen on YouTube.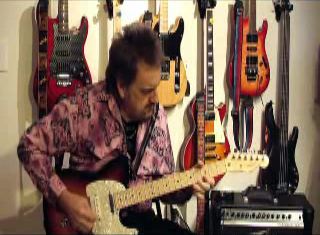 Bud has since published a valuable guitar method on DVD (see picture in the column at left). He teaches you 60 of his favorite Country & Rockabilly licks. A must for all guitar players ! Feel free to contact me if you're interested.