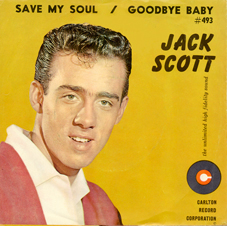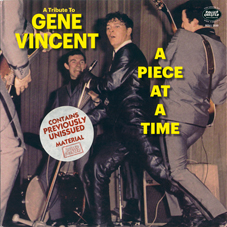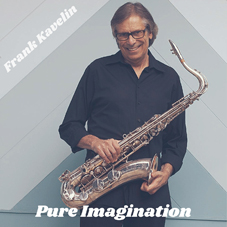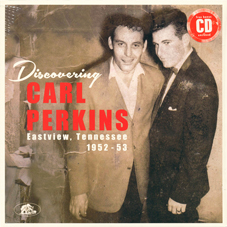 Every year brings its lot of happy and sad news, we're all aware of that.
2019 saw the passing of Margaret Lewis whose wonderful recordings for the RAM label in Shreveport, Louisiana, have been anthologized by UK's Ace Records. And two of the last surviving pioneers of Rock'n'Roll and Rockabilly passed away in December : Jack Scott and Sleepy LaBeef. They will be honored in specific pages on this site. The good news concerns some outstanding new releases, of which I've selected four. It would be unthinkable to not mention the 50th anniversary of The Beatles' Abbey Road ; the triple LP edition is a must.
But there were real surprises from the hidden store ! Firstly, Rollercoaster made available that elusive Gene Vincent song titled 'A Piece At A Time' which had only been mentioned by Steven Mandich in his indispensable book, 'Sweet Gene Vincent - The Bitter End', and was reputed to have been recorded on July 24, 1967. A heap of tributes to Gene and other related recordings round off the 2-CD set and the abridged 10" vinyl edition.
Of course, Bear Family couldn't stay behindhand and came up with something of a coup - a 10" LP (with bonus CD replica included) called 'Discovering Carl Perkins' which features four previously unknown and unreleased recordings by Carl dating from around 1952 and including a version of 'Good Rockin' Tonight' which predates Elvis's and gives a new perspective to the real birth of Rock'n'Roll. In-depth reviews will appear later on.
And then, there's a delightful collection of 9 instrumentals (8 being self-composed) by Frank Kavelin, called 'Pure Imagination', available from most streaming platforms. Frank is Al Kavelin's son, the founder of the Lute label, and he might well be Lute's new star ! As he puts it himself in his liner notes : 'I'm a late bloomer. After a 40-year career behind the scenes as a composer and arranger, "Pure Imagination" is my first album as an artist'. Frank played all the instruments here, and did all the arranging, producing and mastering. His main instrument is the tenor saxophone. He had the priceless opportunity to work with giants like Jackie Kelso who helped him restore some of Roy Milton's arrangements that Jackie had written while being part of his R&B band. Thus Frank was able to embrace a number of influences but, judging from the wonderfully varied cuts on offer, he has created his own sound and his arrangements are very sophisticated. All tracks are dedicated to some of his favorite artists (and often friends) : 'Jobim Forever' speaks for itself, 'Infectious Funk' is for Joe Sample, 'Sannomiya Station' is for Oliver Nelson,'Warm-up In C# Minor/Bop Doo-Wah' is for Benny Golson and the grand finale, 'Sunday Gospel Brunch', is for Wayne Henderson. Technically speaking, Frank is a brilliant player, and his tasteful arrangements really put him in the major league. These are 21st century sounds but you will emerge satisfied, refreshed and aesthetically moved from your listening session. Bravo !
---
THE BIG V JAMBOREE IS BACK !
And back with a vengeance, as I have tons of updates and new articles just about ready to be uploaded ! I started this site in 1998 and have worked on it on and off ever since. However, in 2008, I decided to devote more time to my second daughter - Nellie, who has the Down syndrome - because no one (at school or elsewhere) had the patience to teach her how to read and write. And, of course, just about no one thought she was able to reach that goal. Such is our world, ladies & gentlemen ! So, being conscious of her extreme frustration as well as fed up with the mediocrity of most intervening parties, I decided to do the job myself - with the help of my beloved wife, Agnès, who's a teacher and gave me some precious advice. Today, Nellie can read and write - and compute, thanks to the Montessori method. And she loves music ! I can now resume my 'web works' with much more time than before, so I gladly invite you to keep posted for a major overhaul of this well-loved site which has just begun and will ultimately be worth the wait. Thanks a bunch for your support ! Rockin' Paul * April 2019
---
SURF's DOWN
After the passing of Reggie Young on January 17, 2019, we now moan the passing of Dick Dale on March 16, 2019, another great and influential guitar player who can be credited for creating the surfing sound on his own in 1961. The Fender Showman amplifier with a reverberation unit was his idea, with a little help from Leo Fender himself. Dale had cut his first records in 1959 on the Deltone label and these included some great rockers. His first real surf record appeared in August 1961 and that was 'Let's Go Trippin' (Deltone 5017), which started a long list of classic cuts spread over a number of Capitol 45's and LPs. His career was often slowed down by illness but he kept playing on the road until the end. We'll take a longer look at his recorded legacy on a specially dedicated web page but here's an interesting bit of trivia. Dick Dale once said that he had 'tutored both Eddie Cochran and Ritchie Valens. They both played with me at the Long Beach Auditorium'. Indeed, some of Ritchie's wonderful instrumentals like 'From Beyond' or 'Fast Freight' might prove this point. Should have been in late 1958, or very early 1959, which goes to show that Dale had his powerful surfing sound already well-planned in his mind.

---
AND THE GREATEST CHRISTMAS ALBUM EVER IS...
A French offering by a vocal ensemble of some 60 girls called 'LES DJINNS'. Yes, for my money, this is the most beautiful, most heartfelt record which truly honors not only the spirit of Christmas Day (with visions of snow, firs, lights, presents and all) but also the meaning of Christmas (the birth of Jesus Christ). Issued on Ducretet-Thomson (LP 250 V 125), one side of this 10" album is comprised of traditional hymns (like the stunning 'Minuit Chrétiens') while the other has 'new' Xmas songs and they're all winners ('Pour Noël' being a standout). Despite the density of the choir, the voices blend perfectly in unison over a tasteful and unforced orchestral backdrop. The sleeve shows a young girl who fell asleep by the fireside, waiting for Santa Claus - this is disarmingly charming and oh, so real ! It's typical of so many French homes way back in 1961 when the record was cut. Les Djinns proved quite popular over in the USA and this record was one out of several released there on ABC Paramount (#397), both in mono and stereo whereas we had only access to the mono versions here. The only let-down was the cover, which wasn't up to much and had none of the charm and warmth of the French original. A close second would be The Beach Boys' Christmas Album of course, and there's also Elvis's own Xmas outing - not to mention the almost supernatural Phil Spector Xmas Gift. However, for all the greatness and sincerity of these three discs, the Djinns' album retains a special quality in terms of simplicity, freshness and immaculate execution which pushes it to the top.....of the evergreen tree !
---
EDDIE & GARY
A nice surprise was found while shopping online : a nifty little booklet recounting the life and career of our beloved Eddie Cochran. That's a pretty comprehensive story, well written, and completed by a compendium of photos of Eddie - some of them unpublished until now, and most probably coming from the collection of US photographer, Dick Miller (more on that later on this very site). There's no author name, no copyright, the quality of the paper is rather basic and the layout is all but outstanding - still, it's a good addition to any Cochran fan's collection.
Less pleasant news came earlier in 2018 when we learned of the death of Gary Lambert, longtime guitarist for Glen Glenn and an early friend of Eddie Cochran. His relationship with Eddie was not exactly always friendly but that will be told in detail in Gary's definitive story on this site. He still has to be remembered as a remarkable musician and, as far as I'm concerned, as a true friend with whom I spent some memorable time on various occasions between 1987 and 2014.

---
WAY BACK IN '67....
It wasn't necessarily a good time in my life, especially because it was the year when my father entered a mental hospital, never to come back home again... I entered high school that same year with high hopes for the future, relying more than ever on Music to spur me on.
Luckily, we had a record player in the house so I could spin my cousin's platters for hours on end ! One record he brought me in '67 was Gene Vincent's new offering - 'Bird Doggin' (London 194.000). And I mean, the album of the same name, which was only released in France and in the UK (albeit with cover and song variations) at the time. It knocked me out as quickly as 'Dance To The Bop' and 'Brand New Beat' had done a few years before. This disc ranks as one of his very best and certainly held its own in front of all the strong outings of the year - and beyond.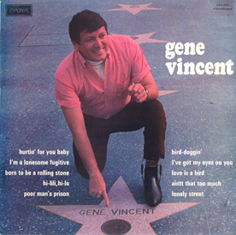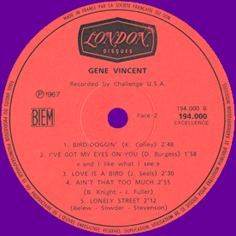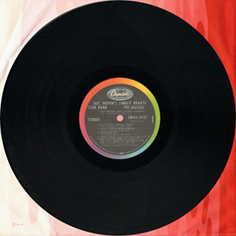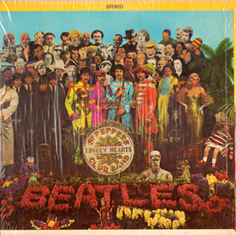 Of course, Gene's LP's been part of my record collection for quite a while now, just like the other goodie which graced our record player every day of the year following its purchase - 'Sgt Pepper's Lonely Hearts Club Band'. In fact, I did contribute to buy the latter and never regretted it. For my money, it remains the most influential record ever and if you were lucky enough to be there when it was released, you just knew instantly that The Fabs had created a disc of seismic proportions. The copy displayed above (Capitol ST 2653) was still sealed when I bought it a few years ago and hasn't yet been touched by a stylus ! But, and that's one of music's major strengths, you can still hear it by simply gazing at it !
---
CHUCK B.'s IN HEAVEN
It had to happen : Charles Edward Berry stopped rocking on March 18, 2017. Unanimity is de rigueur to give him a special place among the Top 10 Rock'n'Roll Pioneers. All his Chess LPs should be part of any self-respecting R'n'R collection.
I will elaborate later on that topic with a special page on him, but at this moment, I'd like to tease a little bit and put things into some kind of perspective, just to show that, well... you never can tell ! Chuck has definitely created some of the most recognizable, genre-defining guitar licks in the whole R'n'R story, there's no arguing about that. One of my favorite instros by him though, was 'Blues For Hawaiians' on his awesome third Chess album, 'Berry Is On Top'. It's a stellar lesson in Blues playing because Chuck could really play the Blues, having passed through Muddy Waters's band when he arrived in Chicago in 1955. But in this particular track, however brilliant it may be, Chuck did not invent but rather copied note for note an old number from the late 40's by Floyd Smith, called 'Floyd's Guitar Blues'. This same tune had already been redone by Gene Phillips for the Modern label in the very early 50's, under the title 'Gene's Guitar Blues'. These guys were part of the St-Louis scene at the time, so Chuck had got the tune from there - and put his name on the credits ! But, precisely to his credit, he adapted the track to the guitar, whereas Smith and Phillips had played it on lap steel. Another sign of his talent.
---
'TIS SWEET TO BE REMEMBERED
Rock'n'Roll is as varied an art form as any other. Perhaps even more so.
We saw it emerge with its distinctive blend of Hillbilly and Blues, grow by incorporating Pop components and later evolve towards Jazz, to ultimately become Rock. Two different - but equally important - exponents of Rock'n'Roll passed away this year (2016) and should both be remembered for their contribution to the music.

Joe Clay, a seminal Rockabilly singer, had only 4 tracks (out of 11, including outtakes !) released by Vik - a sub of RCA Victor - in 1956 but they remain definitive classics of the genre. They were cut at two sessions, one held at Houston's Gold Star studio (with the famous Starday house band on hand), while the other was held in New-York (with Mickey Baker & the usual crew). Six decades later, they still pack an energy and display a musicianship which make early R'n'R so unique and collectable.

Bobby Vee started in 1959 right after the death of his main idol and influence, Buddy Holly. Contrary to common (read : stupid) belief, he was a real R'n'R lover and stayed true to his roots, even putting the Crickets back on the map in 1962, cutting a superb LP with The Ventures the following year as well as a marvelous tribute album to Buddy, going on to recognize early on the quality of the new British bands and later even trying his hand rather successfully at a Beach Boys song, 'Here Today'. He was a star at a time when wild R'n'R had been tamed and big orchestras were taking more and more place in the studios. But he was good and sang some of the best songs of the era, often co-written by Carole King. He surely didn't deserve to be ridiculed by The Animals in their (otherwise fantastic !) 'Story Of Bo Diddley'. More collaborations with The Crickets happened throughout his long career, a testament of his loyalty to the music we love the most.
---
ROSES FOR REVOLVER
And it takes 50 of'em to celebrate the release of that other groundbreaking album of 1966 ! For many, it was Paul Mc Cartney's shining hour with such beauties as 'Eleanor Rigby', 'For No One', 'Got To Get You Into My Life' and 'Here, There & Everywhere' (plus his brilliant lead guitar soli in George's 'Taxman') but John Lennon's tracks like 'I'm Only Sleeping', 'Dr Robert', 'And Your Bird Can Sing' and 'She Said, She Said' were equally influential and... yes, addictive.
Don't be fooled by the apparent simplicity of 'Good Day Sunshine' - everyone knows that this LP was drenched with illegal substances but who cares ? Once again, the Fab 4 gave us reasons to believe for decades to come. Tomorrow never knows... yet.
---
THE GUITAR THAT CHANGED OUR WORLD IS GONE
The music world would never have been as thrilling without the advent of Rock'n'Roll, but Rock'n'Roll would never have been the same without Scotty Moore and his incendiary and imaginative guitar breaks. Always in the shadow of his Boss, he was nevertheless just as important and remains one of the most influential axemen ever. It's fair to say that the timeless quality of tracks like 'Baby Let's Play House', 'Mystery Train' or 'Hound Dog' results as much from Elvis's assured vocal as from Scotty's creative playing. He later cut a brilliant solo LP for Epic and became heavily involved in studio work - producing and mastering.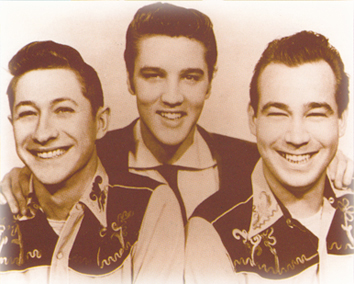 Scotty Moore (at left) passed away on June 28, 2016.
Thank you, Scotty, for the licks that still count.
---
AN ERA REBORN... THE LEGENDARY LUTE LABEL IS BACK !
Well, it's been reactivated for one full year in fact, so it was high time I mentioned it here !
Lute Records was created in 1960 by noted bandleader, Frank Kavelin, and scored its biggest hit almost immediately with 'Alley-Oop', the Hollywood Argyles evergreen novelty which would be covered by artists as diverse as The Beach Boys and George Thorogood. But among the 3 or 4 dozens of '45s that Al Kavelin released on Lute and its affiliated labels like Trans-World, Marsh and Kammy throughout the 60's, lurks a plethora of superb Doo-Wop, early Soul and Girl Group sounds.
Al's son, Frank Kavelin, himself a skilled musician and orchestrator - and, I must add, a most likeable person - is the one responsible for the re-launch of the label. Although he'd love to reissue all the stuff on CD and vinyl, he decided that he would first make it available as quality downloads (through Spotify, Amazon, iTunes). The first volume in the reissue program contains both sides of the Argyles' first two singles, the Ribbons' much celebrated 'Ain't Gonna Kiss Ya' and its original flip, a fistful of vocal group gems (e.g. 'No More' by The Uptones, 'Come To Me Darlin' by The Monorails, 'Mirror, Mirror' by The Arrogants), Emmy Lou's excellent 'I Wanna Know' (great guitar on this) and a real discovery for me in the shape of The Isonics. Their two tracks here - the latin-tinged 'Sugar' and the slower 'He Needs Her' - made up one killer double-sided Soul single when released on Kammy in '69 and have now become firm favorites of mine ! The mastering - done by Frank, mainly from master tapes - is awesome ('high sonics' indeed) ; the digital booklet which goes with the full album download is elegant and informative. A second volume should be out soon, as well as other surprises.
More than ever, musically speaking, the future is in the past !

---
HAPPY BIRTHDAY, PET SOUNDS !
This landmark Beach Boys LP was released thirty years ago, on May 16, 1966 - recommended listening for all seasons ! Let me take this opportunity to showcase some of its many incarnations on both record & CD, while working on my forthcoming dedicated Beach Boys & Brian Wilson pages.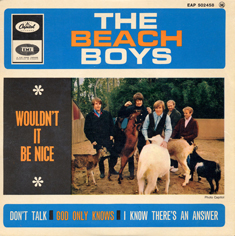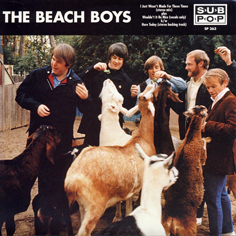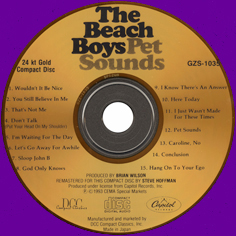 From left to right : Original 1966 French EP ; US EP in the Sub Pop series ; DCC reissue from 1993.
---
IN MEMORY OF LOU UKELSON
Lou Ukelson was a humble man, with a big heart and a profound sense of life's real values. He was also a gifted record producer who worked closely with Jimmie Skinner and set up the Vetco label with him in the 70's. He went on to cut a goodly number of country, bluegrass, gospel and rockabilly recordings by artists like Mac Wiseman, Charlie Feathers, Harley Gabbard, Josh Graves and The Cobb Brothers.
He released vinyl and cassette-tapes but ultimately, he put out one lone CD - The Vetco Sessions of Dave Evans & Riverbend (CD 3033/36). 21 delightful bluegrass tracks, 3 of which you'll hear by clicking the CD cover on the left ('Carry Me Back To The Bluegrass', 'This Train Carried My Girl From Tennessee' and 'Highway 52', in that order - all written by Dave Evans himself who sings & plays banjo).
Lou passed away in November 2013. He is much missed. He was my friend.
---
WHEN THE BULLETS FLEW.....
Greece has been the subject of many a debate over the past few years, and it's a shame that life deteriorated so much in that country. That's why I've decided to draw your attention to one of the best groups to emerge from there - The Bullets. In 2005, Stage Records issued a compilation CD of 'Their Hottest Tunes' (OSRPR 001) and man, does it rock ! This trio of excellent musicians - sometimes augmented by a girl singer - knew how to mix neo-Rockabilly with surfin' sounds and other 60's influences.
Click the CD cover and have a ball with : 'Thank You Johnny Carroll', 'Fuzzbitten' & 'Black Out!'.
---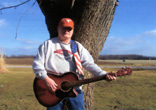 Now, click on the picture above and take a listen to samples of three superb songs from the pen of Danny E. Hinkle, a remarkably skilled Greenville, Illinois songwriter. These are all quality demos and potential hits waiting for the right singer ! 'Bar Hoppin' is sung by a great country artist, Ramsey Kearney, whose 60's Hickory sides were excellent. 'I Got A New Love' is sung here by Jeff Howell. And 'Like James Dean', one of Danny's best compositions, was ultimately recorded & released by Canadian artist, Guy Leroux.
---
Another great discovery - this time from the UK - was singer/songwriter Kevin Brown, who's also a lap steel player & enthusiast. His first solo CD, 'Tin Church' (Doo-Dah DD04), was issued in 2005 and had a tremendous feel, in true country blues style. I'm proud to say we, at the Big V jamboree, were among the first to promote the disc way back when.
You gotta dig these three excerpts - namely : 'Watch Your Step', 'Love Hurts' and 'Take The High Road' - by clicking the appropriate CD cover at left !
---
And let's not forget Mr. Diego Garcia, a Spanish guitar player who once kindly sent me a sample of his work. And what a brilliant version of Jimmy Bryant's classic 'Frettin' Fingers' it is, certainly not the easiest track to master (with quotes of Danny Gatton & Wes Montgomery thrown in, if that wasn't enough !). Click the turntable at left to enjoy a bit of it.
© Paul Vidal * Privas, France