They all had a working-class background and that probably explained the authenticity of their sound. As someone said, they didn't have to force or fake anything : they sang and played what they really felt. And what they loved the most was R&B, with a strong emphasis on the B. Those who despise the British bands of the sixties typically forget to acknowledge that they discovered the blues thanks to their laudable efforts. For my part, artists like Jimmy Reed and John Lee Hooker came to my attention through The Animals' fabulous versions of 'Bright Lights, Big City', 'Dimples' and 'Boom Boom'. In France, they remain one of the most respected 60's bands, so we'll gladly take another look at their career with their French discography as a visual guideline. Although it only spanned five years, their musical story is rather convoluted and can be split up in four or maybe five distinct phases. On this page and the next one, we'll merely relive the 1963-1966 period, by consensus their most exciting and influential.

1963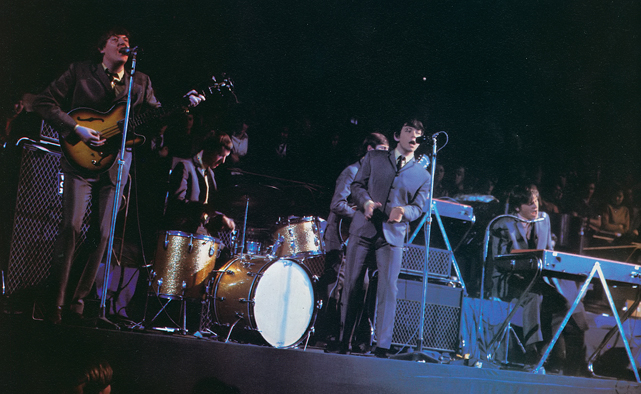 1965
The band boasted two frontmen, full of talent and personality : pianist/organist Alan Price and singer/showman Eric Burdon. But at the beginning, there was only one, Alan Price, as the band was billed as The Alan Price Combo, having evolved from The Kansas City Five. It was Alan who assumed the lead vocal chores. Bryan Chas Chandler (bass and background vocals), Hilton Valentine (lead guitar) and John Steel (drums), all superb musicians, were on board. They used to play in a notoriously ramshackle Newcastle club, The Downbeat, but ultimately, with Eric Burdon back in their ranks, managed to secure a residency at the smarter Club A Go Go. In the song of the same name, they would later immortalize some of the legends who played there : Jimmy Reed, John Lee Hooker, Bo Diddley, Memphis Slim, Sonny Boy Williamson. On December 30, 1963, after they had relocated to London and with a little help from Giorgio Gomelsky, they did a legendary show with Sonny Boy which was recorded and later spread over two albums. One of those, 'Eric Burdon & The Animals' (Charly CR 2933 215), released in 1983, contained a full set by our Newcastle boys with forceful renditions of 'Let It Rock', 'Almost Grown', 'I Got To Find My baby', 'Bo Diddley' and the two John Lee Hooker songs which would remain staples of their repertoire, 'Boom Boom' and 'Dimples'. The last cut, 'C-Jam Blues', has Sonny Boy taking John Steel's place at the drum kit for a very unique performance ! By that time, The Animals had already made quite an impression ; all they needed was a recording contract.
Earlier in the year, they had been privately recorded by engineer, Philip Wood, and the four sides they cut ('I Just Wanna Make Love To You', 'Big Boss Man', 'Pretty Thing' and, you guessed it, 'Boom Boom') appeared on a 'raritus maximus' EP on Graphic Sounds (ALO 10867) which probably served as a demo for potential record executives. It was briefly re-released by Decca in 1965 under the title 'In The Beginning There Was Early Animals...' (DFE 8643) but was withdrawn almost immediately due to some impending legal action. It wouldn't be reissued until the 'Inside Looking Out - The 1965-1966 Sessions' CD on Sequel in 1990 (NEX CD 153).
That's when Mickie Most entered the story. He was part of The Most Brothers duo in the late fifities who cut three singles for UK Decca, including a version of Marvin Rainwater's 'Whole Lotta Woman' ( #10998). Following his marriage to an African girl in 1959, he spent the next three years in South Africa where he enjoyed considerable success with his band, The Playboys. By '63, he was back in England and cut some good rock'n'roll covers, allegedly with Jimmy Page on lead guitar. A very rare EP was issued in France featuring 'That's All Right' and 'Sea Cruise' among others, and it was on Columbia, the label to which he would take The Animals after discovering them and becoming their producer.
1964
Wednesday, January 22
Recording : Boom Boom * Talkin' 'Bout You * Blue Feeling * Dimples

The origin of their name is still a bit uncertain : some say it's Graham Bond, himself a true R&B connoisseur, who was responsible for it but it might well have been coined by some fans who attended their live shows which were generally considered the sweatiest and most frenzied in town. There was indeed something brutish and aggressive about their sound which translated perfectly to their records. Thanks to Brian Hogg whose excellent notes accompany the 'Complete Animals' UK compilation from 1990 (CD EM 1367, also on vinyl), we can follow their early musical accomplishments session by session.
The first one had to include 'Boom Boom' and 'Dimples'. What can I add ? These are unanimously celebrated versions of Hooker's classics. Burdon's voice is commanding to perfection, Chandler's bass is thick and fat, Hilton Valentine's guitar playing shows remarkable technique and intensity, and Alan Price's organ adds a very attractive color to the proceedings which only highlights their blues roots even more. It seems that, due to the full sound they had in the studio, the balance wasn't perfect on 'Boom Boom' but this doesn't detract from the performance. 'Talkin' 'Bout You' is a Ray Charles number (Atlantic #1172) which was reduced to 1'47 when put on the back of 'The House Of The Rising Sun' a bit later. 'Blue Feeling' was only issued in the US until 1990, first on the back of 'Boom Boom' (MGM K 13298), then on their first LP (MGM E 4264), and on the soundtrack album for 'Get Yourself A College Girl' (MGM E 4273), a movie they appeared in that year along with The Dave Clark Five, The Standells and Freddie Bell & The Bell Boys.
Strangely enough, nothing was issued immediately. Perhaps Most was unsure of the 'hit potential' of these songs. Another session was booked for the following month.

Wednesday, February 12
Recording : Baby Let Me Take You Home * Gonna Send You Back To Walker * Baby What's Wrong * The House Of The Rising Sun * F-E-E-L

For their first single, rather than going for one of their usual ravers, Most opted for an old blues song which had been adapted by Bob Dylan at his very first recording session for Columbia in 1961 and which appeared on his first LP under the title 'Baby Let Me Follow You Down'. Dylan thought it came from Rev. Gary Davis although it has often been credited to different writers. And the lyrics were slightly altered here by The Animals.
Columbia DB 7247 * Baby Let Me Take You Home (7XCA 26521) / Gonna Send You Back To Walker (7XCA 26522)
Hilton's lovely introductory guitar figure to the song set the mood for their catchy version, which sounded 'beaty' and commercial enough while revealing their R&B leanings, especially during the coda. The flip, 'Gonna Send You Back To Walker', wasn't bad either - in fact, it was just as good, a driving rocker with a great Burdon vocal and a stinging guitar solo.
Issued in March, the single reached the Top Twenty in April. A pretty good start, as they say.
In America, the Animals' records were distributed by MGM and the least we can say is that they did an awful job with them as we shall see. When I heard the above coupling, released there as MGM 13242, I was horrified ! They had added an unorthodox dose of echo which made the songs sound like those dreaded duophonic records, whereas they sounded loud and clear on the French singles and EP.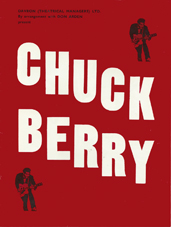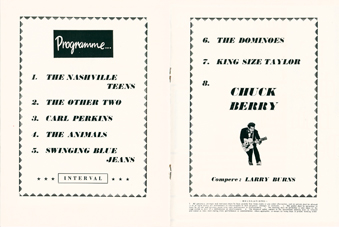 March '64 was also the month of their appearance on the legendary Granada TV Show, alongside Gene Vincent and Jerry Lee Lewis.
In May, they went on tour with Chuck Berry, Carl Perkins, The Swinging Blue Jeans and others. In issue #160 of US mag, 'Discoveries', Burdon explained that Mickie Most, like the band, were sure 'House' would be a hit, so they tested it on stage during the tour where it was ecstatically received. The EMI executives, who had found the song 'boring and too long', finally agreed to issue it : artistry took precedence over accountancy, and everybody was highly rewarded !
Columbia DB 7301 * The House Of The Rising Sun (7XCA 26581) / Talkin' 'Bout You (7XCA 26582)
Once again, Hilton Valentine crafted a beautiful guitar intro with a series of perfectly executed arpeggios which opened the way for Eric's harsh and soulful voice over a bubbling backing of bass, drums and organ. The track never ceases to build up in intensity, Alan then launches into a stunning Vox Continental organ solo, the tension drops down a bit and Eric finally pushes the song to its final climax. An absolute 4'15 masterpiece. And no one noticed its duration, so mesmerizing was the song ! The Beatles of course largely broke the record when they later recorded 'Hey Jude' but at the time of its release, 'House' was unique in this respect and it didn't prevent it to climb to the top position of the UK charts in July '64.
In the States, the song did just the same, reaching the n°1 spot in August. A small miracle because it was reduced to 2'58 on MGM 13264, omitting the whole organ solo ! A real shame which wasn't even corrected when their first album was released. 'Talkin' Bout You' was also severely shortened but at least it was presented that way everywhere in the world. The full version of the latter showcased another staggering performance by Alan Price ; it ultimately appeared on the UK 'Complete Animals' collection in 1990, just like two other superb cuts from the same session which were inexplicably shelved : a version of Jimmy Reed's 'Baby What's Wrong' treated à la Chuck Berry, and the gospel-tinged 'F-E-E-L' where 'Pricey' (as they called him) takes yet another hair-raising solo.
Friday, July 31
Recording : I'm Mad Again * The Right Time * Around & Around * I'm In Love Again * Bury My Body * She Said Yeah * I'm Crying * Take It Easy * Story Of Bo Diddley * The Girl Can't Help It * I've Been Around * Memphis, Tennessee

The group was now constantly on tour. First, there was a brief visit to the States as part of a 10-day package show at the Paramount Theatre in New-York from September 4 to 13. For that WMCA Show of Shows, as it was called, the group was supported by Jan & Dean (Sept. 4-6), Bobby Rydell (Sept. 7-9), Del Shannon and Chuck Berry (Sept 10-13). Other artists on the bill included Dee Dee Sharp, The Dixie Cups, Elkie Brooks, all backed by Sam 'The Man' Taylor & His Orchestra. It ran in direct competition with Murray The K's Holiday Revue, a popular show held at the Brooklyn Fox Theater and which featured another stellar cast of performers (Marvin Gaye, The Miracles, The Supremes, The Temptations, The Dovells, The Newbeats, The Ronettes and The Searchers among others). A Billboard correspondent reported at the time that 'The Animals shook up the theater !'. And they came back with yellow 'WMCA Good Guy' T-shirts that Eric wore on some photos !
In the beautiful program brochure for the show, there was an ad for the release of their first LP, two full months ahead of the British issue ! This explains why 'Blue Feeling' was on that record ; MGM wanted all the available tracks to rush-release the record and EMI duly obliged by sending what they had already mastered.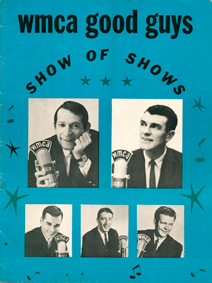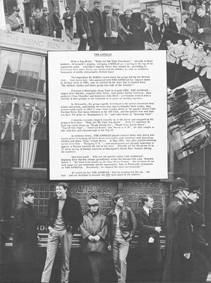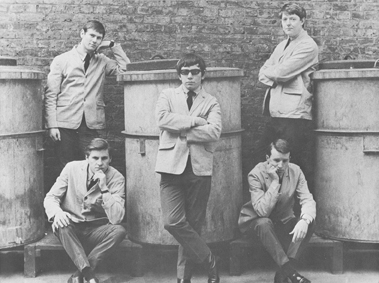 Then there was their first proper US tour (18 days) with an all-important appearance on the Ed Sullivan Show. In October, they shared top billing with Carl Perkins on the 'R'n'B '64' tour of England. Tommy Tucker, The Nashville Teens and Elkie Brooks also participated. On November 26, they were in Paris to film a spot for a TV show called 'Pop Art'. They came back to the French capital on December 15 for a triumphant 'Musicorama' at the Olympia Theater. That date was chosen to coincide with the domestic release of their first eponymous album, 'The Animals' (Columbia 33 SX 1669 in England, and Columbia FPX 289 in France, with the same photo on the cover, only reversed), which had hit the shops in Britain in November.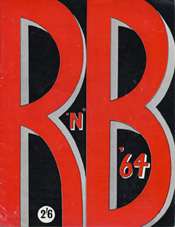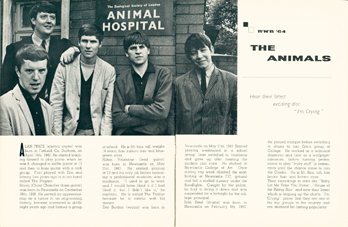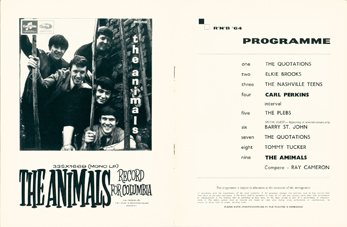 But let's go back to July 31. On that day, they were back in the studio to record a whopping batch of (at least) twelve songs, ten of them ending up on their first album, the other two constituting both sides of their next smash single.

Columbia DB 7354 * I'm Crying (7XCA 26615) / Take It Easy (7XCA 26616)
Probably due to the success of 'House', they were allowed to use two of their own compositions for a single. This would prove to be the only time although the record did quite well, peaking at No. 8 in September '64 (it reached the Top 20 in the US charts). Eric and Alan co-wrote both numbers. Right from the opening chant from the group, 'I'm Crying' has all the typical Animals ingredients, Burdon's powerful voice soaring over a boiling, relentless Bo-Diddley-esque backing peppered with explosive guitar fills. In accordance with its title, 'Take It Easy' is a more relaxed affair but still taken at a fair pace. Here, Alan Price switches from the organ to the electric piano with the same resulting quality while Hilton adds a wild guitar break for good measure. A splendid single from a band already in full swing.

Columbia 33 SX 1669 * THE ANIMALS
Everybody had great expectations for their forthcoming long-player and nobody was disappointed : it was a fabulous record, in the same league as the Stones' or Manfred Mann's first LPs. Side one opened with another lengthy opus (5'35), the incredibly ambitious, well-documented and downright funny 'Story Of Bo Diddley'. Fifty-six years later, it still amazes ! My only regret is that they chose to crucify Bobby Vee instead of Fabian or Frankie Avalon, or those who really did all they could to bury R&R, like Dick Clark or Frank Sinatra. If they ever did it on stage during the afore-mentioned WMCA Good Guys Show of Shows, Bobby Rydell must have been in a cold sweat ! 'Bury My Body' was next, and then their superior version of 'Dimples', rescued from the very first January session. In-between 'I've Been Around' (the Fats Domino tune) and 'The Girl Can't Help It', we found the medium-paced and catchy, 'I'm In Love Again', which, despite the credits, has nothing to do with the Fats Domino hit from 1956 ! It took a much, much later Record Store Day EP reissue to restore the song to its real title, 'I'm in Love', credited to Eric Burdon. The second side started with their impressively passionate take on John Lee Hooker's 'I'm Mad Again'. Burdon shines over a throbbing, haunting rhythm, and the song is further enhanced by Alan's contribution followed by one of Hilton's most adventurous soli, one which would have been equally at home on a Yardbirds album. An electric piano was present in their versions of three R&R classics, Larry Williams's 'She Said Yeah' (that The Stones would later cover) and the two from Chuck Berry but Alan returned to his Vox organ for Ray Charles' 'The Right Time' which features the same female chorus as in 'I've Been Around'. At long last, 'Boom Boom' was included to round up one of the many great albums of the 60's.
Monday, November 16 - Tuesday, November 17
Recording : Don't Let Me Be Misunderstood * Club-A-Go-Go * Roadrunner * Hallelujah, I Love Her so * Don't Want Much * I Believe To My Soul * Let The Good Times Roll * Mess Around * How You've Changed * I Ain't Got You * Roberta * Bright Lights, Big City * Worried Life Blues

It's amazing to think that the bulk of what made The Animals such a worldwide and durable sensation had already been taped by the end of 1964 ! Their fourth single and all tracks bar one for the second album were in the can. The group was ready to make more great strides in '65, despite an unforeseen change of personnel. Unforeseen, or perhaps rather delayed, because by now the group was well aware that all royalties for the multi-million selling 'House Of The Rising Sun' would go to Alan Price since only his name appeared on the credits. The group had been told by their manager, the controversial Mike Jeffery, that all their names would take too much place on the record label, so they agreed to the 'Trad. Arr. By Alan Price' thing. In the September 2001 issue of 'Discoveries', Eric Burdon also puts forward the fact that Alan Price resented the fact that he had become 'The Face 'of the group, thus leading to unbearable internal tensions.
1965
Columbia DB 7445 * Don't Let Me Be Misunderstood (7XCA 28084) / Club-A-Go-Go (7XCA 28085)
In this same interview, Burdon also slated Mickie Most's contribution to the group's success, only recognizing his great talent as a picker of songs. Nina Simone had cut 'Don't Let Me Be Misunderstood' in '64 for Philips and it was certainly an excellent choice with Eric again putting all his heart into the song over a sparse, essentially organ/guitar backing complete with typically non-choral vocal support from the band. It rose to No. 3 in England and No. 15 in the USA. A slightly different take of the song was issued in 1977 on a Japanese LP, 'Rock'n'Roll Best 20' on RAK.
'Club-A-Go-Go' was their famous tribute to the place where they so often played, a place owned by Mike Jeffery and that Burdon helped to design ('my first job after I left college' he confessed). Penned by Burdon and Price, it's a massively rocking number in the best Animals tradition. For some reason, the song is only credited to Eric Burdon on the original US single (MGM K 13311). In these two tracks, and many others to follow, Hilton Valentine used a Rickenbacker guitar which brought a more stinging tone to their sound.
Columbia DB 7539 * Bring It On Home to Me (7XCA 27570)/ For Miss Caulker (7XCA 27571)
It is unclear when exactly these songs were cut but these are the last documented recordings with Alan Price at the keyboard, and this time the organ, while still present in the top side, makes way for the grand piano which was originally Pricey's main instrument (he had learned to play it by ear as a child). It's funny to hear Burdon recount in a 'Goldmine' interview that, at the start of their career, he didn't like the sound of the Vox organ ; yet, up to that point, Alan had only played piano in 'I've Been Around' and 'Club A-Go-Go'.
Whatever the instrument played, they parted company on a high note and with another big hit under their belt : their cover of Sam Cooke's 'Bring It On Home To Me' peaked at No. 7 in the UK charts of April '65. Sam was killed in December 1964, so it could be seen as a tribute of sorts. The piano intro and backing effectively added a tasteful touch of solemnity to their flawless rendition.
For the flip, it was back to some real lowdown blues. Burdon's 'For Miss Caulker' is another classic in their canon and a feast for blues piano lovers although it's Hilton who takes a solo when Eric begs 'you gotta play me some blues'.
When the month of May arrived, the month of their second LP, Alan Price left the band. Besides the dissensions already discussed, the fear of flying and the constraints of constant touring were generally evoked to explain his sudden departure from the group. He returned to Newcastle to stave off a nervous breakdown but soon formed a new band, The Alan Price Set, with which he immediately renewed with success - they had three Top Ten hits in '66-'67, beginning with an awesome version of 'I Put A Spell On You'. He would later team with another legendary singer and keyboardist, Georgie Fame, in the Fame & Price duo who scored with 'Rosetta' in 1971.

Columbia 33 SX 1708 * ANIMAL TRACKS
Their new long player was simply astounding, a collective triumph by a band so talented that they could turn anything into gold. Although they had to rely on outside material, their limitations as writers were completely overshadowed by their poise and unique sound. It probably couldn't have gone on forever but in 1965 The Animals were one of the five hottest British bands, there's no question about it.
Sporting the classic cover showing the group with guns and uniforms, it only contained eleven tracks which gave the impression of a somewhat hurried affair. But as soon as the needle landed on the piano intro to 'Mess Around', one of three Ray Charles covers, it was clear that the magic was intact. Chuck Berry's bluesy and lesser-known 'How You've Changed' (originally on his 'One Dozen Berries' LP) gets a wonderful reading with a piano solo that would give goose bumps even to Chopin ! It must be noted that Alan Price played the piano on half the tracks of this record. A delightful 'Hallelujah I Love Her So' (listen for Burdon's imitation of a ringing phone !) precedes the piano-led 'I Believe To My Soul' which features another soul-stirring vocal from Eric. But the apex of the record may be their incredible take on Big Maceo's 'Worried Life Blues'. The organ intro could have been recorded in a cathedral, such is the depth and majesty of Alan's playing. Kudos to the sound engineer and kudos to the whole band for an interpretation that summarizes all the power of Blues. A real rockin' 'Roberta' (originally the flip side of 'Sea Cruise' by Frankie Ford) ends the first side.
The shorter side two certainly isn't short on Geordies' Goodies ! Billy Boy Arnold's Vee-Jay classic, 'I Ain't Got You' starts the proceedings with brio although Hilton's break is a tad laborious. Then comes the magnificent 'Bright Lights, Big City', a Jimmy Reed favorite. The guitar/organ intro is a gem in itself and once again, the way they all modulate the intensity of the recording is examplary. Shirley & Lee's immortal 'Let The Good Times Roll' is done 'in a send-up way' according to Mickie Most's short but eulogistic comments on the back cover. 'For Miss Caulker' slows down the tempo before the rocking finale in the shape of Bo Diddley's 'Roadrunner'. Bo loved'em and they did a monster version of his oft-covered composition, Hilton scaling up the strings with his pick, Alan taking yet another sparkling solo and Eric belting out like a black soul singer over the impeccable Chas Chandler-John Steel rhythm section. Elliott Ness would have deemed that record 'untouchable' !
In France, the record was released later in the year. Called 'The Animals - Volume II' (Columbia FPX 318), it sported a gorgeous color shot of the band on stage and contained 14 tracks. 'Don't Let Me Be Misunderstood' and 'Bring It On Home To Me' had been added as well as the two sides of their new single, 'We'Ve Gotta Get Out Of This Place' and 'I Can't Believe It'. Strangely, 'I Ain't Got You' and 'Let The Good Times Roll' had been omitted ; both would appear on their last Columbia EPs (Columbia ESRF 1692 and 1717, respectively).
You can enjoy all those beautiful French record sleeves in the column on the left side.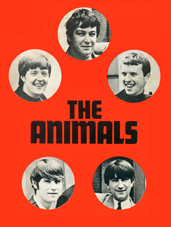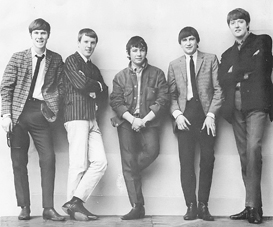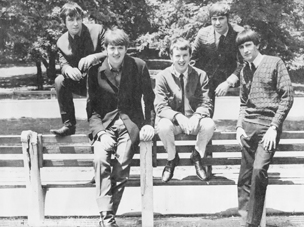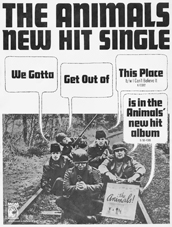 This is a sampler of the rare 1965 US tour program, with an advertisement for the release of 'We've Gotta Get Out Of This Place'. Dave Rowberry appears in all pictures but two from the '64 tour with Alan Price.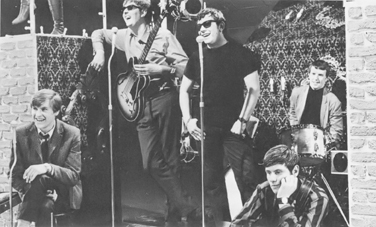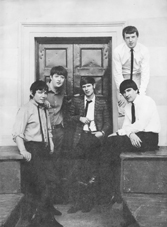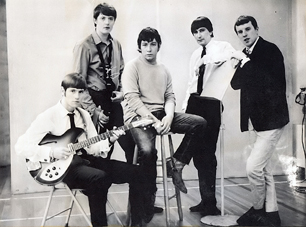 Columbia DB 7639 * We've Gotta Get Out Of This Place (7XCA 27652) / I Can't Believe It (7XCA 27653)
Replacing Alan Price must have been a super daunting task, bit like replacing Hank Marvin in the Shads ! They may have considered Eric's friend, Zoot Money, as a replacement but he wouldn't join the group until 1968. It's Dave Rowberry, keyboardist with the Mike Cotton Sound, who got the job. Mike Cotton was a trumpet player who led a jazz band in '61-'62, veering towards R&B in 1963. The band had a moderate hit that year with 'Swing That Hammer'. They cut a currently much sought after album in 1964 on Columbia and later on, reduced to a brass section only, worked heavily for The Kinks both live and in the studio (they can be heard on 'Everybody's In Show-Biz' from 1972).
Dave Rowberry was a fantastic player and I must admit that it took me quite a while to realize that it was he who manipulated the organ in 'We've Gotta Get Out Of This Place'. This Barry Mann-Cynthia Weil song was well suited to the group's repertoire and they made the most out of it. A powerful bass intro, then little taps on the cymbal set the scene for Eric's somber vocal ; the song grows in intensity with the entry of Hilton's Rickenbacker and Dave's underlying organ until the group joins in for some typical shouting and Eric declaims 'We've Gotta Get Out This Place, If It's The Last Thing We Ever Do'. The lyrics, as sung by Burdon, probably rang a bell with those in America who knew that the Vietnam war would be an error and a waste. Many still consider it their best single. It was a No.3 hit in the UK and got to No. 13 in the USA during the summer. It is now common knowledge that the US version, like the one released in France, were noticeably different takes, especially as regards Eric's vocal which is more quavering.
'I Can't Believe It', written by Burdon with perhaps a nod towards Alan, is a soul-blues affair with a scorching vocal from Eric and the first organ solo by Dave, in the very best Pricey tradition. At the end of the solo, Eric sings the same notes as the organ just like Steve Winwood used to do in some Spencer Davis Group numbers.

Columbia DB 7741 * It's My Life (7XCA 28711) / I'm Going To Change The World (7XCA 28712)
Beside's Alan's leaving, there was another ongoing problem : the group's relationship with their producer. It's hard to tell if Mickie Most had a real role with regard to the band's musical arrangements but he definitely had total control on the choice of material, especially when it came to singles. Even Eric Burdon admits that it was his forte although he didn't see eye to eye with him. Although somewhat reminiscent of 'We've Gotta Get Out Of This Place' in its construction, 'It's My Life' was a great track, still there are reports that Eric was not quite satisfied with it and his dissatisfaction had probably even begun much earlier than that. His self-written 'I'm Going To Change The World' had lyrics which couldn't be clearer as to the decisions the group was about to make. The single was nevertheless a Top Ten hit (#7) in England in November '65.
Although the organ still occupied a large place in the group's sound, their last two Columbia discs showed more emphasis on the guitars and this would be even more apparent in the next phase of their career - at Decca, where they signed in January 1966 dispensing with Mickie Most's services at the same time.
In the first two years of their short career, The Animals had accomplished quite a lot. They had been at the forefront of the British R&B Boom which had perhaps an even greater impact than the British Beat explosion.
Their organ sound was adopted by countless groups the world over. All their singles were huge hits everywhere. And their two main figures, Eric Burdon and Alan Price, had become superstars. The Animals had become a cult favorite (as they say nowadays), so they couldn't afford to disappoint their fans. That will be the subject of the next page which can be accessed by clicking the button below.



© PAUL VIDAL * Privas, France *
July-August 2020